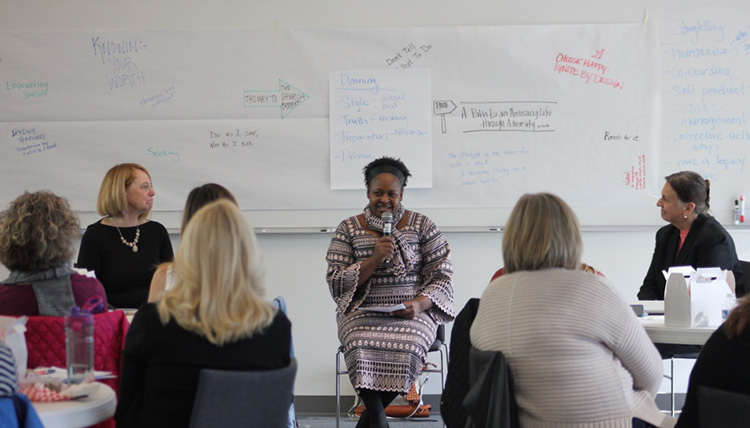 The Certificate in Women's Leadership is a 3-month, non-degree course designed for professionals who wish to develop skills and practices for advancing women in the workplace. Through online learning and on-campus immersions, the course exposes students to research and studies regarding women in the workplace, as well as current readings and materials on the subject. Additionally, the course offers practical skills for overcoming common barriers facing women in the workplace. This certificate program highlights the following areas of awareness and development:
Leadership & Identity: How do you identify as a leader, and what qualities do you aspire to? In this introductory section, we will unpack our individual stories to understand how we developed certain beliefs and mindsets around the role of women at work and at home. We will also discuss how these stories impact our ability to shift from contributing roles to leadership positions.
Emotional Intelligence: According to Daniel Goleman, emotional intelligence (EQ) is the "yardstick of leadership." By examining the primary dimensions of EQ, we will explore what it looks like in practice, how to develop it, and what EQ dimensions women in particular should be aware of.
Gender and Communication: We will explore the different ways that women and men communicate in the workplace, how these habits inform our perceptions of leadership ability, and how to break down communication barriers that can prevent women from advancing.
Overcoming the Confidence Gap: Confidence is a key element to leadership success, yet many women express feelings of inadequacy, despite knowledge and competence. We will discuss how the 'confidence gap' emerges amongst women, provide tips for supervisors to build the confidence of others, and practice skills for growing one's own confidence.
Work-Life Integration: Many women struggle with the demands of family life, while also shouldering the responsibilities of work. The questions is, can women have it all? We'll examine what 'having it all' means to each of us, whether it is achievable, and what choices we must make in the process.
Compensation & Negotiation: Research indicates that one of the reasons that men tend to make more money than women is negotiation. In this section, we'll learn best practices for having assertive conversations around total compensation and work-life needs. We'll also discuss the importance of sponsorship and mentorship in career advancement, and how to engage sponsors and mentors to help you get where you want to go.
Learning Outcomes
Gain tools and skills to navigate the unique dilemmas that working women face, such as "double-binds" and "unconscious bias."
Understand one's individual, unique leadership identity and how it surfaces in teams.
Enhance one's emotional intelligence for greater effectiveness in leadership roles.
Develop skills to communicate and negotiate authentically and confidently in various situations.
Identify practices and attitudes that contribute to a healthy, fulfilling work-life balance.
Format
Online, plus four (4) full-day classes at Gonzaga University. This hybrid approach provides flexibility for your weekly schedule, while also providing you the opportunity to engage, learn and network in-person. Our learning format follows a Read, Watch, Reflect, Write (RWRW) approach to cover a variety of content methods. Each of the six topic areas are spread over two full weeks, and each week you will explore relevant reading materials (R), video clips online (W), and you will be given prompts to help you reflect (R) about your weekly written posting (W) in our online discussion board. Plan to spend about three to five hours a week dedicated to the course.
Schedule - Dates for 2019-2020 Cohorts Now Available!
The 2-day immersions will offer participants the opportunity to network with one another, learn from subject-matter experts, and receive practical advice for personal application. Additionally, each immersion will contain workshops for participants to develop skills and learn best practices in various communication situations, negotiation scenarios, and personal action plan development.
Fall Cohort 2019:
Start date: Wednesday, September 4th, 2019
On-Campus Immersion #1: Friday, September 20th & Saturday, September 21st, 2019
On-Campus Immersion #2: Friday, November 15th & Saturday, November 16th, 2019
Course ends: Friday, December 13th, 2019
Winter/Spring Cohort 2020:
Start date: Monday, January 20th, 2020
On-Campus Immersion #1: Friday, February 7th & Saturday, February 8th, 2020
On-Campus Immersion #2: Friday, April 17th & Saturday, April 18th, 2020
Course ends: Friday, May 1st, 2020
Cost:
$3,200
Can be paid in full or in two installments of $1,600. At least 50% is required at the time of registration, with the remaining balance to be paid halfway through the program.
No federal or institutional financial aid is available for this program.
Gonzaga employee tuition waiver does not apply.
Refund policy: 100% refund allowed if requested by email the day before the course begins. 50% refund if requested by email from the 1st day of the course to the 7th day of the course. 25% refund if requested from the 8th of the course to the 15th day of the course. Refund requests must be sent to womenlead@gonzaga.edu
Cohort Size
The cohort is limited to 20 individuals, who will be vetted by an external selection committee.
Time commitment
This course runs three (3) months, with an average of 3-4 hours a week of online learning, plus a total of four (4) full days on campus at Gonzaga University.
Program prerequisites
Either an undergraduate degree or five (5) years of work experience. (An unofficial transcript or copy of degree will be required with the application to demonstrate an undergraduate degree.)
Demonstrated ability to communicate clearly and effectively in writing.
Credit
This course qualifies for seven (7) Continuing Education (CE) credits.
Successful completion of the course leads to three (3) transferable credits to Gonzaga's MA in Organizational Leadership or MA in Communication & Leadership. These credits may count as an elective credit, to be applied to the student transcript at the completion of the degree program.
Program Outline
Weeks 1 - 3
Introductions
Pre-readings & videos (background on women's advancement & Leadership & Identity )
Discussion board posts and responses
1st 2-day immersion; runs 8:00 AM to 5:00 PM each day
Topics include:
Storytelling and Identity
Emotional Intelligence
Communicating across gender lines
Mindfulness
Activities include:
Team-building activities
Scenario Practice
Guest Speakers
Networking dinner
Post-immersion assignments
Weeks 4 - 10
Discuss Emotional Intelligence
Discuss the Confidence Gap
Discuss Communication & Gender assignments
Advancing Your Career: Negotiation & Compensation
Advancing Your Career: Sponsorship & Mentorship
Introduction to Work-Life Integration
2nd 2-day immersion; runs 8:00 AM to 5:00 PM each day)
Follow up on assignments
Check in on skills learned in first intensive
Compensation & Negotiation: scenario practice
Interview & discussion: Work-Life Integration
Discuss importance of career sponsors and mentors
Develop Action Plan
Weeks 11 -12
Continue online posts and assignments
Final reflections submitted
APPLY NOW FOR THE FALL 2019 OR WINTER/SPRING 2020 COHORT!