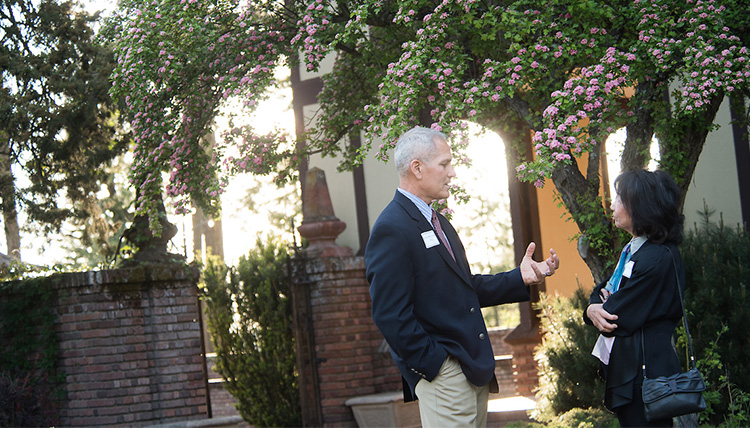 1. How many students are in the program?
About 100 students are enrolled in the doctoral leadership program at any given time.
2. What is the average class size?
Classes generally consist of 12-15 students.
3. How long will it take to complete the program?
Depending on the student, most complete the program in 4-5 years. Based on your professional and personal obligations, you determine the number of courses you take each term, as well as which terms you choose to enroll how frequent of credits taken each term.
4. What does the immersion format entail?
For each required course, you will begin and end the 16-week journey in a virtual classroom setting. This may include online discussion boards, assigned readings, writing assignments, or group projects. While there are deadlines for engagement and coursework, you are able to participate on your own time. Partway through the term, you will travel to campus for a 2-4 day immersion. This will be an opportunity to apply, practice and deeply engage with what you've been learning. Through these immersions, you will become rooted in the Gonzaga community, deepen your relationship with and understanding of Jesuit traditions, and experience personal, meaningful interactions with classmates and faculty. Building your learning community on-campus increases the impact of your coursework off-campus.
5. How often am I required to come to campus?
You will be required to come to campus for 11 of the required courses, with immersions scheduled strategically so that you may participate in two course immersions consecutively. Depending on your progression plan, you can travel to campus anywhere from 6-11 times. If you prefer this format, you can customize your coursework to include more immersions through electives and other unique opportunities. For more information, visit our Curriculum page.
6. What travel accommodations are available?
Students are responsible for all travel accommodations when attending immersions (flight, gas, rental car, hotel, meals, etc.). A list of nearby hotels and contact information can be found under Hotel and Dining options. The Gonzaga Ministry Institute also offers affordable housing options when available.
7. How much time is required per week to be successful?
This will vary depending on the courses you are taking, your learning style, and your course load. However, most students dedicate approximately 25-30 hours per week to coursework. This may fluctuate - during a week with a major paper or project due, or those with scheduled immersions, you will likely spend more time on coursework than other weeks. What remains true is that you will get out of this program what you put into it.
8. Does the program offer online courses?
While most of the required courses are immersion format, there are many opportunities to take online courses as electives.
9. When can I start the program?
Unlike cohort-based programs, the Doctoral Program in Leadership Studies allows admitted students to begin during the fall, spring, or summer terms. Please click here to view the application deadlines.
10. How much does tuition cost?
Tuition is $1,030 per credit (note that this is a 60-credit program.) You should also consider other costs, such as travel, books, dissertation publishing fees, and graduation fees. The Student Accounts Office is responsible for the preparation and distribution of billing statements for tuition and other fees. They also process payments, set up payment plans, disburse financial aid, and issue refunds.
11. How do I finance my Ph.D.?
One option is to apply for Federal Financial Aid (FAFSA), which is not based on need. We also recommend exploring financing or reimbursement options through your employer. Finally, you can apply for external scholarships. Visit the Financial Aid Scholarships page for information on funding options or to speak with a staff member.
12. Do my research interests align with the program?
The transdisciplinary nature of the program supports a wide variety of research and dissertation topics. DPLS faculty each specialize in different research areas, including servant leadership, organizational evaluation, global leadership, leading in complexity and feminist leadership. This collection is representative of the program's intention to explore emergent issues in the growing field of Leadership Studies; as a student, you are encouraged to follow your passions and interests to contribute to this growth.
13. What is the faculty advising process like?
Upon admission, each student is assigned an advisor. Once you've passed candidacy (18-21 credits), you will choose a dissertation faculty advisor, also known as a dissertation chairperson, who will work with you to complete your requirements for graduation. Faculty members also serve as mentors, providing encouragement and support as you move through the program.
14. Can I sit in on a class or speak with a current student?
When deciding if the program is the right fit for you, it can be helpful to sit in on a class or speak with a current student or alumni. To arrange this, please contact Admissions & Advising Specialist, Kristin Telin, at telin@gonzaga.edu.
15. Can I take a course before being accepted?
If you want to take a course before or during the application process, you can register as a non-matriculated student. This allows you to gain a deeper understanding of the curriculum, faculty, and program experience before committing to the Ph.D. journey. The credits from a non-matriculated course will be applied to your degree if you choose to apply to the program and are accepted. To arrange this, please contact Admissions & Advising Specialist, Kristin Telin, at telin@gonzaga.edu.
16. Do I have to live in Spokane?
The program values the learning, relationships, and growth that are fostered through in-person experiences. With this in mind, the immersion format is uniquely designed to provide an equally accessible and transformational experience for both local students, as well as those from across the country and abroad.
17. Can I transfer credits received in another doctoral program?
Applicants have the option to transfer up to 12 Ph.D. level credits from another college or university for coursework in which a grade of "B" or higher was awarded. For more information on requirements for transfer credits, please visit our Admissions Page.
18. Can I take a semester off once I'm admitted?
The Ph.D. journey requires the commitment of time, presence, and energy and we understand that professional and personal obligations may limit your capacity to fully commit. The variety of course offerings and flexible progression plans that the program offers allow you to stay engaged when these situations arise. If needed, you can choose to take a term(s) off and return when able. Your student status will become inactive and will need to be reactivated when you choose to return.
19. What resources are available to me as a student at Gonzaga?
20. What is the International Journal of Servant-Leadership?
The International Journal of Servant-Leadership (IJSL) is published by Gonzaga University in collaboration with the Spears Center for Servant-Leadership. The purpose of the IJSL is to publish cutting edge essays, theory, and research that will further the influence of servant-leadership globally, in the scientific community, in the world of business, political inquiry, and social justice, as well as across the academic disciplines.