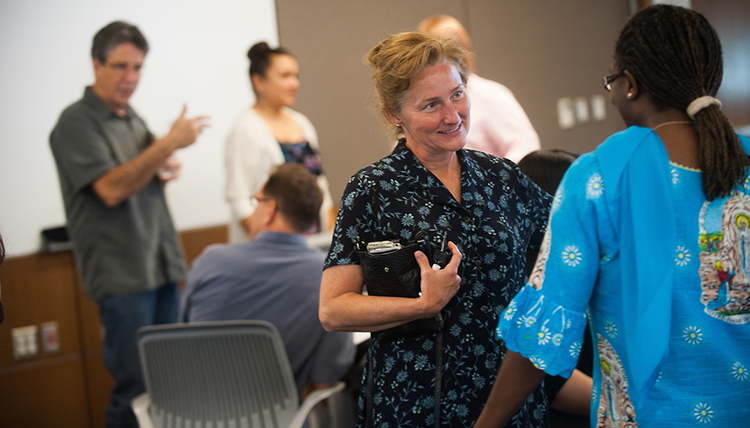 Our curriculum follows the central principles of the Jesuit tradition of educating the whole person. The transdisciplinary, liberal arts design focuses on three dimensions of leadership studies: personal systems, organizational systems, and global systems. Research is threaded throughout required courses, dissertation credits, and is supplemented with electives and independent studies.
As a doctoral student, you are encouraged to develop a focus within a dimension of leadership studies that is of personal interest and will drive your research throughout the program. Each course is rooted in theory and enhanced by the education, experience, and in-depth knowledge of core faculty and disciplinary experts. The curriculum is designed so that students and faculty may explore emergent topics related to the growing field of leadership studies.
An ability to read and write critically, broadly, and in-depth is a fundamental component of the Ph.D. program. You should expect significant reading assignments in each class; it is preparatory for course discussions and in research for written assignments. Writing is required to facilitate and demonstrate learning in the field of leadership studies. Although writing assignments vary, you are expected to write in an analytical and scholarly manner.
Program Overview
60 credits
Average completion: 4-5 years
Average class size: 12-15 students
Immersion format designed for working professionals and those with family obligations

Required courses (30 credits) include 2-4 day on-campus immersions, with coursework prior to and following the immersion
Opportunity to connect with faculty, build community, and network with fellow students

Remaining 30 credits can be completed online, as independent studies, or as immersion electives
Transdisciplinary approach supports a wide variety of research and dissertation topics
Academic year includes three semester opportunities to take classes:

Fall: August - December (16 weeks)
Spring: January - May (16 weeks)
Summer: Dates vary