2019-2020 'Webinar Wednesdays'
Back by popular demand, Leadership Training and Development will again offer a leadership webinar series from September 2019 thru May 2020. Each webinar is led by an engaging leadership expert with a focus on the practical application of leadership in the workplace. The webinars are live from 12PM - 1 PM PST, allowing for audience interaction and questions; they are also recorded and emailed to all registrants within two (2) business days.
Individual rate: $30 per webinar or $225 for the entire series.
Organizational rates: This purchase option allows an organization to make webinars available to any employee within the organization.
Small organizations (1 - 99 employees): $100 per webinar or $650 for the entire series
Medium-size organizations (100 - 499): $250 per webinar or $1,500 for the entire series
Large organizations (500+ employees): $350 per webinar or $1,800 for the entire series
Note: Be sure to register at least one day prior to a webinar in order to receive the webinar link.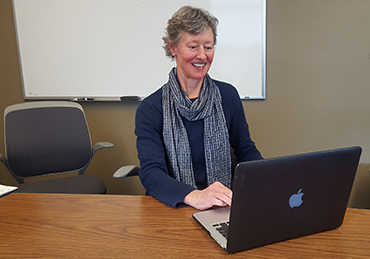 The 2019-2020 Schedule will be published by August 30, 2019. Check back then to register!
2018-2019 Webinar Series

Date/Time

Topic

Description

Presenter

Wednesday, September 26th, 12PM – 1PM

"The Neuroscience of Confidence"

Confidence is "what turns thoughts into actions." In this webinar, you'll learn how our brains impact our confidence and discover key strategies to increasing your confidence, personally and professionally.

Deanna Davis, PhD

Speaker, Author, and Owner of Applied Insights LLC

Wednesday, October 17th, 12PM - 1PM

"Leadership and the Danger of a Single Story"

It has been said that individuals are a "heterogeneous compilations of stories" and "more than the sum of our parts." This webinar will address the dangers leaders face when we over-simplify the story of our organizations, institutions or the mission behind those we lead.

Bob Bartlett, PhD

Senior Lecturer, Sociology and Justice Studies, Eastern Washington University

Wednesday, October 31st, 12PM - 1PM

"Secrets to Internal Motivation"

Self-generated rewards drive employee engagement, and it's the job of management to create an environment in which these rewards can be experienced. This webinar explores the four key motivators that drive employees beyond compliance to being fully engaged.

Joe Albert, PhD

Associate Dean of External Relations and Strategic Affairs, School of Leadership Studies, Gonzaga University

Wednesday, November 14th, 12PM - 1PM

"Failing Forward"

To fail is human, and some of history's most notable successes experienced significant failure in their career. In this webinar, we'll discuss what it means to 'fail forward' as an individual and a team, and how to turn failure into success.

Heather Stratford, MBA

Speaker and Founder/CEO of Stronger International

Wednesday, November 28th, 12PM - 1PM

"The Power of Shame"

Shame is a powerful emotion – one that leads to feelings of inadequacy or unworthiness. It can keep us from showing up as our best selves, for fear that we simply aren't good enough and never will be. In this webinar, we'll discuss how shame can show up in our lives and how to disarm it.

Rachelle Strawther, MA

Director, Leadership Training and Development, School of Leadership Studies, Gonzaga University

Wednesday, December 12th, 12PM - 1PM

"Leading with Endurance"

To lead means to stay composed through trying moments, to find inner strength to build resilience through obstacles. Just as one would builds stamina for a race, one can also build leadership stamina to become a stronger leader. In this webinar, the speaker will pull from her collegiate and professional athletic career to share key transferable skill sets that will allow you to build your leadership endurance.

Falesha Ankton, MBA

Founder, Felite Performance

Wednesday, January 9th, 12PM - 1PM

"Leading Multigenerational Teams"

Today's organizations employ a workforce spanning several generations, all with different values and perspectives. Leaders, therefore, need to understand generational differences and consider how to effectively engage employees, whether they be 18 or 65. Join this webinar to learn the basics of leading a multi-generational team and recognizing how different generational values shape team dynamics and expectations.

Kelly Alvarado-Young, MA

Director, First Year Programs, Gonzaga University

Wednesday, January 23rd, 12PM - 1PM

"Sponsorship, Mentorship, and Why They Matter"

Intentionally building a system of people who support your career development is a key to success. In this webinar, we'll discuss how to identify potential mentors who match your evolving developmental needs, gain support in ways that are organic and less "awkward", and play an influential role in the career trajectory of others.

Diane Quincy, MBA

Director, Leadership and Organizational Development, Avista Utilities

Wednesday, February 6th, 12PM - 1PM

"Coaching in the Workplace"

Achieve more success as a manager and give your organization a competitive edge by learning how to coach employees rather than using a traditional "command and control" approach. This webinar will teach an introduction to coaching, techniques and strategies to create realistic growth and development plans for improved performance, and applications to case studies.

Tina Geithner, PhD

Certified Presence-Based Coach® and Owner of Playing the Edge Coaching

Wednesday, February 27th, 12PM - 1PM

"Employee Engagement"

Highly skilled and gifted people are in high demand and can afford to be picky when choosing an employer. Therefore, organizations need to consider how to attract and retain talented employees. In this webinar, you'll learn what employee engagement is, why it's so important to get right, and some fundamental strategies to creating an engaged culture in your workplace.

Ev Hopkins, MA

Chief Administrative Officer, Spokane Teachers Credit Union

Wednesday, March 20th, 12PM - 1PM

"Civil Conversations in a Divisive World"

Disagreement is not necessarily a bad thing – in fact, it can result in better decision-making in teams. But disagreement is only productive when it is accompanied by curiosity, listening and respect. In this webinar, you'll learn tools to have civil conversations on divisive issues, whether they be in the workplace or in your personal life.

Raymond Reyes, PhD

Chief Diversity Officer, Gonzaga University

Wednesday, April 10th, 12PM - 1PM

"Influencing Others"

No matter what position you're in, influence is a critical skillset. It's the ability to get others to see things from your perspective and 'buy in' to your ideas and suggestions. During this webinar, you'll learn the basic tenets of influence and be introduced to simple ways to become a more influential leader.

Mike Poutiatine, EdD

Wednesday, May 1st, 12PM - 1PM

"Credibility and Communication"

In all of our interactions, being seen as a credible, trustworthy person is important to connecting with others and making an impact. In this webinar, you'll discover how to increase your credibility through specific actions you can take with the words you choose, the verbal cues you give and the body language you use.

Tara Wear, MA

Speaker, Trainer and Owner of Powerful Connections Now

Wednesday, May 29th, 12PM - 1PM

"Mindful Leadership in Complexity"

Leading our lives and organizations in a world characterized by constant change and unpredictability certainly provides "growth opportunities"! In this webinar, you'll learn about the Cynefin framework, identify the type of challenge you are facing, and consider mindful and appropriate response options for addressing complex challenges.

Tina Geithner, PhD

Certified Presence-Based Coach® and Owner of Playing the Edge Coaching

Wednesday, June 12th, 12PM - 1PM

"Overcoming the Gender Gap"

The 'glass ceiling' still exists. Today, women make an average of $7,000 less than male counterparts straight out of college, and less than 10% of Fortune 500 CEOs are women. In this webinar, we'll discuss the current landscape of gender disparity and share simple strategies to help women advance in the workplace.

Rachelle Strawther, MA and Sherri Lynch, MA

WOMEN LEAD Co-Organizers and Co-Instructors, Certificate in Women's Leadership, Gonzaga University
For questions related to these webinars, email Rachelle Strawther at strawther@gonzaga.edu