Instructor: Rachelle Strawther, M.A.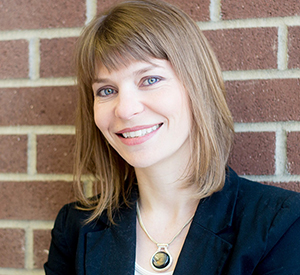 Rachelle Strawther is a life-long student and practitioner of leadership. As the Director of Leadership Training and Development for Gonzaga University's School of Leadership Studies, she designs and leads executive leadership programs on topics such as emotional intelligence, conflict resolution, innovation, and interpersonal communication. She has presented interactive presentations for Boeing, the Washington Agriculture and Forestry Education Foundation, the International Leadership Association, TEDx Kisumu, the Professional Credit Union Women of Spokane, the Washington Chapter of the American Planning Association, and many other organizations. She is also a sought-out storyteller, speaking at the inaugural event for Pivot (a live storytelling event in Spokane), the 2019 Spokane Women's March, Gonzaga's Story Slam, and regularly at the Unitarian Universalist Church of Spokane.
Rachelle graduated from Western Washington University with a degree in Anthropology, earned a Master's in Communication and Leadership, and is currently pursuing a doctorate in Educational Leadership. In addition to her full-time role in leadership development, Rachelle has taught at the undergraduate and graduate level and recently completed a term as President of the Staff Assembly, representing more than 800 employees at Gonzaga. Prior to coming to Gonzaga, Rachelle worked in Kisumu, Kenya, for eight years, first implementing community-based programs for women and children affected by HIV and later leading a regional sports-for-development organization serving 3000 youth. She continues to stay connected to her Kenyan community by managing the Kalaki Fund, a scholarship program for disadvantaged youth that she co-founded in 2009.
.