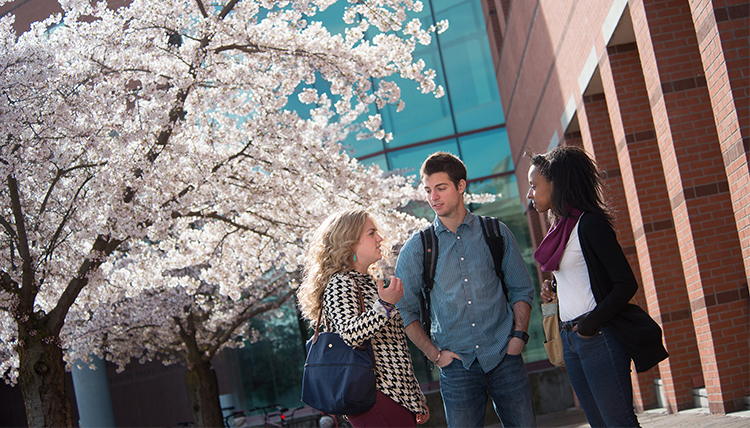 As a student in the Comprehensive Leadership Program (CLP), you will complete a Minor in Leadership Studies, as well as the requirements for a Bachelor's degree in any academic field. Our program is designed flexibly so you can graduate in four years with any major.
Overview
You will complete the following requirements in your leadership journey:
Five Leadership Studies (LDRS) courses (15 credits) and two courses (6 credits) from the interdisciplinary leadership electives list, one of which must be from the LDRS subject, for a Total of 21 credits.
In addition to the course work, participate in a variety of co-curricular activities including seminars, retreats and speakers - listed below.
Each group of selected CLP students begins Leadership Studies courses in the Spring semester of a student's first year, and approximately 40 students will be admitted into the program within a given academic year. Waivers and substitutions for department requirements may be granted to meet special academic needs. In addition, the University waives the fees for credits in excess of the usual eighteen-credit per semester limit, if you qualify, up to 21 hours per semester. You are responsible for extra fees related to any non-CLP credits.
First Year:
LDRS 200 Foundations of Leadership (3 credits) – Spring, Freshman Year
Second Year:
LDRS 315 Theories of Leadership & Organizations (3 credits) – Fall, Sophomore Year
LDRS 325 The Practice of Leadership (3 credits) – Spring, Sophomore Year
Third Year:
LDRS 375 Leading Across Cultures (3 credits) – Fall, Junior Year
Leadership Elective* (3 credits): Select from classes listed below or Internship – Spring Junior Year or Senior Year
Fourth Year:
LDRS 450 Contemporary Issues in Leadership (3 credits) – Fall Senior Year
Leadership Elective* (3 credits): Select from classes listed below or Internship – Spring Junior Year or Senior Year
Leadership Elective Courses
*Electives will be offered by faculty based on student learning objectives and faculty expertise. Electives offered through the program include:
BENT 490 Creativity, Innovation and Entrepreneurship
COMM 401 Communication and Leadership
COMM 430 Intersectional Communication
COMM 440 Rhetoric of Social Change
ECON 311 Global Economic Crisis
ENSC 405 Engineering Project Management
INST 244 International Organizations
INST 350 International Ethics
INST 430 Intersectional Communication
INST 440 Rhetoric of Social Change
LDRS 355 Intercultural Experience on Leadership
LDRS 390 Outdoor Leadership
LDRS 392 Women in Leadership
LDRS 394 Leadership and Storytelling
LDRS 395 Service and Leadership
LDRS 397 Leadership and Film
LDRS 497 Leadership Internship
MGMT 350 Principles of Management
MGMT 355 International Management
PHIL 455 Health Care Ethics
PRLS 450 Organizational Issues for PR
PSYC 380 Industrial-Organizational Psychology
RELI 343 Christian Leadership
SOCI 330 Society and the Individual
UNIV 210 Intercultural Competence Development
WGST 202 Gender, Difference and Power
WGST 303 Isms: Racism, Classism, Sexism
Co-Curricular Activities
In addition to the academic component (courses listed above), you are required to take part in a number of co-curricular activities, designed to complement in-class experiences. These include:
Leadership Fishbowl
An event held each semester in which a featured leadership speaker is sponsored by the Comprehensive Leadership Program. This leadership conversation has included leaders from various educational and business institutions in the Inland Northwest including Jess Walter (New York Times Best-Selling author), Tyler Lafferty (Entrepreneur and Principal of Seven2 and 14Four), Harold Gilkey (CEO of Sterling Savings Bank), Betsy Cowles (Chair of the Board of Cowles Publishing Co), amongst many others.
Annual Leadership Seminar/Workshop (Fall)
Each fall semester, the Comprehensive Leadership Program hosts a half-day seminar focusing on a specific aspect of leadership development. Previous topics have included leadership and diversity, improv and leadership, and team building skills.
Annual Overnight Leadership Retreat (Spring)
During the spring semester, the CLP provides an overnight retreat with the goal of building community and developing additional leadership competencies and skills. In recent years the topics have included: Unpacking Civic Identity, Emotional Intelligence, Leadership through the eyes of Native American culture, and Leading through Conflict.
CLP Spring Break Service Trip
During Gonzaga's Spring Break, the Comprehensive Leadership Program brings 12-15 students to Los Angeles for a week-long service experience. This optional experience for CLP students offers an opportunity to serve in various communities while reflecting on Robert Greenleaf's Servant Leadership principles.
Coughlin Hall Leadership Living/Learning Community
Coughlin Hall Leadership floor is a themed residence at Gonzaga University for freshman and sophomore students interested in living and studying leadership and service. In partnership with Housing and Residence Life office, the Comprehensive Leadership Program offers students various educational programming opportunities within the context of a leadership community.
Zambia Servant-Leadership Summer Course
In the spirit of developing leaders for the common good, the Comprehensive Leadership Program sponsors a summer academic course in the southern African country of Zambia. This optional experience for CLP students provides an international service-learning experience for one month in a small African town. The course entitled, Intercultural Servant Leadership, offers a unique perspective on Greenleaf's servant-leadership principles and concepts while providing rigorous academic and experiential education in this international setting.
Ignatian Leaders Scholarship Competition
Each spring, Gonzaga University hosts a scholarship competition for incoming students committed to academics, community service, character, and leadership. The students of the Comprehensive Leadership Program assist in the facilitation of the leadership competition and the selection process. Many of these Ignatian Leaders Scholars (ILS) participate in the Comprehensive Leadership Program as enrolled students.
Leadership Development Consultation
The CLP students have facilitated leadership training and development for various organizations, agencies, and businesses. This has included half-day retreats or leadership talks for the ARC of Spokane, Lewis and Clark High School, Creston School, Central Valley High School, Youth Leadership Spokane and Inchelium School District.