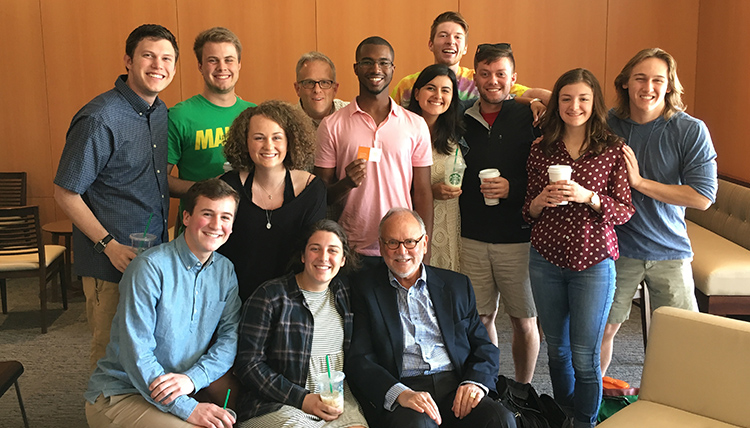 Hosted by CLP, the Leadership Over Lunch series brings people of regional interest and CLP alumni to GU to share their leadership journey with students, faculty and staff.
Spring 2017
Jim Sheehan, Spokane Developer and Entrepreneur - Jim Sheehan graduated from Gonzaga Law School in 1973 and worked for more than twenty years as a public defender in Eastern and Western Washington. After receiving a windfall inheritance, he decided to put his money to work for the greater good by founding the Center for Justice in 1999. Soon after, Sheehan invited local leaders and organizations to envision and launch the Community Building, a dynamic hub for local nonprofits. He also renovated the old Saranac Hotel, along with the Main Market Co-op, and Saranac Commons in order to offer affordable, beautiful homes for nonprofits and small businesses in downtown Spokane.
Brady Essmann, CLP Alumni, Key Relationships Manager at charity:water - A Gonzaga-in-Zambezi alum, Brady connects her Gonzaga experiences to her current work at charity:water in New York City. Charity: water is a non-profit organization bringing clean, safe drinking water to people in developing countries. 100% of public donations go to water projects. She is pursuing passion where it meets professionalism.
Fall 2016
David Jobe, Chief Customer Officer of Winsight, LLC. - Winsight is the market-dominant, business-to-business media and information company specializing in the convenience - retailing, restaurant and noncommercial foodservice industries. David is a proven leader with over 30 years of experience, knowledge and proven results in building businesses. He has a track record fro developing and growing relationships critical for success through a clear focus on execution.
Ryan Bart (GU 2012) - Ryan Bart is a magician and a current third year medical student at Western University of Health Sciences in Pomona, CA. For Ryan, magic is not about fooling people; but rather, it is about demonstrating the limitless potential we all possess. He worked with Magicians Without Borders starting during his Fulbright Scholarship year in Colombia. Ryan's work with Magicians Without Borders has taken him around the world where he uses magic to inspire hope in our world's most forgotten people
Christabelle Peech, Community Conservation Manager, The Hide Community Trust, Hwange National Park, Zimbabwe - Christabelle Peech was born and raised in Harare, Zimbabwe. She attained a BSC honours degree specializing in Ethnography and Tourism Management at Oxford Brookes University in England. In 2014, spurred on by the deteriorating socio-economic and conservation situation in her homeland, Christabelle proceeded to move back to her country of origin, determined to work on the ground and understand the difficulties that rural people faced living in a harsh environment where human and wildlife conflict was and is still very apparent. Since then, she has done exactly what she has set out to do, which is working on sustainable development initiatives in one of the poorest and most down trodden areas of the country. The reality that was realised is that animal conservation cannot be attained without community empowerment. The four main pillars of the work done entails education, women empowerment, food security and bridging the gap between humans and wildlife conflict.
Spring 2016
Melinda Wieder, J.D. - graduated from Gonzaga summa cum laude in 2008 with a BA in political science. During her time at Gonzaga, she studied leadership and business in the Comprehensive Leadership Program as well as the Hogan Entrepreneurial Leadership Program. After graduation, she spent two months in Zambia with the CLP's Gonzaga-in-Zambezi program. Melinda graduated with a JD in 2011 after attending both Willamette Law School and Seattle University Law School. She currently works as a trial attorney at the Law Offices of Sweeney, Heit, & Dietzler in downtown Seattle.
Bret Payton, M.A. (GU 2015) - Bret Payton is an Alaska Airlines Captain and a Gonzaga Organizational Leadership Master's graduate: Learning how to incorporate servant leadership in the workplace.
Fall 2015
Luke Baumgarten, Co-Founder of Terrain, the founder of Fellow Coworking and partner in Treatment, a creative services company - He's a fiction writer and journalist whose work has appeared in Spin, Billboard, Willamette Week and others. Luke worked at The Inlander from 2005-2012, as a staff writer, Music Editor and eventually Arts & Culture Editor. He served as the Writer-in-Residence for Riverlit Literary Journal in 2014. In addition to Terrain, he serves on the board of the Spokane Symphony and the Gonzaga College of Arts & Sciences Advisory Council.
Howard Behar, former President of Starbucks Coffee Company International, author of "It's Not About The Coffee: Leadership Principles from a Life at Starbucks." - For 21 years Behar led Starbuck's domestic business as President of North America, and he became the founding President of Starbucks International opening the very first store outside of North America in Japan. During his tenure, he participated in the growth of the company from only 28 stores to over 15,000 stores spanning five continents. Howard is committed to the development and education of our future leaders and has been a longtime advocate of the Servant Leadership Model.
Matt Santangelo (GU 2000) Executive Director for Spokane Hoopfest Association and Spokane Regional AAU Basketball Club and former Gonzaga Basketball Player - Basketball as a calling. Matt found his way to Spokane, Washington as a member of the Gonzaga University Men's Basketball Program and graduated in 2000. Fast forward and Matt just can't keep himself away from the sport he loves. Taking over the Hoopfest executive director duties in 2014, Matt has been the man in charge of making sure the magic of the largest 3-on-3 street tournament in the world continues through team execution of the many programs happening year-round.

Spring 2015
Ranjy Thomas is the CEO of Flying Rhinoceros and a pioneer in the children's media industry. Ranjy's company , Flying Rhinoceros, is a leader in live interactive storytelling and immersive games for the web, mobile app and set-top box platforms. Featured in Entrepreneur Magazine's annual Young Millionaires edition, Ranjy Thomas is no stranger to the rags to riches (and sometimes back to rags) stories of young visionaries. Ranjy is also the executive director of Origin, a community of over 1,000 young professionals and college students from Portland, Oregon who are committed to helping people find a career that matched their strengths, talents and God-given calling.
Fall 2014
Sr. Teresa "Tesa" Fitzgerald directs Hour Children, a nonprofit in Queens, New York, that serves incarcerated women and their children, building healthy, self-sufficient lives. The program is named for the hours that shape these children's lives: the hour their mother is arrested, the hour children visit their mothers in prison, and the hour of their release.
Gollapalli Israel works among the Dalit caste – the untouchables – in the slums of Chennai, India. While India technically abolished its caste system, centuries of stigma remain. Traditionally, the only occupations open to Dalits are considered impure: tanning leather, butchering, garbage collection and manual scavenging – a term used to describe cleaning human excrement from latrines.
Fr. Joe Maier, a Redemptorist priest born in Longview, Wash., co-founded the Human Development Foundation Mercy Centre in Klong Toey, the largest slum in Bangkok, Thailand. Mercy Centre manages 23 kindergartens for more than 3,000 children. It operates special schools for street children and secures scholarships for more than 1,000.
Brent McCann, a 2008 graduate of Gonzaga University and the Hogan Entrepreneurship Program, is the President of Liliir Education Project, a nonprofit organization whose mission is to provide education and build leaders in South Sudan. The LEP is working to improve the vast educational injustice and inequality in South Sudan.
Spring 2014
Larry Spears is President & CEO of the Larry C. Spears Center for Servant-Leadership, Inc., established in 2008. From 1990-2007 he served as President & CEO of the Robert K. Greenleaf Center for Servant-Leadership. Spears had previously been Managing Director of the Greater Philadelphia Philosophy Consortium, a cooperative association of 12 colleges and universities in the Philadelphia area. He also served as a staff member with the Great Lakes Colleges Association's Philadelphia Center and with the Quaker magazine, Friends Journal, in Philadelphia, PA.
Ben Stuckart serves as the Spokane City Council President. Ben is a Spokane native and graduate of both Lewis and Clark High School and Gonzaga University. Prior to his election Ben had the opportunity to start Communities In Schools of Spokane County. Under his leadership the organization grew to a now half million dollar agency annually. Communities In Schools is a collaborative organization and provides services for thousands of Spokane's students each year. He and his wife Ann have a dog named Bella and reside on the South Hill. In his spare time he and his wife enjoy exploring the City on foot with Bella leading the way.
Fall 2013
Brian Schaeffer, MPA, EMT-P is the assistant chief of the City of Spokane Fire Department in Spokane, Wash. He has 24 years of fire and EMS experience and has published numerous articles on air management, incident management teams in urban environments and fire service leadership. He is a current member of the IAFC, Washington State Chiefs and retired from IAFF Local 3133. He is currently pursuing his Ph.D. from Creighton University.
Hon. Mike Heavey served 14 years as a Washington State lawmaker and over 12 years as a Judge on the King County Superior Court. His work as a volunteer championing the innocence of Seattle neighbor Amanda Knox and Italian co-defendant Raffaele Sollecity inspired Mike get involved in the study of wrongful convictions in the U.S. and around the world.
Tom Veazey is a 2008 graduate of Gonzaga's Comprehensive Leadership Program and currently serves as the Program Director for Mama Hope, an organization that works in close partnership with local African organizations to connect them with the resources required to transform their own communities.