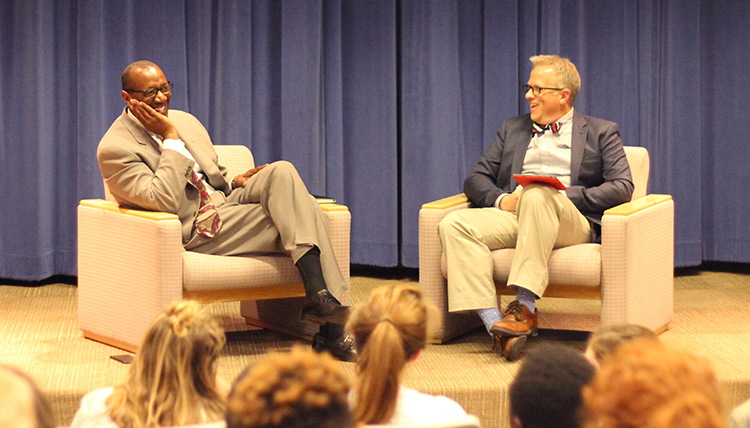 Overview
An event held each semester in which a featured leadership speaker is sponsored by the Comprehensive Leadership Program. This leadership conversation has included leaders from various educational and business institutions in the Inland Northwest and beyond.
Spring 2019: Ginger Ewing, Co-Founder & Executive Director of Terrain
Ginger Ewing is an arts advocate and organizer in Spokane, WA. She is the co-founder and Executive Director of Terrain, an arts non-profit dedicated to creating community and economic opportunity for artists of the Inland Northwest, as well as a Spokane Arts Commissioner, a Washington State Arts Commissioner, and the former Curator for Cultural Literacy at the Northwest Museum of Arts & Culture.
Fall 2018: John Heers, Co-Founder of First Things Foundation
John Heers is the co-founder of First Things Foundation (FTF), which places hard working social entrepreneurs in impoverished communities to serve those populations. For 20+ months the entrepreneurs work 24/7 creating local, long term, sustainable entrepreneurial projects to create jobs and opportunities for the community. FTF attempts to restore purpose and hope in human lives by facilitating loving relationships between people with resources and people with great ideas in impoverished areas.
Spring 2018: Scott Svenson, Co-Founder & CEO of MOD Super Fast Pizza
Scott Svenson is the co-founder and CEO of MOD Super Fast Pizza. MOD, which was the fastest growing restaurant chain in the US in 2015 (according to Technomic), is a culture-centric business inspired by a purpose of making positive social impact. As of January 2018, the company had more than 305 stores trading across the US and the UK. A Seattle native and a graduate with honours from Harvard University, Scott and his wife have established numerous successful companies, MOD Pizza being their most recent.
Fall 2017: Liz Bohannon, Founder of Sseko Designs
Liz is the founder of Sseko Designs. Sseko is an ethical fashion brand that works to educate and empower women. By providing employment and educational opportunities, Sseko enables women to continue their education and become leaders in their country. In four years, Sseko has grown from three women to an international fashion brand that provides employment, educational opportunities and entrepreneurial training to over 76 women in East Africa. She believes deeply that business is a powerful platform for social change and that girls are our future. Liz's work has landed her on the show Shark Tank as well as recognition in Bloomberg Business, Ingram's 30 under 30.
Spring 2017: John Kirby, Vice President of Capacity Planning at Alaska Air Group
John Kirby is the Vice President of Capacity Planning at Alaska Air Group. Prior to joining Alaska in January of 2015, Kirby worked at Southwest Airlines in multiple leadership roles. Before joining Southwest Airlines, Kirby led the network planning group at AirTran Airways from December 1999 until May 2011.
Winter 2017: Ryan Lewis, Four-Time Grammy Winner, Musician, Producer, and Director
Ryan Lewis is a producer, a musician, a photographer and videographer, a music video director, and a savvy businessman. His songs "Thrift Shop" and "Can't Hold us" with Macklemore reached #1 in the country and their albums continue to influence our culture. With songs like "Same Love" and "White Privilege II" Macklemore and Ryan Lewis have intentionally produced songs addressing social justice issues and seek to raise the collective consciousness of our society.
Fall 2016: Sabra Williams, Director of Outreach and Founder, The Actor's Gang Prison Project
Sabra Williams is the Director of Outreach and Founder of The Actors' Gang Prison Project, a program inside the California prison system, conducting weekly intensives to unlock human potential in the interest of effective rehabilitation. She has received international acclaim for her work as an artist and founder of The Actor's Gang Prison Project, including being named as a White House Champion of Change.
Spring 2016: Dr. Ed Taylor, Vice Provost & Dean at University of Washington, GU Trustee
Dr. Ed Taylor is the Vice Provost and Dean of Undergraduate Academic Affairs at the University of Washington where he oversees educational opportunities that deepen and enrich the undergraduate experience. He earned his master's degree in psychology and bachelors' degrees in sociology and in psychology at Gonzaga University. Active in the community, Taylor is a trustee of Gonzaga University and a founding board member of Rainier Scholars, a scholastic preparation program for high-achieving children of color.
Fall 2015: Jena Lee Nardella, Co-Founder, Blood:Water
Jena Lee Nardella is the cofounder of Blood:Water, which she started ten years ago at the age of twenty-two with the band Jars of Clay. Following her vision and leadership, the organization has brought clean water to more than a million people in Africa and provided healthcare for more than 62,000 people in HIV-affected areas. She has been honored as GOOD Magazine's GOOD 100 and as one of Christianity Today's 33 under 33 Christian leaders shaping the next generation of faith. Jena and her husband, James, and their son, Jude, split their time between Nashville, Tennessee and East Africa.
Spring 2015: Norma Clayton, VP of Learning, Training and Development, the Boeing Company
Norma Clayton is Vice President for Learning, Training and Development at The Boeing Company. In this role, she partners with the businesses and functions to design and implement training and development programs that are world class, cost effective and aligned to business goals and objectives. Norma holds a master's degree in Business Management and Human Resource Development from Webster University, a bachelor's degree in Industrial Administration from the New Jersey Institute of Technology, and is pursuing a PhD. She is also a graduate of the Focus St. Louis Leadership Development Program.
Fall 2014: Dayna Eberhardt, Vice President of Global Talent Development, Starbucks Corporation
Dayna Eberhardt leads Starbucks leadership development, retail learning, and organization development teams for the enterprise and its family of brands around the globe. Over the years, she has held numerous Partner (Human) Resources positions for Starbucks, both domestic and international. In 2010, Dayna played a key role in transforming Starbucks organization model to support the transformational agenda and growth strategies after the 2008 economic downturn. Prior to Starbucks, Dayna served in a variety of human resources, organization development, talent development, and leadership development positions at Alaska Air, Horizon Air, and Walker, Richer, & Quinn (WRQ).
Spring 2014: Jess Walter, New York Times Best-Selling Author
Jess Walter is a New York Times Bestselling author and leader in the Spokane arts community. A former National Book Award finalist and winner of the Edgar Allan Poe Award, Jess Walter is the author of six novels and one nonfiction book. His work has been translated into 28 languages, and his essays, short fiction, criticism and journalism have been widely published, in Best American Short Stories, Best American Nonrequired Reading, Harper's, Esquire, McSweeney's, Byliner, Playboy, ESPN the Magazine, Details and many others.
Fall 2013: Tyler Lafferty, Principal, Seven2 and 14Four
Tyler Lafferty is one of Spokane's most well-known and successful entrepreneurs. The co-owner of four businesses, most notably the digital media and advertising firms Seven2 and 14Four, Lafferty works with clients such as Disney, Nickelodeon, AT&T, Netflix, and Sony. His foundation of strong employee appreciation, a relaxed office climate, and a family-style approach to work has led to a high retention rate of the 70 employees in his companies. His companies have only one rule: "Do great work for great clients and have fun doing it."
Spring 2013: Marjorie Humphries
Marjorie Humphries recently received Gonzaga University's highest honor, the DeSmet Medal for her witness to the Ignatian desire to see and choose Christ in the world, for her more than three decades of service to the poorest and least among us at home and abroad, and for her creativity in health education and leadership.
Fall 2012: Tom Mears, Chairman, Burgerville Restaurants
Tom Mears is the chairman and former CEO/President of Burgerville, a Portland-based restaurant known for its local and natural ingredients and commitment to sustainable energy. Mears is the driving force behind Burgerville's mission-led philosophy of "Serve with Love", which is the foundation of the company's goals for conducting food and business operations in a sustainable manner.
In 1967, Mears became the manager of the first Burgerville in Portland, OR. He spent the next 16 years at Burgerville in management and executive positions, before becoming president/chief executive officer in 1982. Burgerville uses 100% wind power for all its restaurants and headquarters, converts its trans fat-free canola oil into biodiesel, and serves only range-fed beef in their fast food restaurants.
In 2002, Mears was inducted into the Oregon Restaurant Association Hall of Fame and was selected as the 2007 recipient of the national Trendsetter Award.
Spring 2012: CLP Alumni - Jordan Piscobo, Erik Mertens, Kathleen Wood & Megan Hurley
The Comprehensive Leadership Program welcomed four alumni back to campus in March of 2012. Each guest shared about their post-Gonzaga life, including the unexpected journeys and the lessons learned along the way.
Megan Hurley graduated from Gonzaga in 2006 and studied Biology, Spanish, and Religious Studies. She now lives in Spokane, working as a nurse with several organizations: Patchwork Employment, Refugee Screening and travel shots at the Health District, and on the Medical/Surgical floor at the Valley Hospital.
Kathleen Wood earned her B.A. from Gonzaga University in 2005 and is the author of numerous educational and community-generated reports on the implications of food policy on farmer livelihoods, rural economic opportunities and labor conditions in the U.S. farm system. She is currently is a Master's candidate in the department of Rural Sociology at Penn State University.
Erik Mertens graduated from Gonzaga in 2005, and was honored to deliver the student address at the Class of 2005 Commencement. He is currently on staff with the Tri-Cities Dust Devils, a single-A minor league baseball team. His involvement with the Comprehensive Leadership Program was definitely one of the very best parts of his Gonzaga experience - and it continues to bless his life today.
Jordan Piscobo Grew up in Omak, WA. He received his Bachelor of Arts in Economics and History with a concentration in Leadership, graduating Magna Cum Laude. He is currently the operating partner for Prodigy Arrow and regional operations for Prodigy Network, a venture that began while he while he was in Law School at Fordham University in New York.
Fall 2011: Ron Sims, Former Secretary of Housing and Urban Development, Obama Administration
Ron Sims worked for the Obama administration as the Deputy Secretary of the United States Department of Housing and Urban Development. From 1997 to 2009 Sims was the King County Executive in Washington State. Prior to this position he was an elected member of the county council. During his time as County Executive, Sims raised awareness about global warming and implemented on of the world's first plans to avoid it; created the Puget Sound Health Alliance, a consortium to improve healthcare and control costs; helped fund and build more than 5,500 units of housing; and created successful alternatives to adult detention, helping to reduce the jail population and lower crime rates. He has received the Public Official of the Year award, Climate Protection Award, Health Quality Award and Children's Health Initiative. Sims was born and raised in Spokane and currently lives in the Seattle area.
Spring 2011: Howard Behar, Former President of Starbucks International
Howard Behar is the author of the best-selling book, It's Not About the Coffee: Leadership Principles from a Life at Starbucks. He began his career at Starbucks in 1989, and helped develop Starbucks from a chain of 28 stores into an international coffee business through positions such as executive vice president of sales, founding president of Starbucks International and president of Starbucks North America. Behar retired in 2003, and continued to serve as Board Director for Starbucks until 2006. He currently sits on the Board of several companies around the country, and continues to lives his mission every day: inspiring others to live by their values.
Fall 2010: Thayne McCulloh, Gonzaga University President
Born in Los Angeles and raised in Washington, D.C. and Seattle, Dr. Thayne McCulloh attended Seattle's Bishop Blanchet High School. He arrived at Gonzaga University in 1986, served as a resident assistant and resident director, was president of Alpha Sigma Nu (the Jesuit honor society), and was elected student body president in his senior year. He graduated with a Bachelor of Arts degree in psychology, magna cum laude, and proudly shares with Harry H. Sladich, the only other non-Jesuit to serve as interim president (1991, 1997-98) the distinction of receiving Gonzaga's Lindberg Loyalty Award. In 1989, he was accepted to study for the Master of Science degree in experimental psychology at Oxford University. He was awarded the Doctor of Philosophy in experimental social psychology from Oxford in 1998.
Spring 2010: Fr. Dominic Sandu, Zambezi Priest
Having lived his entire life in one of the poorest nations in the world, Fr. Dominic is accustomed to a world of sickness, poverty and tragedy. While growing up, Fr. Dominic was influenced by the Franciscan monks that volunteered their time at his childhood parish, Our Lady of Fatima. He saw how they reached out to the poor and the sick and also how they taught the children there. In 1995, Fr. Dominic began his path toward priesthood. His novitiate work was done in Tanzania, where he studied spirituality. He studied philosophy at St. Bonaventure College in Lusaka, Zambia's capital. Finally he finished his studies in theology at the Salvatorian Institute of Philosophy and Theology. In 2007, he received his ordination. Fr. Dominic partners with Gonzaga University for the Gonzaga-in-Zambezi program, supporting the community of Zambezi with education, leadership, computer classes as well as nursing support.
Fall 2009: Gert Boyle, Chair, Columbia Sportswear
Gert Boyle is the Chairman of the Board for Columbia Sportswear, the international outdoor apparel, footwear and equipment manufacturer. At age 13, Gert Boyle and her family fled Nazi Germany and moved to Portland, Oregon. Her parents, Paul and Marie Lamfrom, founded what was then called Columbia Hat Company in 1938. After attending the University of Arizona she and her husband, Neal Boyle, returned to Oregon and joined the family business. After the death of her father, Neal became president. Six years later at the age of 47 he died of a heart attack. Gert found herself at the helm of a financially struggling company. Her son Tim, while still in college, helped run the business. After a year they were advised by a banker to sell Columbia, but they were only offered $1,400 and wisely declined. Hard work and a helpful staff of employees made Columbia a leading global seller of outdoor apparel, footwear and equipment with annual sales of more than $1 billion. Gert Boyle has become an industry icon and she is a well respected leader in Portland and around the world. Her autobiography, One Tough Mother, was published in 2005. She was the first woman to be inducted into the Sporting Goods Association Hall of Fame and was also inducted into the Global Business Hall of Fame and the Junior Achievement Business Hall of Fame.
Spring 2009: Fr. Greg Boyle, CEO Homeboy Industries
Fr. Gregory Boyle - best known as Fr. Greg by all who meet him -- was born in Los Angeles, one of eight children. After graduating from Loyola High School in Los Angeles in 1972, he decided to become a Jesuit and was ordained a priest in 1984. He received his BA in English from Gonzaga University; an MA in English from Loyola Marymount University; a Master of Divinity from the Weston School of Theology; and a Sacred Theology Masters degree from the Jesuit School of Theology. In 1992, as a response to the civil unrest in Los Angeles, Fr. Greg launched the first business (under the organizational banner of JFF and Proyecto Pastoral, separated from Dolores Mission Church): Homeboy Bakery with a mission to create an environment that provided training, work experience, and above all, the opportunity for rival gang members to work side by side. The success of the Bakery created the groundwork for additional businesses, thus prompting JFF to become an independent non-profit organization, Homeboy Industries, in 2001. Today Homeboy Industries' nonprofit economic development enterprises include Homeboy Bakery, Homeboy Silkscreen, Homeboy Maintenance, Homeboy/HomegirlMerchandise, and HomegirlCafé. As Executive Director of Homeboy Industries and an acknowledged expert on gangs and intervention approaches, Fr. Boyle is a nationally renowned speaker. He has given commencement addresses at several prestigious universities, as well as spoken at conferences for teachers, social workers, criminal justice workers and others about the importance of adult attention, guidance and unconditional love in preventing youth from joining gangs. Fr. Greg and several "homies" were featured speakers at the White House Conference on Youth in 2005 at the personal invitation of Mrs. George Bush. Fr. Greg is also a consultant to youth service and governmental agencies, policy-makers and employers.
Fall 2008: Bill Gates Sr., Gates Foundation
Gates earned his bachelor's and law degrees from the University of Washington, following three years of U.S. Army service in World War II. A founding partner at Preston Gates & Ellis, Gates has served as president of both the Seattle/King County Bar Association and the Washington State Bar Association. He has served as trustee, officer, and volunteer for more than two dozen Northwest organizations, including the Greater Seattle Chamber of Commerce and King County United Way. In 1995, he founded the Technology Alliance, a cooperative regional effort to expand technology-based employment in Washington. Gates also has been a strong advocate for education for many years, chairing the Seattle Public School Levy Campaign in 1971 and serving as a member of the University of Washington's Board of Regents since 1997. William H. Gates Sr. guides the vision and strategic direction of the Gates foundation and serves as an advocate for the foundation's key issues. He first answered his son's request for help in using his resources to improve reproductive and child health in the developing world by directing the William H. Gates Foundation, which was established in 1994. It merged with the Gates Learning Foundation to create the Bill & Melinda Gates Foundation in 2000.
Spring 2008: John Sage, Pura Vida Coffee
John Sage manages the general business operations of Pura Vida Coffee from the company's administrative office in Seattle, Washington. Pura Vida is a specialty retailer selling premium coffee to individual and institutional customers across the United States. All net profits from the coffee sales, along with donations from customers and partners, benefit at-risk children in coffee growing regions of the world. Prior to launching Pura Vida Coffee, John spent nine years working in various high-tech marketing positions. He served as Vice-President of Marketing and Business Development for Starwave Corporation, a leading Internet media company recently acquired by Disney and Infoseek. Prior to joining Starwave in 1994, John spent five years at Microsoft, where he ran the Microsoft Works business and later directed marketing for the company's flagship application product, Microsoft Office. John holds a BA in American Studies from Stanford University and an MBA from Harvard business School.
Fall 2007: Sharon Parks, Author, Leadership Can Be Taught; Director, Leadership for the New Commons, Whidbey Institute
A graduate and former faculty member of Harvard University, Parks is currently a senior fellow at the Whidbey Institute. Parks' view is that leaders are formed gradually, over time and through deliberate effort - not merely born with special traits. In her book, Leadership Can Be Taught, Parks challenges traditional thought that maintains leadership skills are an innate gift with which only some are blessed. Parks, building on the work of Harvard leadership professor Ronald Heifetz, presents an innovative way in which leadership can be fostered. Parks is also the co-author of Big Questions, Worthy Dreams and Common Fire: Leading Lives of Commitment in a Complex World.
Spring 2007: Bill Robinson, Whitworth University President
William P. (Bill) Robinson is president emeritus of Whitworth University in Spokane, Washington. He served as Whitworth's 17th president from 1993 to 2010, after previously serving as president of Manchester College, in Indiana, from 1986 to 1993. His tenure as Whitworth's president was the second longest and one of the most influential in the university's history. With uncommon clarity, Robinson understood and articulated the "Grand Paradox" of Whitworth's mission to uphold Christian conviction and intellectual curiosity as complementary rather than competing values. In his current role as president emeritus, Robinson works closely with Whitworth President Beck A. Taylor and the university's institutional advancement staff on external relations. He also writes and speaks widely on leadership, organizational culture and communication in corporate, non-profit and ministry settings.
Fall 2006: Marshall Chesrown, Blackrock Development
Marshall R. Chesrown was born and raised in Spokane, Washington and is a graduate of University High School. In 1976, prior to attending San Diego State University, Marshall started his automotive career as a salesperson at one of the largest Buick dealerships in the country. After holding various management positions within the industry, Marshall became the youngest Toyota dealer in the United States. In 1986, he began building Chesrown Automotive Group. In 1997, Marshall sold Chesrown Automotive Group, which consisted of eleven companies to Republic Industries, now known as Auto Nation, which became the largest automotive retailer in the world representing over 300 franchises. Marshall is the President and sole owner of Black Rock Development, Inc. Since 2003, Black Rock Development has expanded from the luxury golf community into the development of riverside condominium projects, visionary mixed-use developments, and private-public partnerships that are changing the face of cities and improving the businesses and lifestyles of thousands of people.