July 2018
Recent News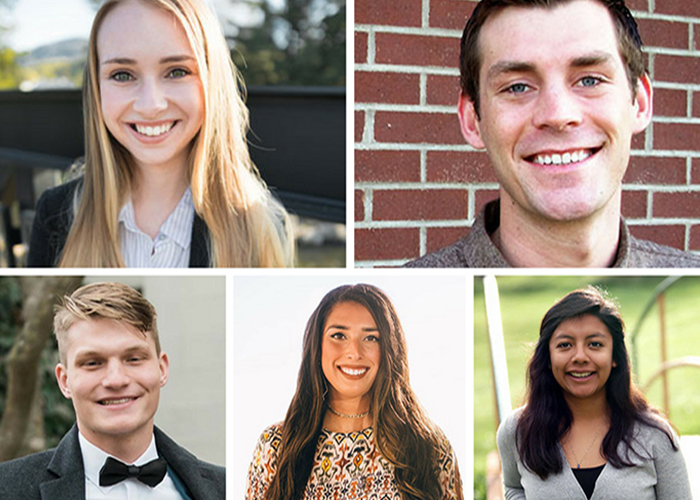 Thomas More Scholars Class of 2021
Please join me in welcoming our incoming 1L Thomas More Scholars, Class of 2021:

Macy Disney
Russell Lytle
Andrew Newman
Bailey Pahang
Dalia Pedro Trujillo

Meet our new TMs here
Recent Stories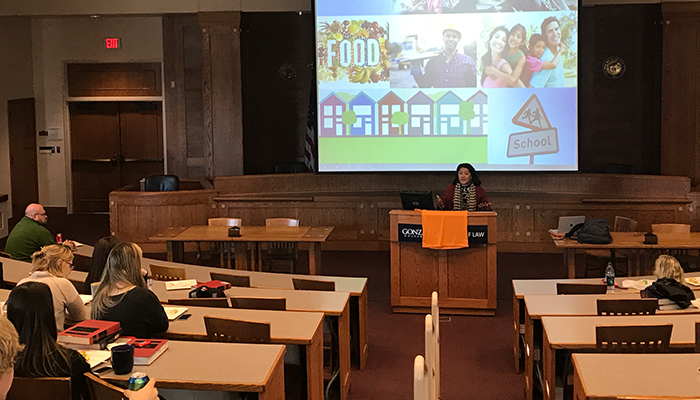 2L Project: Inaugural Social Justice Week
By: Angela O'Meara, 3L TM
In October 2017, the 2L Thomas More Scholars collaborated to assemble the first Gonzaga University School of Law Social Justice Week. The week-long celebration consisted of several different events focused on social justice education, employment, and activism. Throughout the week, law students had the opportunity to respond to prompts posted in the main lobby and personally define the term "social justice." Students also wrote postcards to their state representatives about issues important to them.
Several local public interest legal organization representatives participated in a career panel that allowed students to learn about internship opportunities, future employment, and the career of a public interest attorney. Organizations included TeamChild, Northwest Justice Project, World Relief, YWCA, and several more.
The Thomas More Scholars also encouraged fellow students to attend several speaking engagements throughout the week, including Angela Davis, Aurora Martin, and Professor Inga Laurent. Ms. Davis, hosted by Gonzaga University's Visiting Writers Series, presented on her personal experiences advocating to end gender, race, and class discrimination.
Aurora Martin, a long-time legal aid attorney and the former executive director of Columbia Legal Services, spoke with students about her new organization, Pop-Up Justice. Students learned about diversity and leadership, and how law students and attorneys can incorporate social justice in their work.
Additionally, Professor Inga Laurent shared with students her recent experience as a Fulbright scholar researching restorative justice practices in Jamaica. Professor Laurent engaged students in a conversation about challenges and opportunities present in a social justice-oriented legal career. Further, Professor Laurent informed students about her work advocating for criminal justice and legal education reform.
Social Justice Week 2017 gave law students additional resources to pursue a social justice career. Current Thomas Mores are excited about the opportunity to continue this tradition after the great success and feedback from Social Justice Week 2017.
3L Project: Thomas More Class of 2018 Celebrates Successful Service Project
By: Sarah Freeburg, Class of '18
With support from Director Genevieve Mann and Julie Schaffer, the Thomas More graduating class of 2018 executed a successful 3L service project!
The Thomas More scholarship program requirements were created to help scholars prepare for a career dedicated to public service law and leadership. Scholars are also charged with helping other students realize a career dedicated to public service, foster and exercise leadership skills, and promote a sense of community at the law school and beyond.
This year's 3L class, Bailey Black, Dana Corral, Devin Curda, Sarah Freeburg, and Corinna Pilat selected community organizing as the focus of their project. The project consisted of two-phases with short and long-term goals and a common objective: to equip law students with skills to identify underlying causes behind legal inequities and to address and effectuate change.
The 3Ls collaborated with Carol Krawczyk-Prichard and Dr. Luis Manriquez of the Spokane Alliance, a non-partisan and non-profit alliance of congregations, unions, school and community groups in Spokane County. The first phase of the project was a one-day community organizing workshop that was held this spring at the law school. Dr. Manriquez facilitated the workshop with a mix of attendees including law students, undergraduate students, various professionals, and members of the community. Participants listened to an overview of community organizing concepts, engaged with one another in interactive exercises, and learned the value of listening to the collective and considering multiple ideas before forming conclusions and making decisions.
The second phase of the 3L service project was a formal proposal to the law school administration. The proposal sought to add a new, one-credit community organizing course offering that would expand on the leadership skills and information started in the one day workshop. The 3Ls met together on a weekly basis, researched academic and ABA rules, collaborated on a written proposal and syllabus, and met as needed throughout the year with administration, faculty, staff, and the academic affairs committee. Just before graduation, the 3Ls were overjoyed to learn that their proposal was approved and listed in the course catalog for first and second year students to register this fall!
Although they will miss the chance to take the class as law students, the 3Ls valued their experiences together, the process of their project, and the opportunity to work with leaders within the law school and the Spokane Alliance.
For more information about the Spokane Alliance please visit http://iafnw.org/spokanealliance.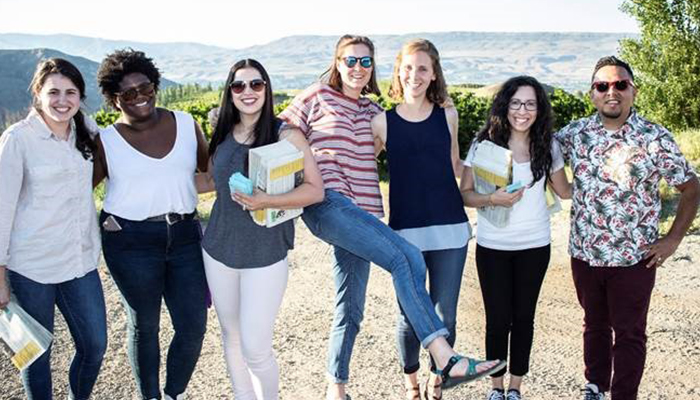 2L Student Spotlight: Mary Calderon
This summer I am interning at Northwest Justice Project (NJP) in Yakima, WA through the Laurel Rubin Farmworker Justice Fellowship. The Fellowship focuses on farmworker advocacy. I will be visiting farm workers in the evenings with other interns, Jesuit Volunteers and NJP staff to inform workers of their rights and offer resources on how to obtain legal assistance, about health and safety and about immigration. I am learning from a skilled outreach team that both educates the community and reaches out to workers across the state throughout the year.

I also have the privilege to work on projects with dedicated attorneys at NJP. My projects thus far focus on wrongful termination and labor camp access. I have relished applying concepts from my Property and Constitutional Law courses. I look forward to these new experiences and learning from truly incredible NJP attorneys and staff.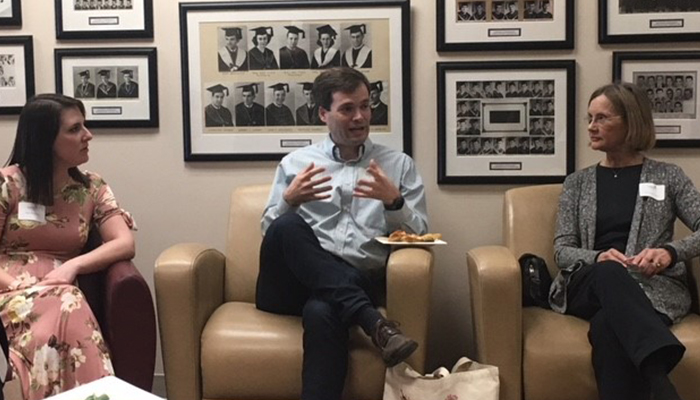 Fireside Chat with TM Alumni
This spring we hosted our first "fireside chat" where TM alumni returned to share their career path and stories of working in public service. Students heard from Andrew Biviano ('06), Anna Hostetler ('17), Mary Lou Johnson ('92), Michele Fukawa ('13), and Lindsey Paxton ('12) and other alumni who attended as well.

Please join us next time!
Recent Photos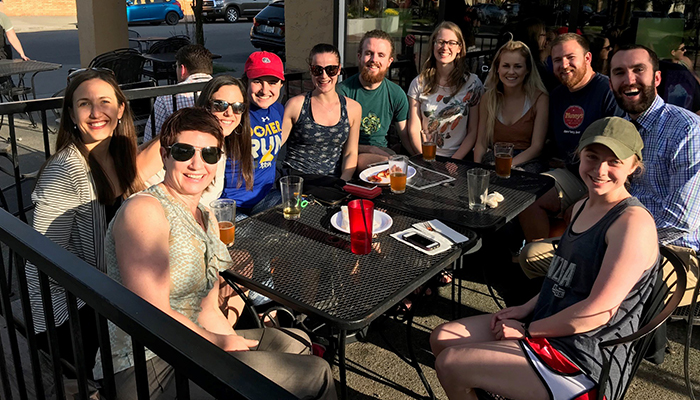 End of Year Potluck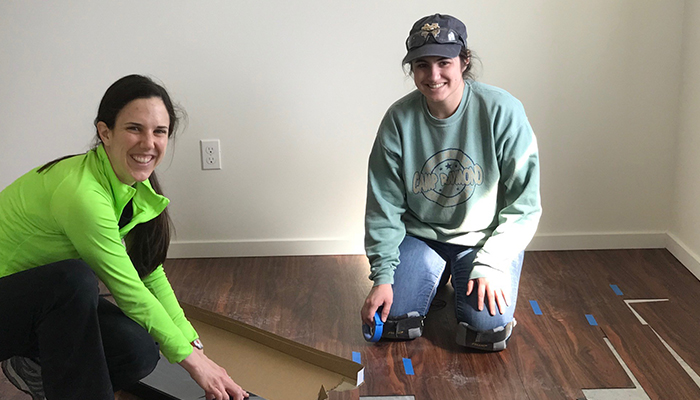 Scholars helping with Habitat for Humanity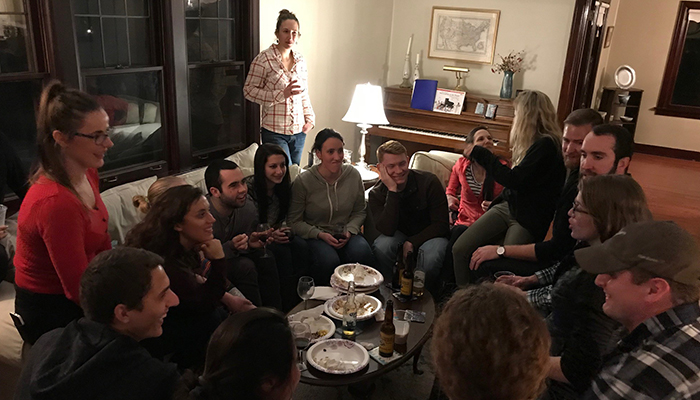 TM Scholars Group Potluck
Alumni- Where Are They Now?

Mary Gaston '97
"I wanted to share the below press release with you because credit must equally be given to the Thomas More Scholarship Program, which left me committed to using my legal training to improve the lives of those most vulnerable and to giving a voice to those who most often go unheard."
Perkins Coie Pro Bono Champion Award -- Mary Gaston
Mary Gaston (Seattle, Commercial Litigation) is being recognized for her historical commitment to pro bono work. Mary has been a repeat nominee over the years and is a mainstay on the firm's 50+ hours of service list, not only for the time she devotes, but also for the outcomes she has achieved. She is a leading example of how a busy attorney fits pro bono into her practice in a meaningful way. When the Foster Parents Association of Washington State sued the state to increase reimbursements to foster parents, Mary was a steadfast advocate through protracted litigation to eventually broker a settlement that led to substantial increases in monthly maintenance payments resulting in an additional $33 million of direct reimbursements to foster parents. Not only did her efforts lead to systemic changes to the state's foster care system to improve the lives of foster families in Washington, they led to a substantial fee award to the firm that has been and will be used for pro bono initiatives, including for example our sponsorship of a staff attorney at the Center for Children and Youth Justice to expand service across the state to youth aging out of foster care.
Mary followed this outstanding achievement with ongoing pro bono leadership, including a difficult domestic violence case in 2017. Acting as an unrelenting advocate for her client, and committed to ending the abuse being suffered by the victim's child, she obtained an unprecedented post-trial ruling that, not only ensured the client's protection, but that also prohibited the abuser for three years from seeking visitation with the child, and conditioned any future visitation on proving to a court that the abuser posed no risk of harm to the child. She also took the lead on an ACLU case to challenge unconstitutional treatment of juveniles in the public defense system. On top of her own pro bono work, Mary has supervised many associates over the years, including by second-chairing trials with associates in order to provide them the invaluable trial experience as first chair. She brings her outstanding trial and appellate skills to bear in her impassioned advocacy of children, families, survivors of abuse and more.
Per Mary, "I am fortunate that I have the support of a firm that is committed to doing its part to ensure that those who are the most vulnerable have access to outstanding legal assistance. In these unprecedented times, I would like to challenge each of us to take on just one more pro bono case in 2018. There is no better time than the present to make a difference."

Lindsey Schromen-Wawrin '13
Before law school, I'd worked as a science educator. In my free time, I would do community organizing. I was living back in my hometown of Port Angeles, testing the idea a friend had shared when we were undergrads: "If you want to make positive change in the world, start where you are from."
While I enjoyed teaching and learning alongside my students, I also saw how social, economic, and environmental injustices limited their lives. I realized during that time that I was interested in structural social change, but I also realized I didn't really understand what "the system" was - and thus, I didn't understand what that change needed to be. I thought about graduate school, but I also saw many people who had gone to grad school for a dream they had, but were now unable to pursue that dream due to student debt. I could read Foucault on my own - debt free. But as I began to get more into policy work, I realized that I would be limited by not having pursued an advanced degree and the skills that hopefully come with it.
Since you're reading the Thomas More newsletter, you know where this story leads. I was honored to receive the scholarship, and am now able to do the work I went to law school for thanks to the Thomas More program (and thanks to Professor Megan Ballard who directed the TM program during my time at Gonzaga, and others in Spokane, who opened so many opportunities.) My partner and I were able to move back to Port Angeles right after law school.
I started a solo practice, model: low overhead, low revenue. Most of my work is civil litigation defending direct democracy, challenging ceiling preemption (asserting that local governments and state governments can expand protections for people's rights, health, safety, and welfare above any "ceiling" set by state or federal law), and representing ecosystems and activists asserting their rights. It's "movement lawyering" work - I get to be a tactician within communities, using my knowledge of the system to help advance social movements fighting for positive structural social change.
In addition to my law practice, last year, I ran for city council. The people of Port Angeles elected me, and I now serve as a city councilmember, the legislative body for our local government. It's honoring - and humbling - to attempt to represent the people as a policymaker.
I still try to stay connected to direct service work, as I think the balance of direct service with policymaking helps to keep policymaking grounded in the realities of everyday legal issues. For example, I just finished representing youth on the truancy court calendar, substituting for a colleague on maternity leave. This brought me back full circle to my previous carrier as an educator. As my youth clients explained why they were not in school - often due to behavioral health issues, sometimes housing issues - I realized that I had no regrets about pursuing law and public policy. I could now better address the root issues affecting my clients' lives. Gonzaga gave me tools to change the system for the better, for which I am forever thankful.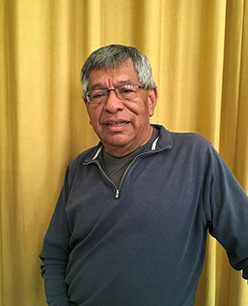 Rafael A. Gonzales '86
Like so many others at Gonzaga and in my Thomas More group (1986), I came late to graduate school. I talked with John Morey Maurice after hearing about the program while researching graduate schools and we were immediately sold. My mother dedicated much of her life to public service in one way or another and the program seemed like a good fit. We received notice of our scholarship award later that summer and we were on our way.
Prior to Gonzaga, Jean (MS Counseling Psych 1986) and I had been married nearly 15 years and we had two daughters (then 3 and 5) who made the journey with us. I was the first person in my immediate family to finish high school and college. I am multi-racial, an enrolled member of the Nez Perce Nation and half Hispanic. Growing up in the largely agricultural Yakima Valley, both of us had worked in the fields from a very young age, Jean on her family's farm and me with my grandfather and other family members.
After high school, I joined the U.S. Marine Corps for three years, mostly spent in Cuba while Jean went on to college. Ultimately, we both finished and worked at several different jobs before deciding to go on to graduate school. The law school experience was great, although it did require a slight course correction during my first year. Every professor I had was great. Focused on the student and their needs in class. I was able to work in law-related positions after both first- and second-year, including time with the City Attorney in Kennewick, WA, that gave me an opportunity to complete some jury trials before my third year. I also worked for the late Magistrate Smithmoore Myers in federal court as an extern for a year. Wonderful job experience in both cases and the kind of hands-on experience that helped me in my career.
When I started law school, I felt the call of public service. I had worked for Indian Tribes and an Alaska Native Corporation before law school and thought I could do positive things there. Upon graduation, I was hired as a law clerk for the late Judge Stanley Worswick in the Court of Appeals. Another great opportunity. He was a great writer. Ultimately, my hope was answered and I went to work for a private law firm in Yakima, WA, that represented (among other clients) the Yakama Indian Nation. More learning for me but that job ended with a change in circumstance within the tribe. I then went to the Yakima County Public Defender Office and stayed for more than 15 years. I found trial work and public defense satisfying and ended up making public defense work, in various configurations, my career. I have been fortunate in my career and the Thomas More Program and Gonzaga have been a huge part of that.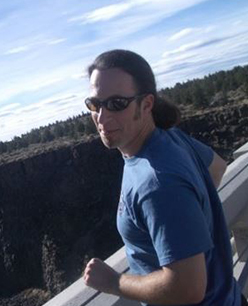 Fabio Apolito '96
Life is strange. As a 1L from the Great Garden State, I arrived in Spokane with an interest in environmental law but the vaguest notion of the mechanics such a practice entails. Luckily the Thomas More Program and the Gonzaga Law Clinic were there to help me down a path that has been as satisfying as it was unexpected; the Program showed me the disparity between the need for, and access to, justice in underserved communities, while the Clinic introduced me to Tribal Court practice.
I have since been fortunate to serve as counsel to the Southern Ute, Nisqually Indian Tribes & Burns Paiute Tribes, and am currently on my second stint with Native American Program, Legal Aid Services of Oregon representing Native People in Tribal & state courts, as well as administrative proceedings, throughout Oregon,. The work - Indian Child Welfare, enrollment, treaty rights, probate, code drafting – can be fascinating, but the true gift is the People I have been lucky enough to meet, work for, and represent along the way. I once heard someone say that you have to give Aloha to get Aloha – so from the bottom of my heart, thank you Thomas More Program for showing me how to give Aloha, for I truly have received It.

Cara Nord '03
I went to law school to become an advocate for child welfare. I went to law school at Gonzaga because of the Thomas More (TM) Program.
I loved attending Gonzaga as a TM, and took advantage of every child-welfare-related opportunity Gonzaga and Spokane had to offer. I interned at the Spokane County Public Defender's Office and TeamChild; completed Court Appointed Special Advocate (CASA) training and served as CASA liaison to the law school; created a child advocacy organization; and took courses focused on child advocacy, juvenile law, and family law.
After graduation, I had the privilege of clerking for Justice Mary Fairhurst (another GU alum) at the Washington State Supreme Court. I then spent over ten years handling child welfare cases as an Assistant Attorney General in Washington and Assistant County Attorney in Colorado. I am currently a staff attorney with Colorado's Office of the Child's Representative - a state agency that oversees and supports over 250 attorneys who represent the best interests of children involved in child welfare, delinquency, probate, domestic relations, and other such cases. I have had the privilege of working with two GU alums who are involved in child welfare - one is fellow TM, Jennifer Stewart (class of '04), who handles child welfare cases as a Senior Assistant Attorney General in Fort Collins, Colorado; and Gretchen Russo (class of '04), who is the Judicial and Legislative Administrator and Juvenile Parole Board Member through the Colorado Department of Human Services.
I am extremely grateful to Gonzaga, the TM Program, and Spokane - for foundational welfare experiences, enduring friendships, and so much more.
From the Director
This past year we welcomed four enthusiastic and passionate 1L Scholars (and added an additional scholar in the spring), created the first Social Justice Week at the law school, and the 3L class shepherded a new course offering called "Community Organizing". We also enjoyed a lovely "fireside chat" with alumni who offered tips, advice and stories for our current scholars.
I was lucky to get to work with Julie Schaffer this year in directing the TM program. She is our Assistant Director for CLiPS - the Center for Law in Public Service. Julie brought tremendous energy as well as new ideas to better prepare our students to be social justice advocates. We continue to balance upholding the traditions of the program with refining the experience so that students remain engaged and energized.

We are excited to now have an online alumni directory so that you can connect with other TMs and law school classmates. I would love to hear from you too! Share with us your public service journey, ideas for the program, and ways to stay connected. Feel free to send me an email at manng@gonzaga.edu.

Yours in service,
Genevieve Mann
Director, Thomas More Scholarship Program