Are you a member of the Thomas More Program Facebook group? This is a private group that allows TM Scholars past and present to converse, share stories, and build community. Join today!
Recent News
Thomas More Program is now part of the Center for Civil and Human Rights
We are excited to share some of the invigorating changes to the Thomas More Program. First, the Thomas More Program is now under the aegis of the Center for Civil and Human Rights, which Gonzaga Law launched in Fall 2017. The Center for Civil and Human Rights is designed to create new opportunities for students and scholars to promote access to justice and to help individuals and communities that are marginalized, subordinated, discriminated against, or otherwise disadvantaged. We believe that the Thomas More Program, its Scholars, and the Center for Civil and Human Rights will flourish under one banner, as we mutually strive to fulfill Gonzaga's mission of social justice and service to others.

Second, Michele Fukawa, Assistant Director to the Center for Civil and Human Rights, will join Genevieve Mann in co-directing the Thomas More Program. Fukawa is an alumna of Gonzaga Law where she was also a Thomas More Scholar. She is pleased and excited to work with Professor Mann in supporting the current Thomas More Scholars.
Michele Fukawa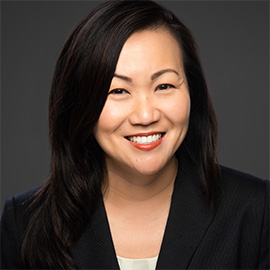 Michele Fukawa started as the Center for Civil and Human Rights' Assistant Director and co-director of the Thomas More Program in May 2019. She graduated from Gonzaga University School of Law in 2013 and was a recipient of the Thomas More Scholarship and the Carl Maxey Diversity Scholarship. During law school, Fukawa interned at TeamChild and the Kalispel Tribe of Indians Legal Office, where she practiced after graduation.
Fukawa worked as an attorney for the Kalispel Tribe from 2013 until accepting the position at Gonzaga. While at the Tribe, she worked on issues related to child welfare and the Indian Child Welfare Act; health and behavioral health services; human resources; enterprise development; and Tribal government advocacy. She assisted in the drafting of Tribal Codes to further the sovereignty of the Tribe, and represented the Tribe in government-to-government discussions with other governmental entities.

Prior to becoming an attorney, Fukawa worked in social services for over a decade in the Portland/Vancouver area of the Pacific Northwest. She began her career as a case manager and advocate for homeless men, and subsequently worked as a case worker for the elderly and disabled population. She then spent seven years in child welfare services, working primarily with disabled and mentally ill foster children in long-term foster care. During this time, she also became an AFSCME/WFSE union representative for her child welfare office and was elected to the AFSCME's Executive Board in 2009. As a representative of AFSCME/WFSE, Fukawa testified to the Washington legislature to fight against cuts to programs for foster children, and also participated in labor-management meetings to address safety issues in the workplace.

Fukawa is currently a member of the Spokane County Bar Association's Diversity Section and Indian Law Section, and is the Secretary/Treasurer of the Indian Law Section. She is excited to be back at Gonzaga and is looking forward to working with Genevieve Mann and the Thomas More Scholars in this upcoming year!
Meet the Class of 2022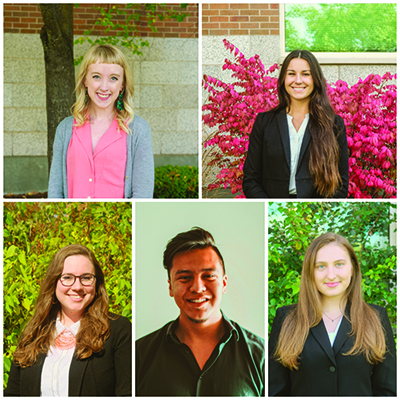 The newest class of Thomas More Scholars are here!
Student Spotlights
Jessica Trujillo, 3L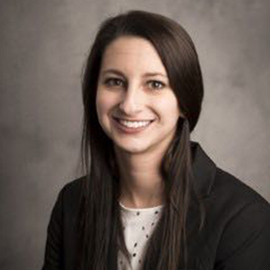 This summer I was lucky enough to intern with New York County Defender Services. As an intern, I shadowed misdemeanor and felony attorneys during their part days (essentially moving through each court part to provide status updates on cases, dispositions, as well as move for hearings). Similar to other student practice acts, in New York I have been able to stand on the record for arraignments and bail arguments, dispositions, and other allocations. In addition to allocations and bail arguments, I conducted legal research for attorneys on a wide range of issues from multiplicitious indictments to facial insufficiency motions. Specifically, I worked with the NYCDS policy attorney to draft legislation for an expungement framework covering decriminalized or legalized criminal offenses. As of June this year, New York finally passed a bill allowing individuals with certain marijuana convictions to expunge their records as those convictions have been decriminalized. So, now there is interest in broadening this to expungment records based on other decriminalized criminal convictions, not just those involving marijuana possession - such as gravity knives. If this proposed legislation passes, a lot of defendants will find immediate relief as they have been serving sentences for crimes that are no longer criminal offenses!

Drafting legislation was exciting of course, but I also enjoyed the opportunity to stand on the record for bail arguments. In New York, individuals must be arraigned within 24 hours of arrest. Attorneys then are forced to think on their feet, humanize their client, and make a persuasive bail application within 10 minutes of meeting their client for the first time. Although this is just a small factor of public defense work, working in arraignments has shown me what being a public defender is about - meeting with an individual facing perhaps one of the scariest moments of their lives after being held in a cell for 24 hours and making that connection ensuring the client you are there to represent them - and of course hopefully help them get home at the end of the day.

I loved my time as an intern with NYCDS and was thankful to learn from experienced public defenders in a city experiencing massive (yet long overdue) criminal justice reform.
Bailey Pahang, 2L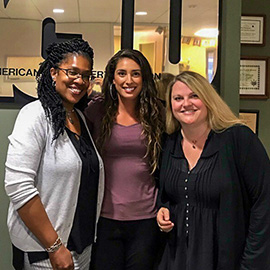 Bailey with TM alums, Michele Storms ('87) Jaime Hawk ('04) at the ACLU
This summer, I had the opportunity to work for the American Civil Liberties Union of Washington (ACLU-WA). As a Policy Advocacy Group Intern, I advocated for the civil rights of individuals from marginalized communities through legislative reform and public education.

As a former middle school teacher, I went into the summer with a narrow lens, excited to learn more about education policy. The ACLU-WA opened my eyes to the intersectionality between all civil rights, such as education and health care. I researched, wrote about, and presented on the racial disparities in health care nationwide, and in Washington state, specifically. These inequities ultimately exacerbate the misconception that health care is a privilege. This is without a doubt interrelated with inequities within the education system, as the ability to access the health care system increases with access to education.

I also wrote a legal memorandum and presented on model laws and policies for pregnant and parenting teens. Pregnancy is the leading cause of students dropping out of school. This is not due to lack of motivation or potential, but rather a combination of discrimination and a lack of resources. My goal was to do the groundwork to shift the narrative and systems of support for pregnant and parenting students in Washington.

Furthermore, I was honored to be at the Washington State Capitol for the signing of the Keep Washington Working Act, a major milestone in protecting the rights of immigrants. To ensure effective implementation of this act, I created public education materials and partnered with statewide advocates to build relationships with and between those from our immigrant and indigenous communities. As someone who identifies as both Latina and Native American, I was in a unique position to partner with our Immigration and Police Practices Counsel to elevate the strong alignment between the immigrant rights movement and the ongoing fight for the rights of indigenous peoples. I played a role in building partnerships across our communities that continue to be marginalized by federal government enforcement and aggression, and represented the ACLU-WA at several coalition meetings.

In addition, I was able to attend court on several occasions and witnessed a show cause hearing, where the judge held that the Seattle Police Department (SPD) had not yet met the accountability factor to prove that excessive use of force was no longer an issue. As someone with family who has directly been impacted by police brutality, this was a historic moment to be a part of, as it was a first step to hold SPD accountable for equitable practices. I also attended a hearing, where the ACLU-WA settled a lawsuit with the Whatcom County Jail for denying individuals in their facility their medication-assisted treatment (MAT). In response, I drafted advocacy letters informing jails in Washington of their legal duty to provide MAT to individuals in their care, as substance-use disorders are considered a disability under the Americans With Disabilities Act. I also drafted legislation in hopes of approaching substance-use disorders as a public health concern, rather than a criminal justice one.

Throughout my first year of law school, I really struggled with imposter syndrome. As a woman of color without any concept of what it meant to be an attorney, I found it difficult to navigate my role in the legal system and how an inexperienced young woman from Federal Way could possibly begin to tackle systems change. During my time at the ACLU-WA, I was asked to collaborate with our Policy Director to write an amicus brief on civil asset forfeiture. In a matter of days, I went from having no clue what civil asset forfeiture even was to laying the groundwork for high impact litigation. I will never forget when my supervisor informed me that he decided to place my name on the brief after reading what I had written—to have someone I deeply respected have such a strong belief in me planted a seed that maybe I do have a place in this legal system after all. I will hold onto my summer at the ACLU-WA for the rest of my life and sincerely hope that I will find my way back there one day soon.
Alumni Profiles
Christopher Church ('09)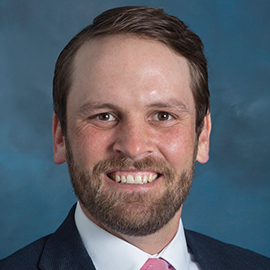 I graduated from Gonzaga Law in 2009, and have been working in child welfare since then. Child welfare was a big, if not the only, reason I chose to attend law school, and the Thomas More Scholarship was a big, if not the only, reason I chose to attend Gonzaga School of Law. I knew the Thomas More Scholarship would provide me with the luxury of pursuing my interests in child welfare without feeling saddled by law school debt.

My first job out of law school was with the Supreme Court of Georgia, where I served as the Managing Attorney for the Committee on Justice for Children. In this role, I worked with juvenile court judges throughout the state to try and improve child welfare proceedings. My job involved training, policy analysis, data analysis, and research & writing related to the legal system's role in child welfare. After four years working in Atlanta, I met my wife, Amanda, and moved to Columbia, SC where she was (and remains) a professor. I continued my work at the systems level, serving as the Law & Policy Director for the Children's Law Center at the University of South Carolina School of Law. Building upon the work I started in Georgia, I began consulting with various state child welfare agencies and national organizations including Casey Family Programs, the National Council of Juvenile and Family Court Judges (whose current Executive Director is also a Zag Law alumna!), the National Center for State Courts, and the American Bar Association. My work was very rewarding, but I found myself increasingly drawn to the frontlines of child welfare. In May of 2018, I took the plunge and took on a new role where I would represent clients for the first time in my legal career.

I am still in that role today, serving as the Staff Attorney for the CHAMPS Clinic at the University of South Carolina School of Law. The CHAMPS Clinic is a pediatric medical-legal partnership, and I have the privilege of representing low-income parents in various civil matters that promote children's health and well-being. My practice includes pediatric disability cases, housing cases, education cases, and other public benefits cases. I work exclusively with patients of our local children's hospital, Prisma Health, providing pro-bono civil representation. Part of my job is also "setting up" cases for students that enroll in the CHAMPS Clinic, taught by a professor at USC. I still maintain my child welfare consulting on the side (albeit in a much more limited capacity) and try to carve out time to write about current child welfare issues.

White attending Gonzaga, I became a die-hard Zags fan. When I graduated, a friend of mine and I made a commitment to meet for one game each year. While my friend and I kept that tradition up for a few years, I have since recruited my wife and family to attend with me. Since graduating in 2009, I have not missed out on the annual tradition. It remains a trip that I look forward to every year, and I have been lucky enough to see the Zags compete in Chapel Hill, Madison Square Garden, the Staples Center, Tucson, Memphis, and many other places. My dad and I even made an impulsive, last minute decision to head to Phoenix for the national championship, where I ran into some old classmates. Spokane was an incredible place to live, and Gonzaga was an incredible place to study and root for the Zags. I am grateful for the Thomas More Scholarship, without which I may never have been lured to Gonzaga and made into a committed child welfare advocate, lifelong Zags fan, and devoted alum.
Jen Auchterlonie ('99)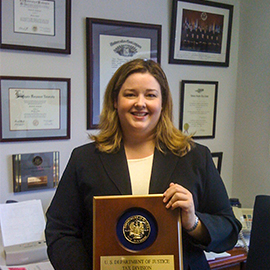 The Thomas More Scholarship Program made law school possible for me. While my parents were proud of my decision to become a lawyer, they did not have the means to help pay for law school. Thankfully, they had instilled in me a lifelong commitment to volunteer work, and a perspective that measures success by what I am doing for others. As the first person in my family to go to law school, I knew I would pursue a career in public service.

The excellent education I received at Gonzaga Law School made my career possible. Adjunct professor Kit Querna brought the tax code to life – he made it fascinating, and even made it make sense! Evidence with Professor Doggett, Civ Pro with Professor Hess, and Crim Pro with Professor Treuthart made it clear that litigation was in my future. Gary Randall took an interest in me and encouraged me to specialize in tax by pursuing an LL.M. after law school. It was Professor Randall's recommendation that helped me get my first job, a clerkship at the U.S. Tax Court in Washington, DC.

I have spent nearly 20 years now in that "other" Washington. After finishing my clerkship, I joined the U.S. Department of Justice, Tax Division, through the Department's Honors Program. As a DOJ trial attorney, I successfully fought against illegal tax shelters, offshore tax evasion, and battled tax cheats large and small to carry out the Department's mission of full and fair enforcement of our nation's tax laws. Although civil litigation had been a passion for many years, my position at DOJ allowed me to pursue other unique and challenging experiences outside the courtroom. While detailed to the U.S. Senate's Permanent Subcommittee on Investigations, I investigated the causes and consequences of the 2008 financial crisis and staffed Senator Levin, the Subcommittee Chairman, at a series of hearings in April 2010, which helped spur passage of the Dodd–Frank Wall Street Reform and Consumer Protection Act. I've also jumped at opportunities to teach, as a way to pay forward my great Gonzaga education. I taught tax for federal prosecutors at DOJ's National Advocacy Center and spent several semesters as a member of the adjunct faculty at Antonin Scalia Law School at George Mason University, teaching partnership and agency law. Last year, again in search of new challenges, I joined the IRS Office of Chief Counsel, where I am learning the regulatory side of tax administration. Major tax reform legislation passed by Congress in recent years is keeping me very busy!

I am still excited by my career every day, eager for new adventures in tax law, and honored to work in public service. I am grateful to the Thomas More Scholarship Program and to my Gonzaga Law professors for setting me on this path.
Mark Griffin ('86)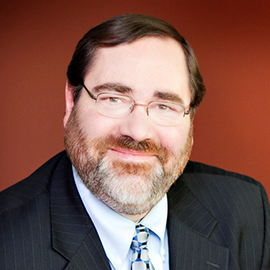 My father was a lawyer who worked as a mortgage banker throughout his career in Milwaukee, Wisconsin. I wanted to emulate my dad and decided to attend law school, choosing Gonzaga because of the Thomas More Scholarship Program. When I made this decision, it was called the Presidential Scholars Program and was modeled after New York University's Root Tilden Scholarship Program because John Morey Maurice, who established the Program, had been a Root Tilden Scholar. My experiences at Gonzaga lead me to a clerkship with U.S. District Court Magistrate Philip K. Sweigert and then a 30+ year career at the Seattle law firm of Keller Rohrback. I am a partner there practicing class action litigation, mainly antitrust cases, on behalf of plaintiffs. I serve on the firm's Executive Committee and as its Pro Bono Coordinator. However, the most important part of my work is what I do for civil legal aid to help low-income people. I was appointed by Governor Jay Inslee to the board of trustees of the Legal Foundation of Washington and currently serve as its president.

Founded in 1984 by the Washington Supreme Court, the Legal Foundation of Washington ("LFW") strategically grants more than $11 million annually to legal aid programs across the state. Funds come from attorneys, judges, businesses (such as Amazon, Microsoft, Starbucks, and T-Mobile), and interest on lawyer trust accounts. Programs funded by LFW and its Campaign for Equal Justice directly served 31,000 families in 2018. In addition, an estimated 2.1 million people benefit from policy changes advocated by the civil legal aid community. LFW's largest grantees are Columbia Legal Services, Northwest Immigrant Rights Project, TeamChild, and the King County Bar Foundation.

The majority of Americans who go to court do so without legal aid. While the Constitution guarantees all people the right to counsel in a criminal trial, it does not extend that right to people facing civil legal issues. Without meaningful access to the justice system, unresolved civil legal problems negatively affect people's lives, threatening their housing, employment, safety, and economic security. Most families can't afford cuts to employment or benefits or housing. That's why access to legal aid is crucial to breaking cycles of poverty. Currently, only one in four people who need legal aid in Washington can access it due to a lack of resources. And the need is growing.

Fortunately, Washington's commitment to civil legal aid is deep. Many of our state's largest law firms are aware of this crisis and invest generously to close the justice gap while also encouraging their attorneys to donate pro bono hours to help low-income people. Despite these efforts, we have a long way to go to fill the gaps that prevent too many people from accessing our justice system. We need more attorneys and firms to step up to ensure access to justice is a reality for all who need it. These investments make our communities just, equitable, thriving places to live and work. Please join our movement for justice at www.legalfoundation.org.
Service Events 2018-19
Volunteering at Habitat for Humanity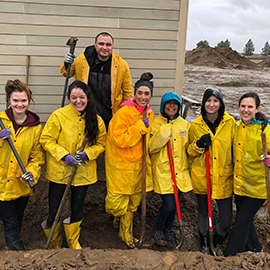 Volunteering at Union Gospel Mission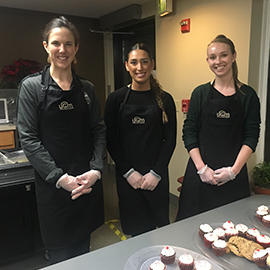 Volunteering at Second Harvest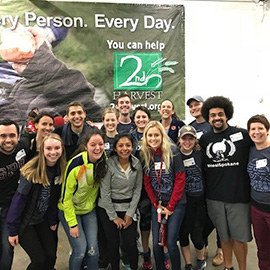 Moving Forward
3L project last year paves the way for new Catholic Charities Immigration Clinic at Gonzaga Law School
During the 2018-2019 school year, the class of 2019 Thomas More scholars drafted a needs assessment for an immigration clinic at Gonzaga Law School. Much of their work involved interviewing various people working or involved in the immigration community throughout the Spokane area and beyond, including World Relief, Northwest Justice Project, Northwest Immigrant Rights Project, and the University of Idaho's Immigration Clinic. Through these interviews and independent research, the scholars compiled data reflecting the need for a clinic at Gonzaga Law School and suggested what resources the clinic should provide. The scholars found that immigration resources are scarce in Eastern Washington and that the only immigration courts in the state are in Tacoma and Seattle. Based on their findings, the TMs promoted a clinic that provided the resources Eastern Washington was lacking. In Fall 2019, Gonzaga Law School and Catholic Charities partnered to create the Catholic Charities Immigration Clinic at Gonzaga Law School, which is housed within University Legal Assistance. The scholars are delighted to see an immigration clinic has opened this year, and they are looking forward to seeing what the clinic will provide to the Eastern Washington population.
Catholic Charities Eastern Washington affirms the dignity of our most vulnerable neighbors by offering collaborative and innovative solutions to the complex challenges facing Eastern Washington. Carrying forth Christ's love, the organization responds in crisis to ease the suffering of individuals and families, stabilize lives by connecting clients to their communities and advocate in hope to help people make progress in their own lives.