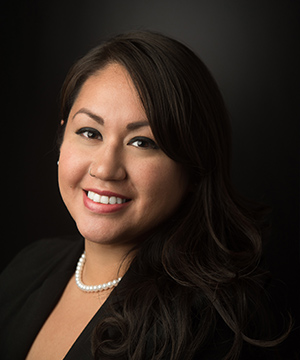 Sarah Carrillo Freeburg is Mexican-American, a member of the Coeur d'Alene Tribe of Idaho and a descendant of the Chippewa-Cree Tribe of Montana. Before coming to Gonzaga, Sarah was employed with the Coeur d'Alene Tribe for 13 years and intends to return to employment there to continue to serve her community.
Sarah spent her adolescence growing up on the Coeur d'Alene Indian reservation. Challenges at home made it difficult to succeed in high school and she dropped out in her junior year when she was 16 years old. She earned her GED that fall and went on to receive the Rotary Youth Leadership Award in 2003 and 2004 in recognition of her leadership and service activities in her community.
In 2004, Sarah worked for Valerie Fast Horse in the Tribal IT Department. After helping Valerie launch the operations of the Tribe's Internet service provider business, Sarah worked for Tribal Chairman Chief Allan as his executive assistant and gained insight into the inner-workings of Tribal politics and legislation. It was there, assisting Chairman Allan and the Tribal attorneys, that she was first inspired to attend law school.
While working full time Sarah earned an A.A. degree from North Idaho College. She studied advanced Coeur d'Alene language in classes taught by Tribal elder Lawrence Nicodemus and Tribal linguist Raymond Brinkman. She was an active member of the American Indian Student Alliance and Latino Clubs. After graduation, Sarah returned to the Tribe's IT Department as a manager to oversee construction of a new Tribal Non-Commercial Educational (NCE) full power FM radio station. While building the radio station she was accepted into the accelerated liberal arts program at Whitworth University in Spokane, Washington. There, she studied applied radio journalism, volunteered at the student radio station and was a recipient of the AmeriCorps Students in Service education award.
After she graduated from Whitworth with a B.L.S. in Humanities and the radio station was successfully launched, Sarah stayed on with the IT Department to manage radio station operations and staff. She was also appointed by Tribal Council to serve on the Tribal Tax Commission. Her exposure to Tribal taxation issues and Federal Communication Commission (FCC) regulations reignited her interest in a legal education. She took an educational leave of absence from the Tribe when she was accepted to the Accelerated J.D. program at Gonzaga.
Sarah resides on the Coeur d'Alene Indian reservation with her husband Tim, a 4th generation wheat farmer, and their toddler son. They attend church at One* in the Spokane Valley and are active in marriage ministry, children's ministry and small group Bible studies.