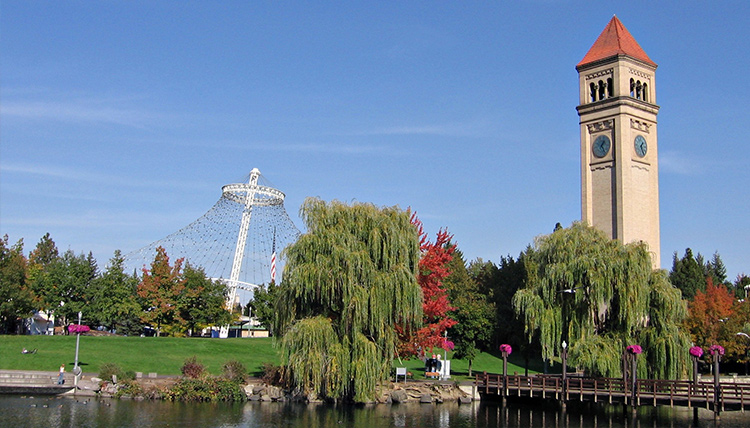 Why Spokane feels like home…
Come and experience the Inland Pacific Northwest. Spokane and the surrounding region provides a number of opportunities for Gonzaga Law students. You'll enjoy access to endless outdoor recreational activities, as well as big city attractions like shopping and entertainment without the congestion or expense of living in a larger metropolitan area. Gonzaga Law is within walking distance to downtown Spokane, and affordable parking is available right in front of the school. Four distinct seasons create an ideal backdrop for skiing, hiking, boating, golf, and year round activities. Located along the banks of the Spokane River, Gonzaga's beautiful campus connects to miles of biking and jogging trails to stimulate your mind and help you feel right at home.
Why students love it here
Cost
Housing is 12% less than the national average, while the cost of living in Spokane is about 5% less.
Median home price -$157,900
Median monthly mortgage – $1,269
Average Rent – $796
90% of all homes in Spokane built since 1990
Vibrant local law community
Where Zags help Zags, offering internships and job possibilities
Writing and Research
Spokane -One of 10 All-American Cities
Five area ski resorts
Four distinctly beautiful seasons
Walk to downtown
Plentiful, inexpensive parking on campus
Just over 600,000 people call Spokane home
Home to the largest timed street race, Bloomsday
Host of Hoopfest, the world's largest 3-on-3 basketball tournament
Strong support for the nationally ranked Gonzaga basketball programs
Learn More about Spokane
The Gonzaga Campus lies at the heart of Spokane's growing University District. Washington State University, Eastern Washington University, Whitworth University, and the Community Colleges of Spokane also have facilities here.
The Convention and Visitors Bureau site. Tons of links to restaurants, clubs, events, and more.
A commercial listing site with lots of great information on the entire Spokane area.
Check out the weekly Inlander for a look at all the latest happenings in Spokane, from food and culture to music and events.
Municipal sites