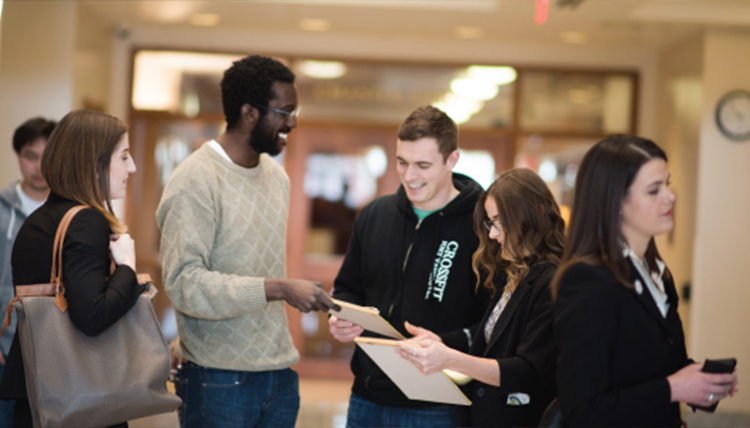 The Accelerated Two-Year J.D. law degree program at the Gonzaga University School of Law provides a full six-term, ABA-accredited legal education, complete with industry-leading experiential learning and advanced legal research and writing components. This program can greatly reduce the opportunity costs associated with the study of law.
Students admitted to the Accelerated Program are given the option of completing their legal degree in two years instead of the traditional three. Two-year students graduate in May of their second year and are able to sit for the bar as early as that July.
The Accelerated J.D. includes a required 6 credit hours of experiential learning and can include up to 15 credits (1 full term) of hands-on training to ensure students receive the same level of training as their three-year track counterparts.
What to Expect
The Accelerated J.D. program allows students to earn a law degree in 24 calendar months. The program requires the same number of credits as the traditional 3-year program but instead of taking a break from studies during the summers, students in the accelerated program take a full load of classes in the summers. See the full breakdown Terms 1 – 6 here.
Students who earn a J.D. degree in two years are able to sit for the bar examination and enter the workforce one year earlier than their counterparts in the three-year program.
Admission to the Program
The Accelerated program is designed for students who are self-motivated, diligent, and industrious. Applicants to the program should be able to demonstrate those traits. The application process requires the same information and uses the same online LSAC form as admission to our 3-year program.
To apply;
Check off the appropriate box on your application to indicate your interest in the accelerated program.
Application & Admission Timeline
Students seeking admission to the accelerated program must apply before April 15th. Applicants not accepted into the Accelerated Two Year program who also expressed interest in the traditional three year program will be considered separately for that program.
October 1: Applications to all Gonzaga Law programs opens
February: Last administration of the LSAT test that will return scores in time for admission to the program.
April 15: Deadline for Accelerated program applicants.
Late-May: Orientation and classes for Accelerated program students begin.
Costs & Financial Aid
The accelerated program is a full, six term program. Therefore, the cost of tuition and books is equal to that of the three-year program. Since students will be in law school for 24 calendar months, the living expenses associated with attending law school may be less than attending for three years.
Students in the Accelerated JD program are eligible to apply for financial aid. 94 percent of all students in the 2016-2017 school year took advantage of at least one scholarship.
Attendance Schedules
Term 1, Year 1 Late May to Mid-August
Term 2, Year 1 Late August to Mid-December
Term 3, Year 1 Mid-January to Early May
Term 4, Year 2 Late May to Mid-August
Term 5, Year 2 Late August to Mid-December
Term 6, Year 2 Mid-January to Early May
Graduation for Law School students is generally held in early May.
As in most states, the Washington State bar examination is administered in July of each year. The examination is also offered in February.
Experiential Learning
The Gonzaga Law accelerated program curriculum requires 8 credits of experiential learning, with the option of completing 15 credits (1 full term's worth). The curriculum also includes 15 credits of skills training and an industry leading 8 credits of Legal Research and Writing.
The experiential learning requirement can be completed as a distance or local externship or in our legal clinic as an internship. Accelerated students have a practical experience requirement which ensures students have the opportunity for real world training.