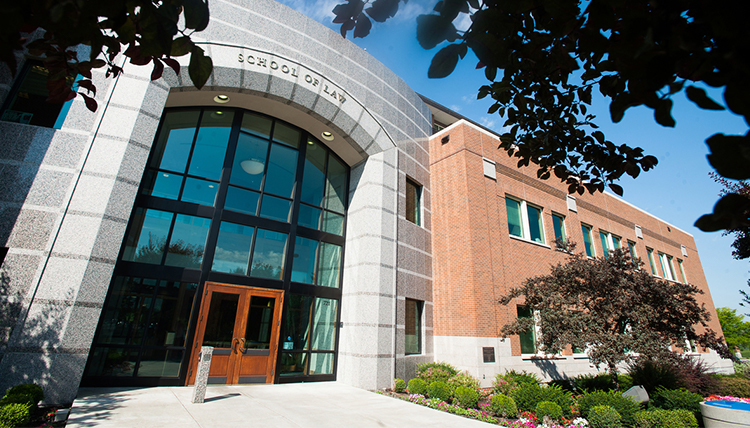 Welcome to Gonzaga Law School!
Orientation for students in the Accelerated and in the Early Start programs is Thursday, May 23, 2019.
This information will be periodically updated. If you have questions about Orientation or transitioning to Gonzaga University School of Law, feel free to e-mail us.
Orientation Schedule
Thursday, May 23
A detailed schedule will be provided to you on the first morning of orientation. Please plan on being at the law school from 8:30 a.m. until 4:30 p.m. on Thursday, May 23. A light breakfast and a lunch will be provided.
Pre-Orientation Checklist
These items need to be completed prior to Orientation.
Please contact boorman@GONZAGA.EDU with any questions.
Download a printable checklist Orientation Checklist – Summer 2019 (PDF).
Submit these required forms to the Registrar's Office by May 3.
Request your ZAGCARD by May 20:
Visit the ZAGCARD request page to submit your card photo (follow the directions for on-campus students). Questions? Call Student Accounts at (509) 313.6812.
Check your course schedule via Zagweb.
Buy your books at the Zagshop.
Complete the first-day orientation assignment (see below).
Submit your Mandatory Immunization Form. Please look for an e-mail from the Health Center with instructions for uploading your required forms to the online patient portal.
Sign up for Direct Deposit by May 14:
If you applied to law school before you received your undergraduate degree, wait until your final degree is posted and then send an official copy of your final undergraduate transcript to the Gonzaga Law Registrar's Office and to LSAC
Amend your Law School Application (if necessary)
You do not need to purchase a parking permit for the summer.
Orientation Assignments & First Day Assignments
Legal study is an interactive process. Much of law school involves learning a process for thinking, and this requires preparation before class and probing discussion in class.
Even for Orientation, there are materials to prepare in advance. Download the 2019 Orientation Material Packet. Read and complete the assignments before Orientation begins.
Many professors assign reading for the first day of class. These assignments are posted on the first-day assignments page. If assignments are not listed for some of your courses, check back later, as new postings will be made as soon as they are available.
Academic Information
Student schedules will be posted by May 10th.
Log in to ZagWeb to retrieve your schedule after they are posted on May 10th.
You will need to have your schedule, including your professors' names, to find your textbook assignments. Get instructions on Buying Textbooks from the ZagStore, visit the Boone Avenue Retail Center (BARC) on campus, or the books may be available from outside vendors.
For information on obtaining academic accommodations, visit the Gonzaga University Disability Access office. If you require an accommodation, please read the Law Orientation Accommodation Notice.
Financial Aid
All students, even those not receiving financial aid, must attend the financial aid entrance counseling session held during Orientation. If you have an outstanding tracking requirement reported on ZagWeb, then you must complete counseling at studentloans.gov in addition to the in-person counseling at Orientation.
If you do not have enough financial aid to cover your tuition and fees, an electronic bill will be sent to you by May 14. Please make sure you have an updated email address on file with the financial aid office to ensure that you receive all financial aid information. Tuition is due on May 28.
If you will be receiving a refund, then it is mandatory that you register for eRefund / Direct Deposit through Gonzaga University Student Accounts.
More information, including sources to contact for answers to questions, is available on the Financial Aid homepage.
Undergraduate Transcript
If you applied to law school before you received your undergraduate degree, wait until your final degree is posted and then send an official copy of your final undergraduate transcript to the Gonzaga Law Registrar's Office and to LSAC.
Zagcard
All Gonzaga students need a University identification card to access various University facilities, including the libraries and the athletic center. It is mandatory that you electronically submit a photograph for your Zagcard. You may do so by following the instructions from Gonzaga University Student Accounts.
The Zagcard will be used for students meal plans, checking out materials from all Gonzaga Libraries, Fitness Center Access, and access to buildings on the main Gonzaga campus. You will be issued your card at Orientation.
Computing & Technology
Full information about computer configuration, network configuration, and security is available on the Gonzaga Law Technology homepage.
Questions about your Gonzaga network account should be directed to Tech support (techsupport@gonzaga.edu or (509) 313-5550)
The preferred method of taking law school exams is via your laptop, using a software called Examplify. During the exam, Examplify blocks access to the internet, and to information stored on your computer. Training sessions for using Examplify will be provided to you shortly after classes begin, at which point you will have your computer certified and receive a password for downloading the software.
Health & Wellness
Gonzaga provides student health insurance coverage, and all Gonzaga students qualify as WA state residents for purposes of shopping for insurance through the WA state Healthcare Exchange.

See the Gonzaga Student Insurance Information Page for more details on the coverage that has been offered in the past.

Gonzaga Law students, as members of the Gonzaga student community, have access to the Gonzaga Health Center, which will be available all summer. The Gonzaga Counseling Center is also available to all students during the summer.

University Ministry is also available to support the faith development of all students at Gonzaga University, including Law students.

As a student, you are entitled to buy a membership to the Rudolf Fitness Center. Fall and Spring Semester memberships are $150 per term, Summer memberships are $30. Law students are not automatically charged a fee as part of required tuition and fees. A membership may be purchased by going to Student Accounts—found in the basement of the Crosby Center, Room 001—and paying the full fee with check or cash.
Academic & Professional Standards
The Student Handbook contains the Law School's Academic Rules, the Code of Student Conduct, and other important information and policies. Be sure you have read it prior to the start of Orientation.
You will also be bound by the Gonzaga University Handbook and Student Conduct and Community Standards contained within.
REMINDER: You must disclose everything, civil or criminal, no matter how minor, no matter if it was expunged, sealed, etc. If you did not disclose something, IMMEDIATELY fill out the Request to Amend Law School Application and return as instructed on the form.
In the event you apply for admission to practice in any state or country, your life will be under examination by the bar examiners. Failure to disclose something to us that must be disclosed to the bar examiners in any jurisdiction is evidence of dishonesty, and could prevent you from being admitted to practice. For example, the Washington State Bar application asks:
"Have you ever been cited, arrested, charged or convicted for a violation of any law including minor traffic violations?"
The application then provides:
"On matters other than traffic violations, you must set forth on an additional sheet the full circumstances surrounding the incident, including the date and place; a description of your conduct; the nature of the citation, arrest, charge or conviction; the enforcement agency involved; any courts involved; file number and the disposition, including dismissal, acquittal, sentences, fines or probation, etc. It is your responsibility to provide full details, explanation and relevant documentation (copy of information, complaint or indictment, judgment and sentence, order of deferral or dismissal, etc.) to the best of your ability to do so."
The application also provides:
"The responsibility of full disclosure rests entirely upon the applicant. Failure to fully disclose as requested in this application may be considered a reflection on the applicant's moral character and may itself result in denial of admission. It is the applicant's duty to advise the Admissions Department of any changes in or additions to the information provided on this application. There cannot be too much disclosure."
To be admitted to any bar, you will be required to sign a blanket waiver of confidentiality and are subject to independent verification of the items you report on the bar application. Any discrepancies between what the bar examiners find out about you and what you report to them may prevent you from being admitted based upon lack of good moral character.
Employment During Law School
The first year of law school is a challenging experience that requires a significant commitment of time and energy. It is highly recommended that you do not work at outside employment during your first year of law school.
As a rule of thumb, you should plan to spend three hours of study time for each credit hour you are registered for. This does not count the extra time it will take to prepare for examinations or write papers. If you are registered for 15 credit hours per week, you should plan to spend at least 45 hours studying.
On average, you should spend 60 hours a week on law school (15 hours in class, and 45 hours outside of class). Initially, the time commitment may be even higher.
The student handbook provides: Rule 3-2
D. Recommended Limitation on employment.
Gonzaga strongly recommends that students not be employed more than 20 hours per week in any week in which the student is enrolled in more than ten (10) credit hours
Transportation, Maps, & Campus Parking
Gonzaga University is a ZipCar station, and students can receive $35 in driving credit for the $25 registration cost. Get more information from ZipCar.
Gonzaga University has a number of bike racks available around campus, including one by the Law School front doors. Campus security sells hardened U-locks at a discounted price, and offers Bicycle Registration services.
Gonzaga University School of Law is directly serviced by routes #26, #28, and #29 of Spokane Transit, which offers trip planning through Google Maps Transit. The Law School is also about 1 walking mile from The Plaza (701 W Riverside Ave), which is the central bus station for almost all of the routes through Spokane.
The Gonzaga Campus covers approximately 30 city blocks and has over 100 buildings. Download or explore the online Gonzaga Campus Map. All Gonzaga buildings are also listed on Google Maps – Gonzaga University Campus.
A vehicle parking permit is required for all campus lots. During the summer months, vehicles parked in the green and orange designated lots will not be ticketed. Parking permits go on sale August 15th, and must be purchased and displayed by September 10th to avoid ticketing. To purchase a parking permit, visit the Safety and Security Office or go online (2018 link coming soon). Be sure to print and bring your receipt to Campus Security to claim your permit.
Student Organizations & Events
The Student Bar Association is the student government of Gonzaga Law, and operates as an adjunct of the American Bar Association.

The SBA supports a variety of student groups and organizations. With over two dozen official student organizations on campus, Gonzaga Law offers students an opportunity to get involved with just about any topic or issue that they are passionate about.

A club fair will be held early in the Fall Term.
Lockers
Gonzaga Law provides on campus student lockers on the 1st floor of the law school.