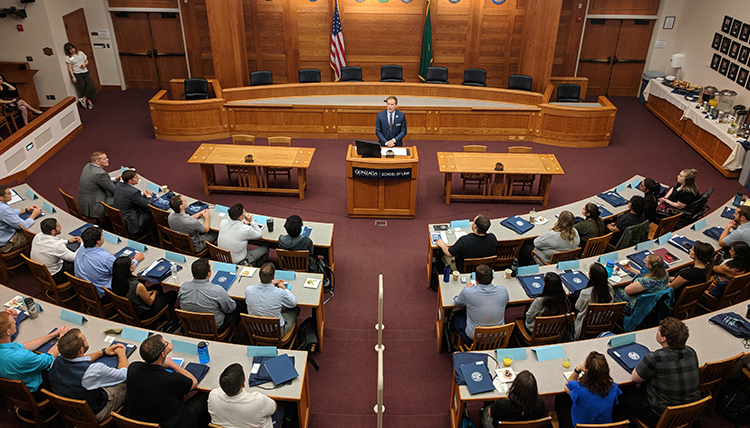 Photo from Orientation 2019
Welcome to Gonzaga Law School!
Gonzaga University School of Law is dedicated to providing our future Law grads with a welcoming, informative, and fun Orientation.
This information will be periodically updated. If you have questions about Orientation or transitioning to Gonzaga University School of Law, feel free to contact Bryn Boorman with any questions or dietary restrictions information.
Orientation Schedule:
August 18 & 19th. Please plan to be on campus from 9am - 5pm on August 18th. Additional information will be shared regarding the schedule for August 19th.
Pre-Registration Requirements:
Student schedules will be assigned by the Registrar by July 21st if all required paperwork and your ID photograph have been received. You will be notified at your personal email (not your law school email) once your schedule has been posted, at which point you may access it on ZagWeb. To learn how to use ZagWeb, watch the training video series, then log in to ZagWeb to retrieve your schedule.
To find your textbook assignments, visit ZagShop.com (have your student ID on hand). The Zag Shop provides textbooks to our student population and offers students several options for textbook purchase including the ability to buy new, used, digital, or renting your textbooks. Visit the ZagShop in person at the Boone Avenue Retail Center (BARC) at 801 E Desmet Ave. For the latest news and store hours visit their website.
Orientation Resources: