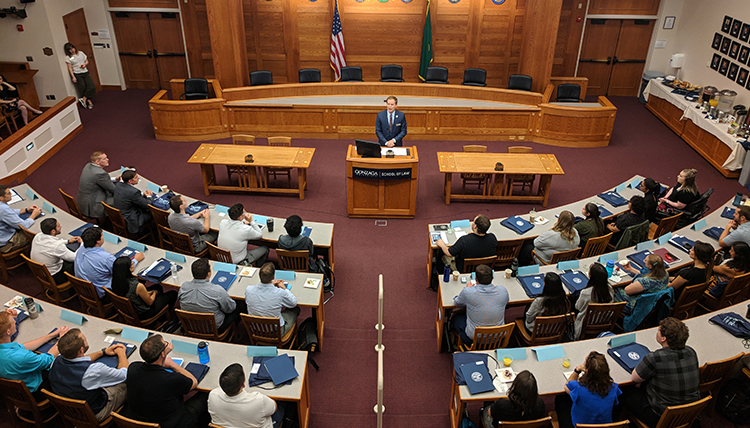 Photo from Orientation 2019
Welcome to Gonzaga Law School!
Gonzaga University School of Law is dedicated to providing our future Law grads with a welcoming, informative, and fun Orientation Week.
This information will be periodically updated. If you have questions about Orientation or transitioning to Gonzaga University School of Law, feel free to contact Bryn Boorman with any questions or dietary restrictions information.
Orientation will be in-person and on campus August 18-20.
Schedule:
Wednesday, August 18
8:15 AM - 5 PM
Diversity, Equity & Inclusion Training
Lunch in the Hemmingson Ballroom
Law School Tours
Breakout Sessions
BBQ Social on the Law School back lawn
Thursday, August 19
10 :00 AM - 6:00 PM
Breakout Sessions
Lunch on the Law School back lawn
Campus Tours
Activities around Spokane
Click here to purchase Spokane Indians baseball tickets! Student tickets are free and any additional tickets are $5.
Friday, August 20
9:00 AM - 1:00 PM
Service Projects
Lunch on the Law School back lawn
Note: Orientation is for incoming students only.
Click here to access the Fall 2021 Orientation Checklist!
Pre-Registration Requirements:
These items need to be completed before you will be registered for your fall courses:
Student schedules will be assigned by the Registrar by July 21st if all required paperwork and your ID photograph have been received. You will be notified at your personal email (not your law school email) once your schedule has been posted, at which point you may access it on ZagWeb. To learn how to use ZagWeb, watch the training video series, then log in to ZagWeb to retrieve your schedule.
We are also inviting all our incoming 1Ls to submit a voice recording of your name for Orientation so faculty can pronounce it correctly! Click here to submit your recording.
You will need to have your schedule, including your course and section numbers and professors' names, to find your textbook assignments. Read the instructions for buying Textbooks from the ZagShop or visit the ZagShop in person at the Boone Avenue Retail Center (BARC) on main campus. Books may be available from outside vendors.
Orientation Resources: