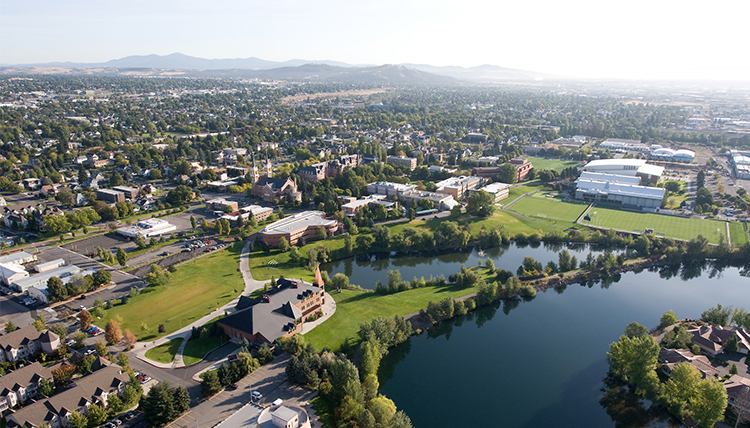 Big City Opportunity, Small Town Feel
Not only is Spokane Gonzaga's home, it is a vital and dynamic part of the University's character. The city offers vast opportunities for everyone to pursue their interests, whether they be in the arts, sports, or in any of the multitude of outdoor activities. Near Nature, Near Perfect is the city's slogan. The city's population is about 216,000, and the Greater Spokane/Coeur d' Alene area encompasses more than 600,000 people. This translates to big city conveniences without the congestion.
The city is lauded for four-seasons weather, excellent schools, an abundance of parks and lakes, and stunning natural scenery.
Several independent restaurants feature local and organic food, emphasizing sustainable eating practices. Wine enthusiasts can visit a number of tasting rooms and wineries all within close proximity of one another. In addition to award-winning wine, new craft breweries and distilleries are popping up all over the city—each with their own unique style and recipes.
Affordable Living
Median home price: $181,900
Median monthly mortgage: $1,055
Average rent: $821
Demographics
Population: 215,973
51.4% Female, 48.6% Male
53% of the population has earned a college degree
Travel
15 minute average travel time in town
20 minute travel time to Spokane International Airport from Gonzaga
Enjoy year-round ample parking directly outside the Law building
The Gonzaga Campus lies at the heart of Spokane's growing University District. Washington State University, Eastern Washington University, Whitworth University, and the Community Colleges of Spokane also have facilities here.
Punctuated by an urban river gorge, Downtown is where city life and nature's brilliance live side by side. Walk through the city's core, distinguished by historic buildings, before taking in the mightiness of the Spokane Falls, all located right in the heart of the city.
It's Spokane's oldest neighborhood. Browne's Addition is a fine example of Spokane history and the result of some of the city's earliest visionaries. Filled with stately Victorian mansions, small Arts & Crafts bungalows and mid-century apartment buildings, this neighborhood is now an energetic, artistic and eclectic area to experience.
Kendall Yards is Spokane's premier urban neighborhood, featuring scenic views, diverse businesses, quality homes and walkable streets. Just a five-minute stroll along the Centennial Trail from downtown, explore the wild beauty of the Spokane River Gorge and some of the area's best local restaurants.
The Perry District has become its own thriving community within the greater sphere of Spokane. Once abandoned buildings are now filled with sound and life. New growth and development make it a perfect mix of new and old for any traveler to experience.
Tucked on Spokane's Northside, the Garland District is where culture meets history. A walkable neighborhood, the Garland District is where visitors can explore art galleries and antique shops while stopping in at record and bookstores all under the shadow of the some of the city's beloved landmarks.
The Convention and Visitors Bureau site. Tons of links to restaurants, clubs, events, and more.
A commercial listing site with lots of great information on the entire Spokane area.
Check out the weekly Inlander for a look at all the latest happenings in Spokane, from food and culture to music and events.