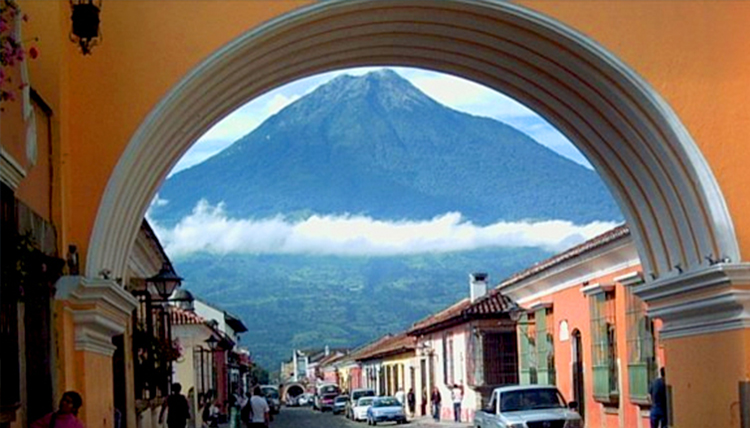 The 2015 Inter-American Summer Program in Guatemala, which takes place in the city of Antigua, will run from May 28 through June 20, 2015, with an optional Externship/Field Placement running from June 22 to Aug. 7, 2015.
Gonzaga is an affiliate of this program, which is operated by University of the Pacific McGeorge School of Law. Visit their website for complete information.
The Experience in Guatemala
The Inter-American Summer Program in Guatemala is a truly bilingual and inter-cultural approach to legal education. It offers comparative and transnational substantive law classes about Latin America taught in Spanish and English as well as bilingual field placements and legal Spanish immersion. It allows students the opportunity to study with Latin American students. Program participants will gain professional legal and inter-cultural experience useful in the practice of law in Latin America or to work with Latino issues and clients in the United States.
To encourage participation from as many students and recent law graduates, the Inter-American Program is designed to accommodate the learning objectives and needs of participants with varying degrees of Spanish proficiency.
Pacific McGeorge has entered into an agreement with Rafael Landívar University, a leading Jesuit-run institution in Guatemala that is known for its social justice mission and its offerings of law courses in the field of human rights. In addition, Pacific McGeorge works closely with several other law schools in Guatemala, Chile and Spain. These collaborations allow for exchanges of professors and students from those regions in the program. Students from Rafael Landívar University and other Latin American law schools or lawyers from institutions with which we collaborate in the region may attend classes in this program with U.S. law students, providing a unique opportunity to learn firsthand about the legal systems of Latin America.
Note: students need approval from the Associate Dean of Academic Affairs to enroll in this program.
Deadlines
March 1, 2015 — Applications for Classroom Program and Field Placements are due along with a non-refundable deposit ($250). Students will be admitted on a rolling basis until space is no longer available, following completion of their application. Externship selection is based on the Program's assessment of what would be appropriate, in consultation with applicant, and for best choice of placement students who apply earliest are given priority. Late applications will be considered for the Classroom Program and the Externship on a space-available basis.
May 1, 2015 —Program and Accompanying Person Fees for both Classroom Program and Field Placement are due. Extensions may be granted if financial aid funds are delayed. Failure to meet the payment deadlines specified results in automatic forfeiture of your place in the program as well as forfeiture of fees and deposits paid. The student will also forfeit any program fee paid for an accompanying person.
June 1, 2015 – Tuition is due on the first day of class.
Transportation and Meals – The personal costs for airfare to Guatemala, in-country transportation, and meals other than those mentioned in the schedule or any additional recreational fee are not included in the student program fee and must be paid directly by each student. A daily budget of $35 should be sufficient to cover meals and incidentals not included in the program fee.
Refund Policy – If the program is cancelled for the reasons as set out under the Cancellations or Modifications section, students will receive a full refund of all payments made within 20 days, except for the room and board payments utilized prior to the date of cancellation. For withdrawal made prior to May 1, students will receive a refund of all monies advanced except for the deposit. For withdrawal made after May 1 but prior to the first date of the respective program, students will only be refunded tuition. All other fees will be forfeited. For withdrawal during the course of the program, all fees including tuition are forfeited.