2019 Information Coming Soon
The Florence law program offers a unique and exciting adventure in the heart of Florence, Italy. Held at Gonzaga's Florence campus, students gain an international perspective of the law, learn from global experts, and immerse themselves in a rich cultural experience.
Academic Opportunities:
Human rights symposium hosted at Robert F. Kennedy Human Rights Italia
International mediation competition with the University of Florence School of Law

Human rights curriculum taught by experts in the field
Recently Offered Courses & Credits:
International Human Rights: 2.0
Comparative Criminal Law: 2.0
International Mediation Competition: 1.0
What Students are Saying about Gonzaga Law in Florence


"The Florence Summer Law Program enabled me to expand the horizons of my law school experience. The interactions with Italian culture, the law students from around the United States and Canada, and wonderful professors made the trip memorable for a lifetime."
-Amy Goscha, University of Denver Sturm, College of Law
"Spending a month studying Law in the historic city of Florence was one of the most exciting and life-changing experiences of my life. Gonzaga's Florence program seamlessly blends both the academic requirements of Law School with endless opportunities for students to fully engage with the culture and people of Italy. This is one of those opportunities that is worth its weight in gold, and I would highly recommend the program to anyone who wishes to expand their horizon."
-J. Sather Gowdy, Gonzaga University School of Law
"The Florence study abroad program not only increased my wealth in knowledge by course study, but also had the unique ability to immerse my classes into the culture and scenery of Italy surrounding. As soon as you wake up in the morning, your ears are filled with the Italian language of locals getting their shops ready for the busy summer day, and music echoing from street musicians throughout the city.
Your nose fills with the smell of espresso, and your eyes are opened with the beautiful scenery of Florence, along with masterpieces of art and architecture, such as the majestic Duomo, and historical influences from the profound family of the Medici. A summer in Florence is an experience in itself, but to have the opportunity to have this experience while studying various legal courses opens your mind to a new level of international understanding and thus is the pinnacle of your experience at Gonzaga University School of Law."
-Christine Hotchkin, Gonzaga University School of Law
Course and Faculty Information:


Courses are taught by Gonzaga University School of Law faculty. The program offers an exciting and challenging four- or five-credit learning experience in a small, interactive classroom setting, supplemented with extensive extracurricular activities. The program is held at Gonzaga's full-service building in the heart of Florence, and a program director is onsite throughout the program.
International Human Rights (2 credits):
This course will introduce students to fundamental concepts and systems in international human rights law, in both historical and contemporary contexts. The ideological and practical formation of human rights law up to its current structures and legal decisions will be examined, and practical applications will be studied.
Instructor: Gonzaga Law Professor Jason Gillmer. Hemmingson Chair in Civil Liberties and Director of Gonzaga Law's Center for Civil and Human Rights.
Comparative Criminal Law (2 credits):
This course will compare the criminal justice system of the United States with the criminal justice systems of other selected countries, with a particular focus on Italy. The course also will examine specific international systems and sources of law, such as the International Criminal Court and the European Court of Human Rights. The scope of study will include definitions of crime in each system, the roles of criminal justice actors, and key procedural areas of law.
Instructor: Gonzaga Law Professor Brooks Holland. Associate Dean for Academic Affairs, Curran Chair in Legal Ethics and Professionalism and Florence Law Program Director.
Comparative Women's Rights (2 credits): (Tentative-subject enrollment)
Instructor: Gonzaga Law Professor Mary Pat Treuthart.
International Mediation Competition (1 credit): (Optional-limited to 16 students)
This two-day program begins with a seminar on the history and methods of international mediation taught by experts in the field, and culminates in an all-day competition against students from the University of Florence School of Law. The competition includes extensive inter-cultural activities with University of Florence students and faculty. Judges and mediators will be from the Italy, the United States, and other countries.
Additional Program Highlights:


In addition to a robust curriculum, the program includes numerous opportunities to enhance students' educational, cultural, and professional experiences in Florence, including:
Annual Gonzaga Law Human Rights Symposium
Co-sponsored by Gonzaga Law School's Center for Civil and Human Rights, Gonzaga in Florence, and the Robert F. Kennedy Human Rights Italia. The two-day 2018 symposium will feature prominent judges, academics, lawyers, and activists from Europe, the United States, and other parts of the world speaking on critical human rights issues around the globe.
Cultural, historic, and travel activities
Guided tours of the Accademia and Uffizi Museums, containing such historic artwork as Michelangelo's David, Botticelli's Birth of Venus, Da Vinci's Annunciation, Artemisia's depiction of Judith Slaying Holofernes, and many more world-renowned classics of the Renaissance. Faculty-student trips to Siena, Fiesole, and Cinque Terre. Faculty-student dinners featuring the cuisine of Tuscany.
Campus Life
Gonzaga University established the law program in Florence in 2004, after 40 years of hosting a successful and life-changing study abroad program for undergraduates at the Gonzaga-owned facility. The campus is located in the center of Florence overlooking the Giardino dei Semplici, a sixteenth century garden. The school houses classrooms, computer labs, a library, and a fitness center, and offers wireless access.
Many students also opt to take excursions while in Florence. Three-day weekends are popular and provide an opportunity to explore the Tuscan countryside, including historic Lucca, medieval Siena, the towers of San Gimignano, the five towns of Cinque Terre, and the beaches of Livorno. Other Italian cities are a reasonable distance from Florence by train, including Venice (3 hours), Milan (3 hours), and Rome (1 ½ hours).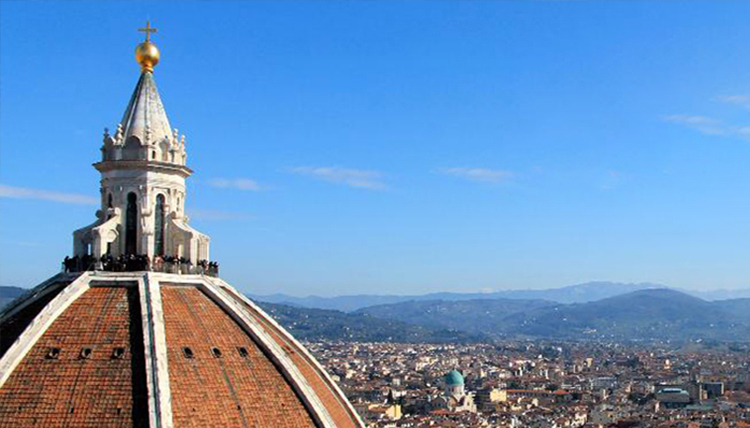 Gonzaga's summer law program in Florence, Italy provides an opportunity to study comparative and international law focusing on human rights, all in historic Florence. Steeped in a commitment to global justice, the Florence Summer Law Program is an ABA accredited program located in the heart of the birthplace of the Renaissance. During the Renaissance, Florence was a stalwart defender of civic liberty. Today, the city is also a center for art, fashion, and culture, offering students the opportunity to examine firsthand the complexity of the political, economic, and social issues that currently affect Italy, Europe, and the world.
2019 Program Tuition and Fee Details Forthcoming
2018 Program Tuition and Fee Details:
Location: Gonzaga University in Florence, Italy
Program Dates: May 20-June 15, 2018
Registration Deadline: March 1, 2018
Application Fee: $100
Tuition Deposit Reserving Spot in Four-Credit Program: $200
Tuition Deposit Reserving Spot in Additional One Credit Mediation Program: $50 (16 available spots plus wait list)
All-Inclusive Tuition (2018):
Four credits: $5,400
Five credits: $6,750
Law Students-Join Us:
The Florence Summer Law Program is open to law students in academic good standing at United States and Canadian law schools that are accredited by the American Bar Association or a state accreditation authority.
International Participants:
The Law School welcomes students from law schools outside of the United States and Canada, as well as foreign attorneys and government officials, to attend one or more of the Florence courses as a non-degree student. Nondegree participants can receive a Certification of Participation in International and Comparative Law in Europe at the conclusion of the Program.
Contact
Professor Brooks Holland
PO Box 3528,
Spokane WA 99220-3538
p (509) 313-6120 f (509) 313-5744