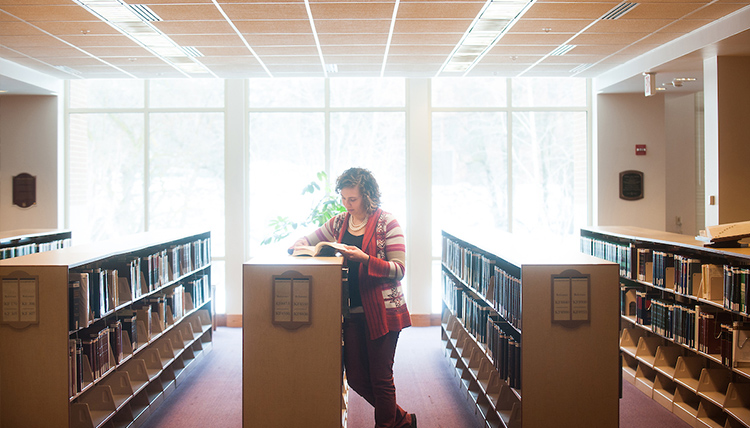 The Chastek Library and its staff are here to assist you with your scholarly and research pursuits during your law school career. Some of our services include:
Study Rooms
The library has 17 study rooms of various sizes on the first, second, and third floors which may be reserved by Gonzaga Law students for up to four hours per day. Reservations may be made by going to logging in with your Gonzaga network ID and password at schedule.gonzaga.edu, clicking "Create a Reservation" link, clicking "Reserve a Law School Study Room", and filling out the appropriate information.
• All library policies apply in the study rooms.
• Study groups have priority over individuals.
• Group presentation monitors, which can be hooked up to a laptop, are available in rooms 160, 254, and 363.
• Group presentation monitors, which can be hooked up to a laptop, are available in rooms 160 and 254.
• Reservations are forfeited if the same study group or individual reserves rooms under different names.
• Some study rooms are reserved for law school competition teams preparing for their competition.
• Some rooms may be reserved by the law school registrar during exams to accommodate students with disabilities.
Printing
There are two network printers/photocopiers/scanners located on the first and second floor photocopy rooms. There is also a network black & white/color printer in the computer lab on the first floor of the library. You can print from lab computers or your laptop through the law school's wireless network. The law library deposits $324 free printing into a print account for you at the beginning of your first year. The costs for printing in black & white are 7 cents per single page and 6 cents per duplex page; color prints are 25 cents per single page and 24 cents per duplex page. Your print balance displays when you log onto the lab computers. If you exhaust your $324 printing amount, you can replenish your print amount through Gonzaga's Bulldog Bucks.
Interlibrary Loan
Gonzaga Law students may request material from other libraries if it is not available in the Chastek Library, Foley Center, or in one of our databases. Here are the steps to follow:
Search Primo, our catalogue, (includes records for Foley's collection), to see if the item is available on campus.
If you still can't find what you're looking for, search WorldCat, a database containing records for libraries worldwide. WorldCat provides full bibliographic information, which you will need to submit an interlibrary loan request.
Request an interlibrary loan using one of these methods:

Make a direct request in WorldCat by clicking on either the "Borrow this item from another library" availability link or the ILL button.
Call or e-mail Carolyn Hood (509) 313-3755 or submit an ILL form at the ILL office. Please include the full bibliographic information and the date after which you will no longer need the item.
Requests are usually processed within one working day and it takes an average of one to two weeks for the material to arrive. You will be notified by e-mail and items will be held at the Circulation Desk.
Material with due dates must be returned to the Circulation Desk. Contact Carolyn Hood to renew an ILL item.
Computer Assisted Legal Instruction
CALI, the Center for Computer-Assisted Legal Instruction, provides interactive tutorials, lessons, and podcasts across a wide array of subject areas.
To register, create a new account at the CALI website. You will need to enter the student authorization code for Gonzaga Law School, which is available at the reference desk (509) 313-3758 or by sending an e-mail. During the registration process you will create your own password. In subsequent visits you will only need to enter your law school e-mail address and password.
Instructional Media Equipment
Instructional media equipment can be used by students for presentations or tutoring. First-time users must be trained prior to using the equipment. To reserve equipment and make arrangements for training, please contact Dalean Neiner (509) 313-3795, at least one business day in advance.
Emergency Contacts
The Circulation Desk, (509) 313-5792, serves as the primary contact point for persons trying to locate law students due to emergencies. Upon receiving an emergency call, the Circulation Desk employee will make every effort to locate the law student and inform him or her of the emergency.
Lactation Room
The library provides a secure, comfortable, and private room for student nursing mothers. Contact Laura Miller, (509) 313-3781, for access information.