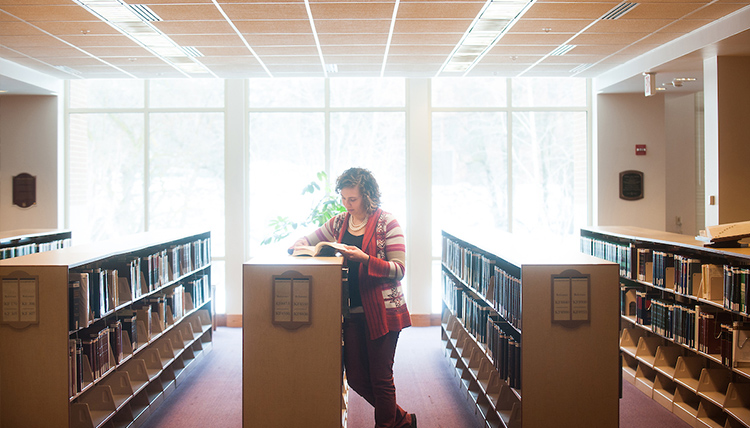 The Chastek Library and its staff are here to assist you with your scholarly and research pursuits during your law school career. Some of our services include:
Study Rooms
The library has 18 study rooms of various sizes on the first, second, and third floors which may be reserved by Gonzaga Law students for up to four hours per day. Room schedules are posted daily on the study room doors. Reservations may be made for the current week only.
All library policies apply in the study rooms, including the ban on cell phone use.
Study groups have priority over individuals.
People who need to use DVD players or VCRs have priority for rooms equipped with those devices.
Group presentation monitors, which can be hooked up to a laptop, are available in rooms 160, 254, and 363.
Reservations are forfeited if you are more than fifteen minutes late and someone else has claimed the room.
Reservations are forfeited if the same study group or individual reserves rooms under different names.
Some study rooms are reserved for law school competition teams preparing for their competition.
Some rooms may be reserved by the law school registrar during exams to accommodate students with disabilities.
Printing
New Copiers/Printers/Scanners
The library provides a designated amount of free printing for each entering first year law student. Transfer students receive a prorated number of pages.
Printers are located in the computer lab, and in the second and third floor copy rooms. They can be accessed from the lab computers or from laptops connected to the law school network.
If you have problems with a print job and want to request a credit, seek assistance from the computing staff, or Patrick Charles at (509) 313-3739.
Students who are moot court team members, Gonzaga Law Review members, Gonzaga Journal of International Law members, or working as research assistants for faculty may be eligible for additional free print credits. Please contact Georgia Dunham at (509) 313-3711 to inquire about this service.
For one year following graduation you may continue to use the computer labs, the wireless network, and the library printers. Any remaining free printing will be available to you.
Interlibrary Loan
Gonzaga Law students may request material from other libraries if it is not available in the Chastek Library, Foley Center, or in one of our databases. Here are the steps to follow:
Requests are usually processed within one working day and it takes an average of one to two weeks for the material to arrive. You will be notified by e-mail and items will be held at the Circulation Desk.
Material with due dates must be returned to the Circulation Desk. Contact Carolyn Hood to renew an ILL item.
Computer Assisted Legal Instruction
CALI, the Center for Computer-Assisted Legal Instruction, provides interactive tutorials, lessons, and podcasts across a wide array of subject areas.
To register, create a new account at the CALI website. You will need to enter the student authorization code for Gonzaga Law School, which is available at the reference desk (509) 313-3758 or by sending an e-mail. During the registration process you will create your own password. In subsequent visits you will only need to enter your law school e-mail address and password.
Instructional Media Equipment
Instructional media equipment can be used by students for presentations or tutoring. First-time users must be trained prior to using the equipment. To reserve equipment and make arrangements for training, please contact Dalean Neiner (509) 313-3795, at least one business day in advance.
Emergency Contacts
The Circulation Desk, (509) 313-5792, serves as the primary contact point for persons trying to locate law students due to emergencies. Upon receiving an emergency call, the Circulation Desk employee will make every effort to locate the law student and inform him or her of the emergency.
Law Announcements
When you need to send a message to a larger group such as 1Ls, 2Ls, 3Ls, or the entire law school, simply send a pre-written announcement to the address LawAnnouncements@lawschool.gonzaga.edu.
Appropriate messages include notices about law school approved events. If approved, your message is forwarded the next weekday morning. Rush service is not available. Students do not have authority to send school-wide announcements through their own e-mail accounts.
Announcements about car lights should be directed to the Admissions Office (509) 313-5532.
Lactation Room
The library provides a secure, comfortable, and private room for student nursing mothers. Contact Laura Miller, (509) 313-3781, for access information.