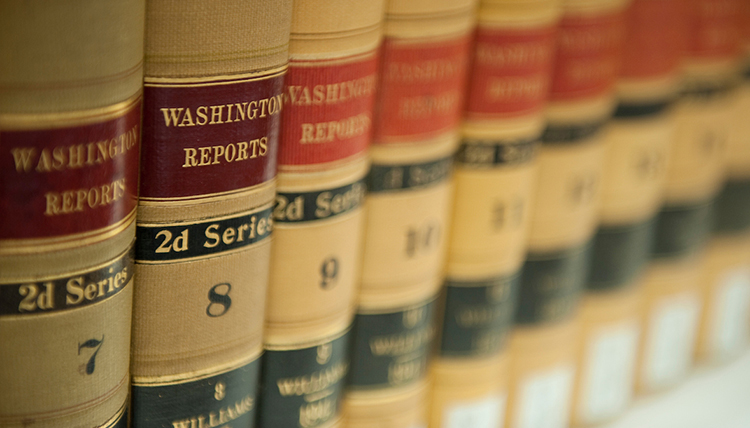 New Books
New Book Shelf: New books are shelved on the New Book Shelf (located in the Kelley Room) for six months before being shelved in the permanent collection. They are available for circulation.
New Book List: A month-by-month list of new titles acquired by the library can be viewed in our New Titles in the Chastek Library research guide.
Reserve Materials
This collection, located behind the Circulation Desk, consists of class materials provided by professors, frequently-used library materials, such as study aids, and duplicate copies of popular Washington state materials. Other reserve items include high-use materials, which are temporarily placed on reserve while in high demand, items on the hold shelf available for pick-up, and interlibrary loan items ready for use.
Print Materials
Print materials are located on all three floors of the library. The following is a list of often used materials and their locations in the library:
Access to Justice Collection - Kelley Reading Room, 1st Floor
Advocacy Materials (treatises and looseleafs) – 2nd Floor
American Law Reports (ALRs) – 2nd Floor
Clarke Collection for Professionalism & Ethics – Kelley Reading Room, 1st Floor
Federal Primary Sources – 2nd Floor
Form Books (General) – Greenan Reading Room, 1st Floor
Law Reviews – 3rd Floor
Legal Encyclopedia – 2nd Floor
Reference Materials – Greenan Reading Room, 1st Floor
Reserve Items – Circulation Desk
Restatements – Greenan Reading Room, 1st Floor
State Primary Sources – 2nd Floor
Superseded Materials – 3rd Floor
Washington State Materials – Kelley Reading Room, 1st Floor
Please notify the Circulation staff if you find library material that is damaged, missing pages, or otherwise needs repair.
Electronic Resources
In addition to our print collection, the library also has an extensive collection of law-related databases. When accessing these materials from off campus you may be prompted to enter your law school user name and password. Additional electronic resources, provided through the Foley Center Library, are available to the law community. For assistance with electronic materials, contact Patrick Charles, Library Director.
Westlaw, LexisNexis, and Bloomberg Law
Westlaw, LexisNexis, and Bloomberg Law are databases containing a wide array of primary and secondary legal materials as well as various news and non-legal sources. To access these databases it is necessary to have a password issued by the vendor.
Westlaw, LexisNexis, and Bloomberg Law passwords are distributed to 1L students at the beginning of fall semester. Students use the same passwords for the duration of their law school careers. Contact Ashley Sundin, Reference/Research Librarian, (509) 313-3753, for questions regarding Westlaw, LexisNexis, and Bloomberg Law access.
Microforms
The library's collection of microfiche and microfilm is in the microform cabinets on the second floor. This collection includes:
Federal legislative history materials
State bar journals
Past state bar exams
ABA archival collection
Washington and U.S. Supreme Court briefs
Native American law
Canon law
Microform reader/printers are located adjacent to the microforms collection. The library has a reader/scanner which can be used to create PDF files of microform materials. There is no charge to print from the microform reader/printer. Please contact the Circulation staff for assistance.
U.S. Government Documents
Chastek Library is a selective federal depository library. Particular emphasis is placed on Congressional publications, agency administrative decisions, and publications from the Labor Department, Treasury Department, Judiciary, Justice Department, Federal Trade Commission, Government Printing Office, Library of Congress, Office of the Federal Register, Executive Office of the President, and the Environmental Protection Agency.
Videos & Newspapers
The northwest alcove on the first floor of the library contains the video collection as well as a collection of newspapers. The video collection includes educational items, popular titles, and documentaries, all with a legal theme. Videos circulate for three days. Newspapers do not circulate.
Recommending New Titles for the Collection
To recommend materials to add to the collection, contact Patrick Charles at (509) 313-3739.
Collection Development Policy