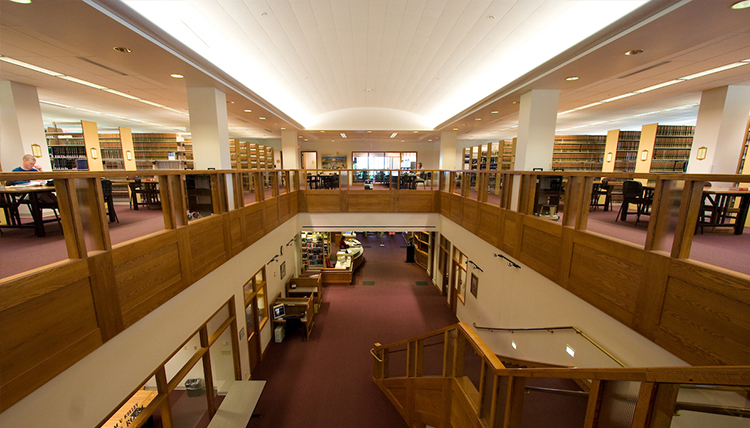 Use of the Library
As a federal government depository library, and as part of Gonzaga University's mission of justice and service, Chastek Library welcomes members of the public to use our collections and services during public access hours. See library hours.
Gonzaga Law alumni, members of the local bar association, and local judges may use the library during the hours posted in the side bar for Attorneys & Public, and may check out circulating materials.
Library Policies
Borrowing Privileges
General Public: Public patrons do not have borrowing privileges.
Attorneys: Gonzaga Law alumni, members of the local bar association, and local judges have borrowing privileges. To obtain a library card present your bar card at the circulation desk and fill out an application. Cards are free for Gonzaga Law alumni and attorneys.
Photocopying & Computers
Photocopiers are available for public use. Computers in the library's lab are for the use of only Gonzaga students. Two public Internet computers are available for one, one hour session per day. In addition, a walk up computer with library resources is available for use. You may access the internet using your own laptop. Please ask at the Circulation Desk for the code to the law school's guest wireless network.
Legal Research
Public patrons are welcome to use legal materials during the hours displayed in the side bar for Attorneys & Public. Professional research assistance is available Monday – Friday, 9 a.m. – 5 p.m. Limited reference assistance is available at other times. Please note that the library staff cannot give legal advice.
Primo – Library's catalogue is available to everyone.
Nolo's Legal Encyclopedia – Thousands of free legal articles and other materials.
People's Law Dictionary – Search the dictionary by word, phrase or legal term.
WEX – Collaboratively-edited legal dictionary and encyclopedia from Cornell Law School. Intended for law novices, including law students and lawyers entering new areas of law.
Research Guides – Collection of guides developed by Chastek librarians to assist patrons in their legal research using our collection; includes links to other research guide sources.
LexisNexis Academic – Sub-set of the full LexisNexis database. Limited public availability on computers in the library. U.S. federal & state case law, statutes, and regulations, Shepard's Citations, and full-text coverage of over 6,000 titles in news, business, medical, and legal publications.
Other Legal Databases – Due to licensing agreements, subscription databases can only be accessed from inside the library. Some databases are not available to attorneys and the public. Documents or materials retrieved from computers inside the library can be printed or e-mailed.
Free or Low-Cost Legal Services & Information
Washington Law Help – Self-help legal material on a wide range of civil law matters, including aging and elder law, civil rights, consumer theft, domestic violence, employment, family law, government benefits, health, housing, Native American issues, victims' rights, and youth. The site also identifies legal service providers and provides sample forms for use in many circumstances.
lawforWA – Links to free legal and government information in Washington State.
Legal Voice – Northwest organization dedicated to securing and protecting women's legal rights.
Legal Assistance in the Spokane Area: