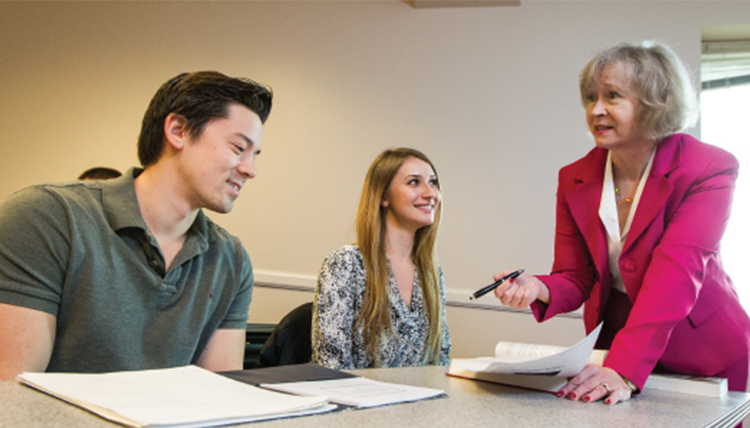 Graduation Requirements for the Accelerated Program
Graduation requires 90 course credits, plus 30 hours of public service work. Please consult the Academic Rules in our Student Handbook for more detailed information on our graduation requirements.
First Year
Terms 1 – 3
In our required litigation and transactional skills labs, you will draft complaints and contracts, engage in discovery, interview clients, and develop the skills that practicing lawyers need and which their employers value.
A Gonzaga Law tradition, in Legal Research and Writing I and II, you will learn to communicate with lawyerly precision and clarity while simultaneously honing your analytical and research skills. You will stay in the same section of LRW in both the fall and spring terms.
First Term – Summer 2017:
Constitutional Law I – 3 Credits
Contracts – 4 Credits
Entrepreneurial Management and Leadership – 3 Credits
Lawyers as Agents of Change – 3 Credits
Legal Analysis – 1 Credit
Second Term – Fall 2017:
Civil Procedure – 4 Credits
Criminal Law – 3 Credits
Legal Research & Writing I – 2 Credits
Litigation skills and Professionalism Lab – 2 Credits
Torts – 4 Credits
Third Term – Spring 2018
Legal Research & Writing II – 2 Credits
Property – 4 Credits
Transactional Skills lab – 2 Credits
Electives – 6 – 8 Credits
With the exception of your electives in the spring term, you will be automatically registered for your courses by the Registrar's Office, and notified by email when registration has been completed. Sections are assigned randomly.
Terms 4 – 6
After the first three terms, you will choose from a wide variety of classes that emphasize practical skills, theory or a combination of both.
You will be required to take the following courses over the next three terms:
Constitutional Law II – 3 Credits
Evidence – 3 Credits
Legal Research & Writing III – 2 Credits (only available in fall)
Legal Research & Writing IV – 2 Credits (only available in spring)
Professional Responsibility – 3 Credits
Experiential Learning – 8 Credits
Electives – 32 credits
Experiential Learning
Learn By Doing
You will be required to engage in experiential learning, serving real clients while working with practicing lawyers or judges.
You can complete this requirement in our legal clinic or in community placements through our externship program beginning in term four.
Students in the Accelerated program must fulfill 8 credit hours of experiential learning to complete their degree.
You need to apply for an externship or clinic experience. Contact the externship or legal clinic for application information each term.