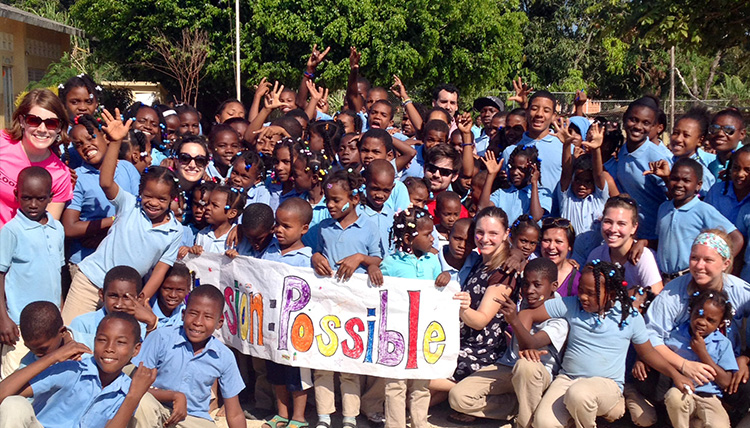 Mission Statement
Mission Possible is a student-run organization that focuses on helping those who are less fortunate, abroad and at home.
Mission Possible leads a trip every Spring Break to complete service projects in poverty-stricken communities. Over the past three years, Mission Possible has completed community service in Honduras and offered hurricane relief assistance in New Orleans. We believe in promoting humanistic and diversity values through action and examples.
Mission Possible holds fundraising efforts throughout Fall and early Spring. Sharing our experience with the Gonzaga and Spokane communities is an important aspect of our group. We believe this is an effective way of increasing awareness and demonstrating our commitment to giving back.
We invite all students to be part of our mission. Feel free to e-mail any of the members if you have any comments or questions and get involved!
Annual Activities
Spring Break service trips to international locations.
Membership
All students are welcome to join the club and help fund raise for our annual trip. There are no membership fees.
2018 Team
Destiny Soto, President
Hi! My name is Destiny Soto, I am from Boise, Idaho. I didn't decide to attend law school until late in my undergraduate. It wasn't until I took a Civil Rights course that I realized that I had a driving passion to help those who can't always help themselves. Although I am only in my first year at Gonzaga Law the University has already provided me with great experiences to reach out to those in need. Mission Possible will be my first service project out of the United States. I'm excited to learn and grow while in a foreign country, giving assistance to others in need. No puedo esperar para ayudar!

Jason Jay, Vice President
My name is Jason Jay, and I am originally from West Linn, Oregon. I received my Bachelor of Science degree in Psychology at Seattle Pacific University. I came to law school to become an effective advocate for communities that require a voice, and for individuals who face adversity on a daily basis. This stems from my own story of adversity when I came out and began to affiliate myself with the LGBTQ community, and I have furthered my goal by working as a case management assistant at the Municipal Court of Seattle, and as a volunteer at GU Law's Juvenile Record Sealing Clinic. Mission Possible is another great opportunity to carry on my passion: provide assistance and a helping hand to a community in Ecuador that desperately needs it.

Kacie McPartland, Secretary
Hello! My name is Kacie McPartland and I am from the Warden, Washington. A goal of mine in coming to Gonzaga included the desire to combine service with my law school education. This affects the extracurricular activities that I choose to take part in and is key to why I am very excited about the opportunity to go on a service trip with Mission Possible. This is my first volunteer experience abroad and the opportunity to work with a non-profit organization in Ecuador was not one to be missed. I foresee this being a huge learning and eye opening experience and I could not be more excited!

Jake Mark, Treasurer
My name is Jacob Mark and I grew up in Spokane. After receiving a biology degree at Carroll College in Montana I worked in a children's hospital for two years. The work was very rewarding and helped instill a passion in me for helping those in need. I decided to come to Gonzaga for law school because it brought me closer to my family. I have much experience volunteering with nonprofit organizations and I love watching how a group of people can make a lasting difference in the world. I am excited to be a part of Mission Possible and use this amazing opportunity to make a difference in Ecuador!!

Mckinley Francis-Anderson
My name is McKinley Anderson, I grew up in a rural farming town in southern Kansas. I received my undergraduate degree in Psychology at the University of Arizona. Travel has always been a priority throughout my life along with family, friendships, and education. I joined Mission Possible because travel and giving back to communities are my passions. Being an attorney has always been my goal so I could advocate for others. I recently accepted an externship with the Air Force JAG Corps and I can't wait to embark on my journey with them and this adventure with Mission Possible. Teamwork makes the dream.

Josiah Lara
My name is Josiah Lara, and I'm from Spokane, Washington. I received my Bachelor's degree in History and Criminal Justice at Gonzaga University. I spent a year of service with AmeriCorps at Second Harvest of the Inland Northwest where I coordinated Mobile Food Markets in low-income housing and schools. I knew I wanted to continue being an advocate for others and thus decided to pursue a law degree. Mission Possible is a great opportunity for me to further my desire to help others and expand my knowledge of the needs of America.

Ryne Smith
My name is Ryne Smith and I am from Albuquerque, New Mexico. I came to law school after having received my bachelors degree in Criminal Justice from New Mexico State University. I came to law school so that I could fulfill my desire to help society in general, and chose Gonzaga partly because of its dedication to helping the community. Besides Mission Possible, I also volunteer with the Street Law program and the Spokane Community Oriented Policing Effort so that I can continue to serve the community during my education. I really look forward to being able to help other communities in need through Mission.
Board Members
President: Destiny Soto