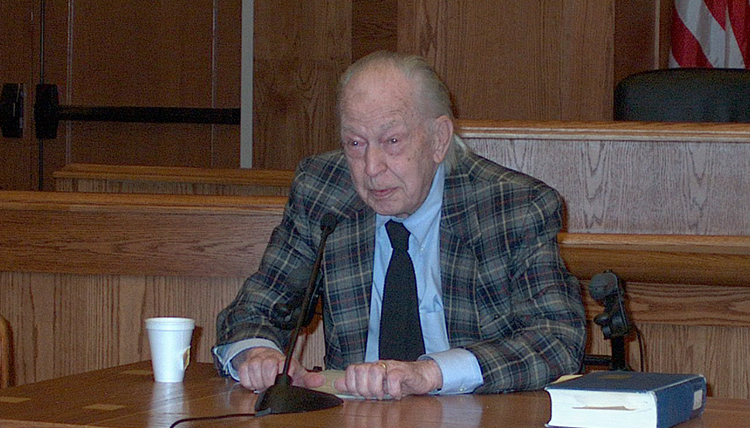 Professor Lewis H. Orland, former Dean of Gonzaga University School of Law, passed away in his home on February 14, 2012. Professor Orland's immeasurable contribution to Gonzaga Law School, its students and the legal profession generally, has spanned more than half a century. His service as a lawyer, scholar, teacher and administrator has set a standard that few will be able to equal.
A native of Moscow, Idaho, Lewis Orland, born September 18, 1915, was a 1937 Phi Beta Kappa graduate of the University of Idaho, who went on to receive his law degree from Harvard Law School in 1940. He began his legal career as a government lawyer in Washington, D.C., however, world events redirected his talents. He was commissioned an officer in the United States Navy and served his country gallantly during World War II.
Following the war, he pursued graduate studies at the University of Geneva and traveled extensively in Europe, all the while increasing his remarkable fluency in French, Spanish, German, and Russian.
In 1950, he returned to the Northwest, entering private practice in Spokane. That same year he joined the adjunct law faculty at the Law School. For both Lewis Orland and the Law School it was the beginning of an important and enduring relationship that would last more than five decades. By the mid 1950s, he was a full-time member of the faculty with a growing reputation for his exceptional scholarship. As the twenty first century dawned, he was celebrating his 51st year of teaching at the Law School.
The service of Lewis Orland to Gonzaga has gone well beyond the class room. He served as the ninth Dean of the Law School from 1968 to 1973, and as Associate Dean from 1975 until June 2000. As Dean, he played a central role in securing the Law School's full accreditation by the American Bar Association and in establishing the Law School's day division.
Generations of Washington lawyers have relied on Lewis Orland for his authoritative works on trial practice. A renown scholar, Lewis Orland, indeed may well be the most frequently cited authority in Washington State. For nearly 40 years, he authored or coauthored Washington Trial Practice – a veritable bible for practitioners – as well as Washington Procedural Forms and Washington Rules Practice. He also gave 35 years of expert service on the Supreme Court's Washington Pattern Jury Instructions Committee and 25 years on the Washington State Bar's Court Rules and Procedures Committee.
While he has won respect for his exceptional ability and professional accomplishments, Lewis Orland also endeared himself to generations of students and colleagues for his friendly manner, his personal warmth, and his wonderful sense of humor. Many students remember him for his sharp intellect and mastery of his challenging Socratic method of teaching. He was a devoted husband and he and his wife, Jackie had a happy marriage for over 60 years.
If you would like to make a memorial gift in his honor, please send your gift to Gonzaga University School of Law – Lewis H. Orland Law Scholarship, PO Box 3528, Spokane, WA 99220-3528.