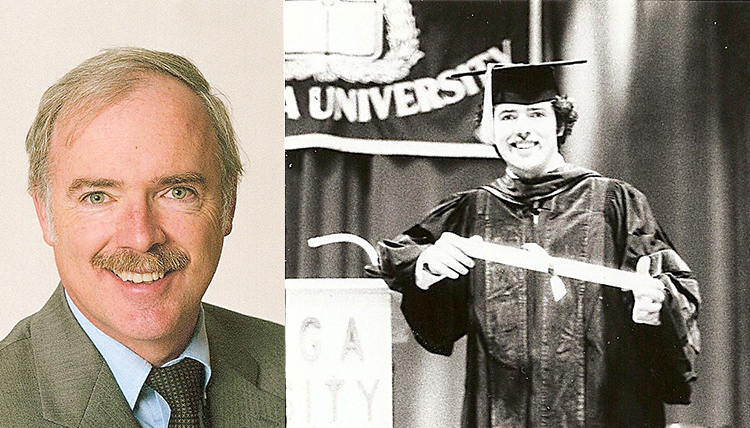 John, '80 became interested in Gonzaga while studying accounting as an undergraduate at the University of Missouri. He read an article written by legendary Gonzaga Law professor Gary Randall. John attended night school while working during the day. As John grew closer to graduation, he realized that he wanted to practice criminal defense work. "His desire to help people and to protect their rights against the government drove him for many, many years. He truly believed that the government, when attempting to convict people, should be held to the standards set in the Constitution," said Superior Court Judge and 1982 Gonzaga Law graduate Ellen Clark, John's wife of 30 years. This passion and belief guided John and he became known as one of Spokane's go-to guys when it came to top rated Criminal Defense work.
Away from the courtroom John was known as a great father and husband. His passion for his children was second to none. He worked hard to make sure he and Ellen raised their children to be tough and independent. In addition to his family life, John had many other hobbies including, collecting firearms, racing cars, hunting, fishing and steam engines
In honor of John's commitment to the profession and his support of the law school over the years, family and friends have established the John R. Clark Loan Repayment Assistance Program (LRAP). The endowment will be set up to provide loan repayment assistance relief each year to a select number of Gonzaga Law School graduates who have the same passion for the law and are working as public defenders. "John believed members of the bar have a responsibility to assist, teach and mentor young attorneys. He encouraged many law students to go into criminal law, and he believed in the need for strong public defenders offices. He was very grateful to Gonzaga for accepting him and bringing him to Spokane where he was able to have a very successful life and career. He would love to be able to help newer graduates financially so they could fight the good fight without having to worry about debt payments" said Ellen.
Get application information here.
If you are interested in donating to, or supporting the John R. Clark Loan Repayment Assistance Endowment, please contact Jeff Geldien at (509) 313-6121.