The Clarke CLE will be on April 25, 2019.
Register here.
Program Schedule:
4:30 PM – Heavy appetizers served
5:00 PM – Program starts
6:00 PM – Break with coffee and desserts
7:00 PM – Student Writing Competition Winner Award
7:30 PM – Program Ends
The Clark Committee plans to apply for WA and ID CLE credits.
2019 Panelists
Judge Veronica Alicea-Galván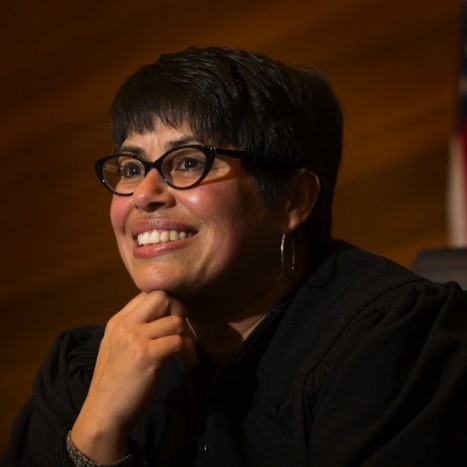 The Honorable Veronica Alicea-Galván is a 1994 University of Washington School of Law graduate. Judge Alicea-Galván took the bench in 2001 as a Judge Pro Tempore, and was appointed to a full time judicial position as an Administrative Law Judge in 2002. In 2007, Judge Alicea-Galván was appointed to the Des Moines Municipal Court where she served with distinction, earning the Juez Excepcional award from the Latina/o Bar Association of Washington. Governor Jay Inslee appointed Judge Alicea-Galván to the King County Superior Court (KCSC) in December of 2014.
While in Des Moines, Judge Alicea-Galván implemented the only Spanish-language Court in the state of Washington granting hundreds of litigants the opportunity to address the court directly in Spanish. She was recognized by her alma mater with the Dean's Leadership Award in 2015, in 2016 she was recognized as a Woman of the Year by the Center for Women & Democracy, and in 2018 earned the Vanguard Award from Washington Women Lawyers.
In addition to her judicial duties, as KCSC Assistant Chief Criminal Judge, Judge Alicea-Galván is a faculty member for the Washington State Judicial College where she has taught several courses, most recently, Emerging Through Bias: Towards A More Fair And Equitable Courtroom. Judge Alicea-Galván is also an adjunct instructor at Seattle University School of Law and has lectured extensively at legal education programs across the country.
Professor Drew Simshaw
Professor Drew Simshaw is a Visiting Associate Professor of Law, Legal Practice, at the Georgetown University Law Center. He will join the Gonzaga Law faculty this fall. Professor Simshaw is a former supervising attorney with the Institute for Public Representation in Washington, D.C., where he specialized in communications and technology law and represented public interest organizations in rulemakings and adjudications before federal agencies and in litigation before federal appellate courts. In 2017, he received the H. Latham Breunig Humanitarian Award, given biennially by Telecommunications for the Deaf and Hard of Hearing, Inc., in recognition of his pro bono advocacy on behalf of people with disabilities. He previously taught as a fellow in Georgetown Law's Communications and Technology Law Clinic and at Elon University School of Law.
Professor Simshaw researches the regulation of emerging technologies, the ethical implications of technology in law practice, and law school pedagogy in an era of new technologies. His article, Ethical Issues in Robo-Lawyering: The Need for Guidance on Developing and Using Artificial Intelligence in the Practice of Law, was recently published in the Hastings Law Journal.
A proud AmeriCorps alum, Professor Simshaw earned his B.A. from the University of Washington, his J.D. from the Indiana University Maurer School of Law, where he served as an Articles Editor for the Federal Communications Law Journal, and his LL.M. in Advocacy with distinction from Georgetown Law.
Bea Koempel-Thomas
Bea leads Lee & Hayes' International Practice. She advises and assists clients on a variety of intellectual property issues including drafting patent applications for international prosecution to enhance the business value of assets and managing international patent portfolios. Bea applies her knowledge of US and global patent policy and procedures at drafting and during prosecution to meaningfully advance her clients' interests. Bea is also ranked as one of the top 1000 patent practitioners worldwide by Intellectual Asset Magazine (IAM). Bea's technical expertise spans computer related technologies, mechanical and electrical devices. While her practice focuses on information security, data mining and business methods, she facilitates international IP protection for clients across the firm with an emphasis on partnering with the right foreign counsel for each client. Prior to joining the firm, Bea served as a Patent Examiner at the USPTO in the technologies of computer security and cryptography, which has enabled her to more efficiently prosecute applications and minimize costs to her clients. She also worked as a legal intern for the Washington State Attorney General and the Spokane County Prosecutor.