2021-2022 Projects
For more information on any project, please contact
Toni Boggan
.
ENSC 40 Pumped Storage Hydropower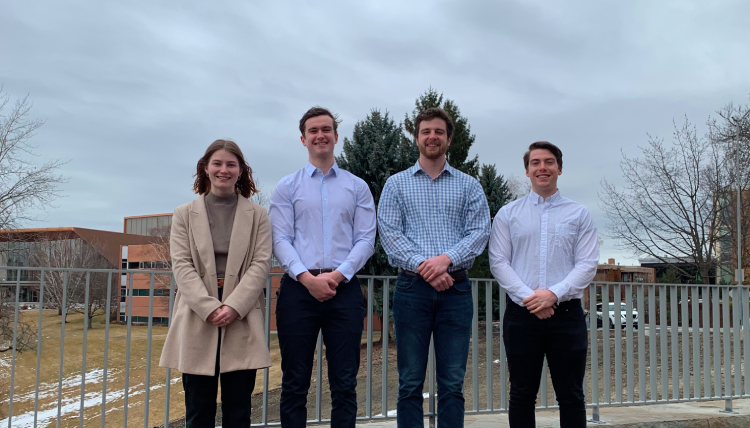 Team Members: Dylan Farley, Daniel Kar, Theophania Labay, Hayden Saalfeld
Faculty Advisor: Gerry Snow
Sponsor: CEDE (Student Proposed)
Our goal is to build at MATLAB Simulink model of a solar power and pump system, then design a controller that balances the solar generation, load on the grid, and the pump to use the energy most efficiently.
ENSC 44 Project Iris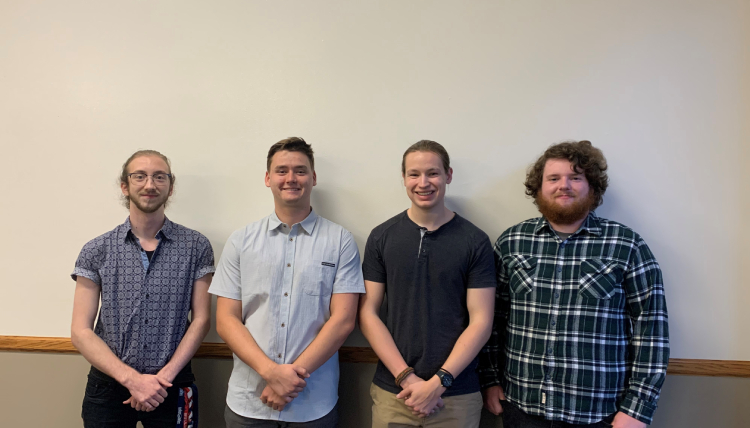 Team Members: Daniel Harrington, Kevin Roundhill, Nicholas Smith, Scott Tornquist
Faculty Advisor: Kevin Damron
Sponsor: CEDE (Student Proposed)
An after-market device for vehicles to communicate safety data and warnings to one another in real-time.
ENSC 50 Micro-Greenhouse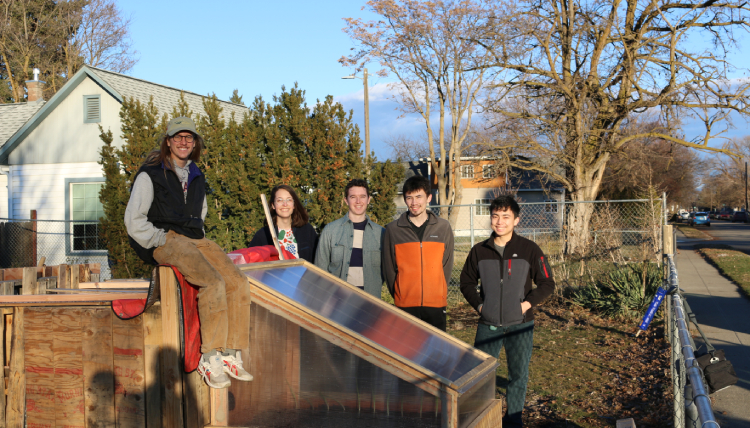 Team Members: Aiden Branch, Owen McKinstry, Fisher Ng, Matthew Shikada, Charlotte Tavernise
Faculty Advisor: Jim Weston
Sponsor: CEDE (Student Proposed)
Micro-greenhouses promise a low-cost method to promote and sustain urban agriculture through longer growing seasons. This project will design a cheap micro-greenhouse that uses a ground to air heat transfer piping system to pump heat from the ground into the greenhouse to regulate its temperature by means of a fan blowing at variable speeds.
ENSC 51 Custom Heat Transfer Test System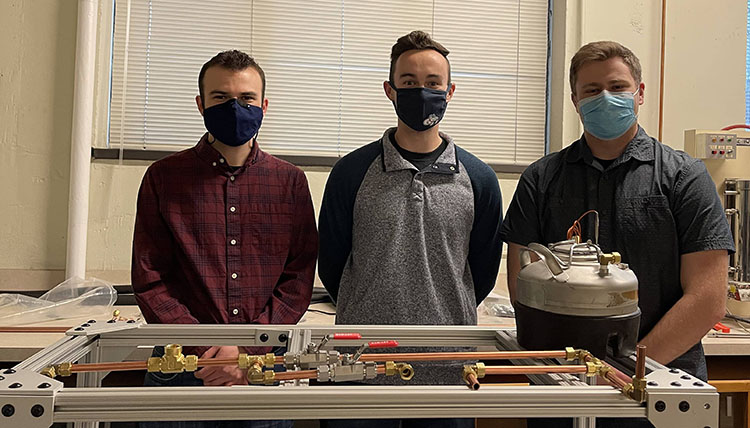 Team Members: Reggie Bahr, Evan DeSteese, Nathan Frojelin
Faculty Advisor: Dr. Talian Chen
Sponsor: CEDE (Student Proposed)
The project involves the design and construction of a custom liquid testing loop that can utilize a variety of flow rates and fluid temperatures to test small heat sinks and heat exchange devices . The apparatus will allow users to quantifiably determine the performance of different samples and aid in research and development.
ENSC 52 Inflatible Portaledge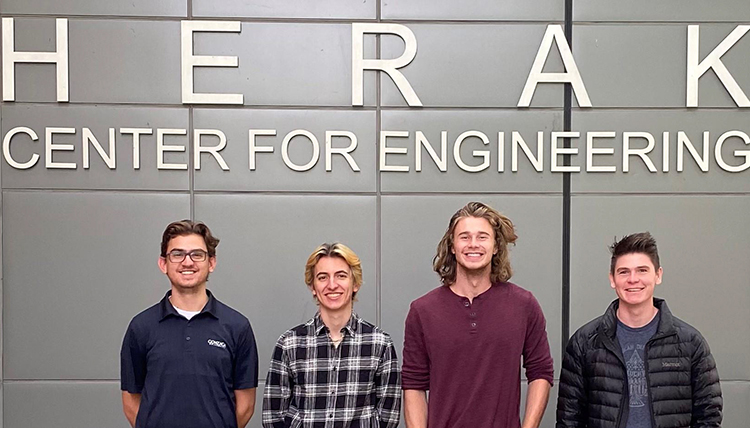 Team Members: Ethan Bailes, Colin Giardino, Thomas Mixon, Maxwell Pansegrau
Faculty Advisor: Andrew Asper
Sponsor: CEDE (Student Proposed)
Our project is an inflatable portaledge for climbing that utilizes inflatable struts instead of the traditional aluminum structure. The final product will be significantly lighter and less bulky than its predecessors.
ENSC 53 Modular Skis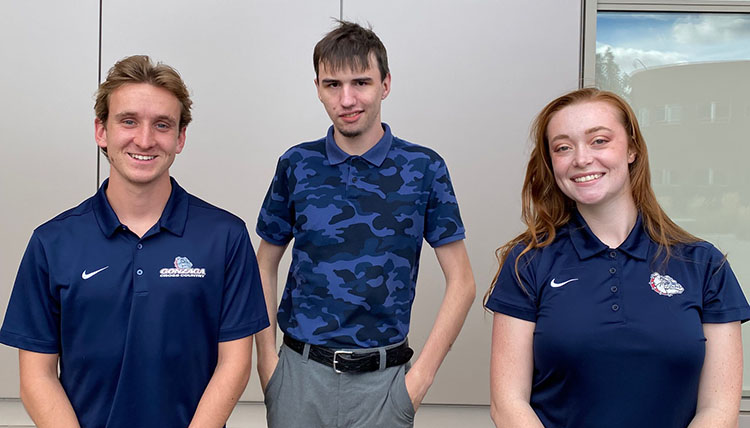 Team Members: David Connell, Erik Olsen, Samantha Worth
Faculty Advisor: Sam Shoemaker
Sponsor: CEDE (Student Proposed)
The project goal is to design a pair of modular skis with a removable binding plate that can be switched between the skis. The designs will then be manufactured and tested for safety and performance.
ENSC 54 OnSite Skis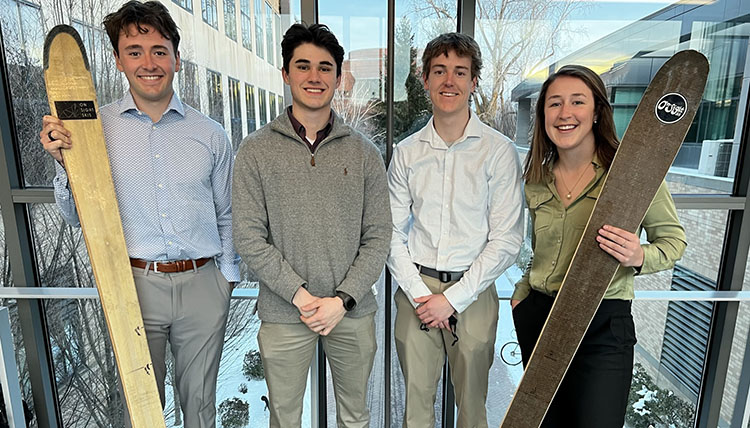 Team Members: Jake Bubb, Keely Kempt, Keith Lobis, Brenden Miller
Faculty Advisor: Sam Shoemaker
Sponsor: CEDE (Student Proposed)
Our student proposed project is to research and test sustainable alternatives to wood ski cores in order to make a more eco-friendly ski. Using our ski manufacturing setup that we already have, we would be able to produce a working product (And definitely take it for some test rides).