2021-2022 Projects
For more information on any project, please contact
Toni Boggan
.
CS02 Basic Classroom IoT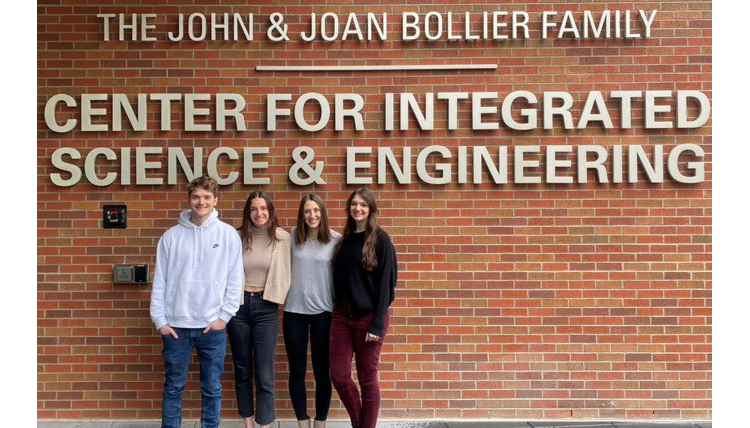 Team Members: Haley Archuleta, Sophia Braun, Savannah Gitchel, Greeley Lindberg, Leo Winiecki
Faculty Advisor: Dan Eshner
Sponsor: Gonzaga Department of Computer Science
Leverage current IoT tools and techniques to collect and analyze NRT data within a smart building.
ENSC 30 Wing Body Join Optimization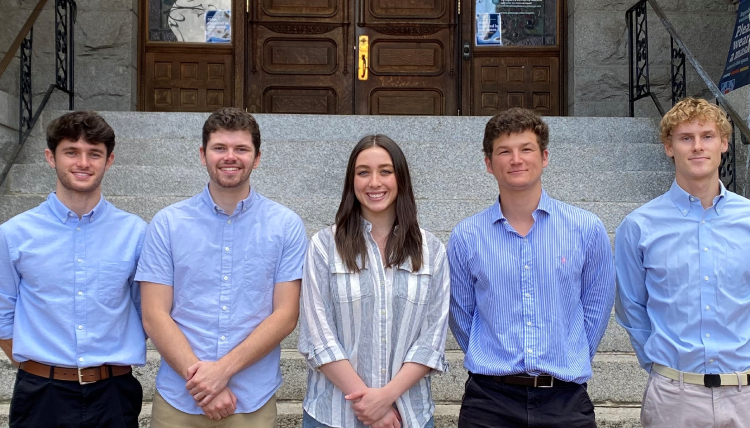 Team Members: Eric Candaux, Daniel Dougherty, Brian Kirkland, Anna Miller, Brendan Stoll
Faculty Advisor: Melissa Verwest
Sponsor: Boeing
Develop a method for determining the gaps on a 737 Wing Body Join that optimizes for aerodynamics while meeting tolerance requirements.
ENSC 43 Baja Data Control System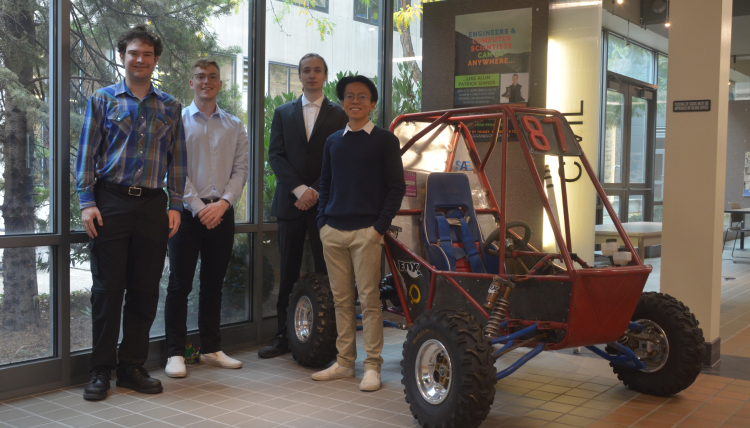 Team Members: Blaine Atkins, Bradley Nickolaus, Maxwell Nygren, Quang Pham
Faculty Advisor: Jim Weston
Sponsor: BAJA
The project will design, build, and implement a system that collects relevant data on the Baja SAE club's off-road vehicle, then records, transmits, and displays said data to the driver.
ENSC 45 Deep Vein Thrombosis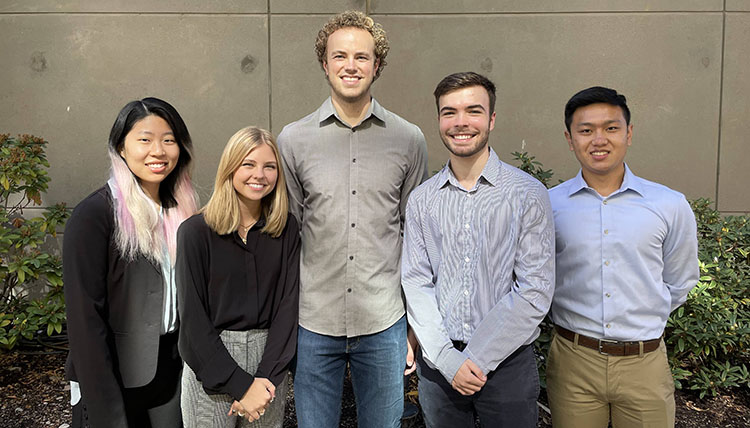 Team Members: Mira Briestensky, Drew Caley, Kelcey Kisker, Patrick Le Roy Munar, Milee Owen
Faculty Advisor: Shane Pacini
Sponsor: Lung Technologies
Continuing on Phase I, design and engineer Phase II of our DVT prevention technology. Both Phase I & II work in conjunction with each other to prevent post-surgical Deep Vein Thrombosis.
ENSC 46 Therapeutic Incentive Spirometer w/OPEP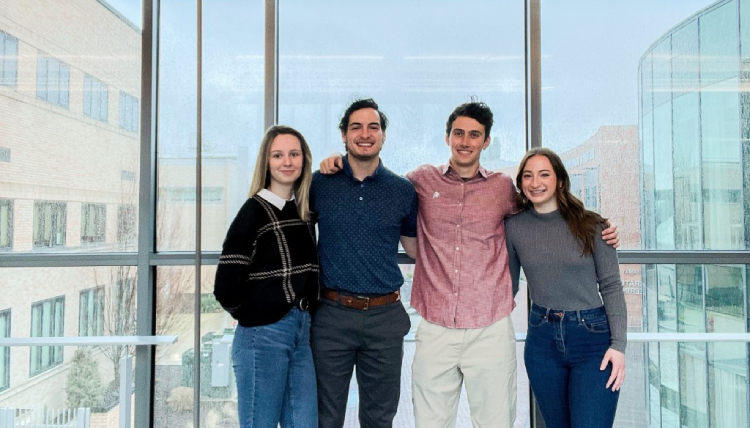 Team Members: Jedi Biswas-Diener, Byron Carabajal, Daniel Miller, Tyler Anne Trabont, Jennifer Wrobel
Faculty Advisor: Shane Pacini
Sponsor: Lung Technologies
Develop next generation Theraputic Incentive Spirometer to provide electronic monitoring of patient progress. To develop OPEP feature on Spirometer to monitor entire breathing cycle, expiratory and inspiratory.
ENSC 50 Micro-Greenhouse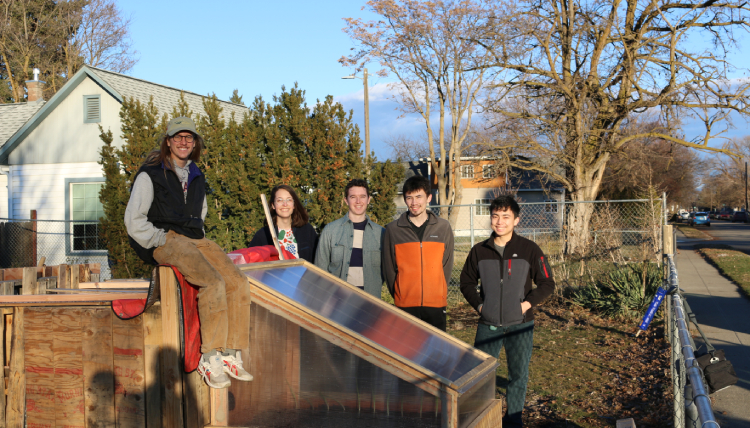 Team Members: Aiden Branch, Owen McKinstry, Fisher Ng, Matthew Shikada, Charlotte Tavernise
Faculty Advisor: Jim Weston
Sponsor: CEDE (Student Proposed)
Micro-greenhouses promise a low-cost method to promote and sustain urban agriculture through longer growing seasons. This project will design a cheap micro-greenhouse that uses a ground to air heat transfer piping system to pump heat from the ground into the greenhouse to regulate its temperature by means of a fan blowing at variable speeds.
ENSC 51 Custom Heat Transfer Test System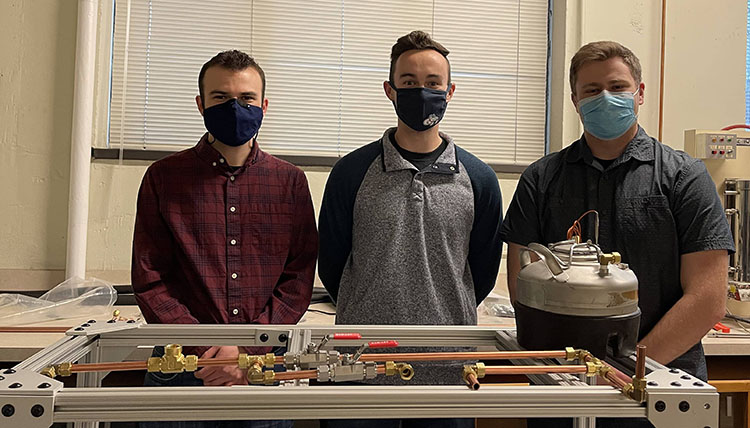 Team Members: Reggie Bahr, Evan DeSteese, Nathan Frojelin
Faculty Advisor: Dr. Talian Chen
Sponsor: CEDE (Student Proposed)
The project involves the design and construction of a custom liquid testing loop that can utilize a variety of flow rates and fluid temperatures to test small heat sinks and heat exchange devices . The apparatus will allow users to quantifiably determine the performance of different samples and aid in research and development.
ENSC 52 Inflatible Portaledge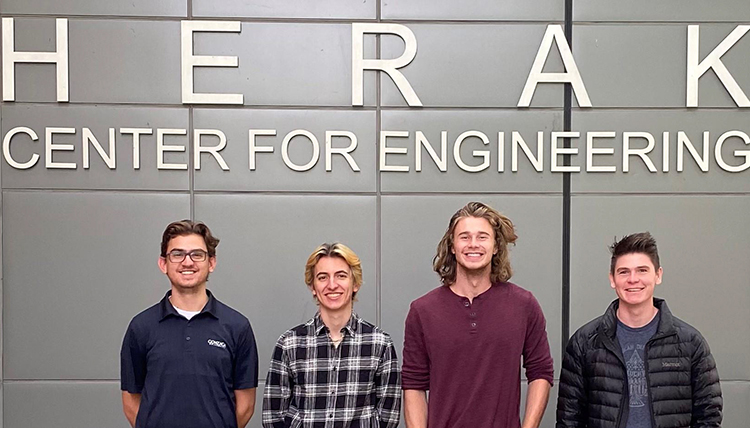 Team Members: Ethan Bailes, Colin Giardino, Thomas Mixon, Maxwell Pansegrau
Faculty Advisor: Andrew Asper
Sponsor: CEDE (Student Proposed)
Our project is an inflatable portaledge for climbing that utilizes inflatable struts instead of the traditional aluminum structure. The final product will be significantly lighter and less bulky than its predecessors.
ENSC 53 Modular Skis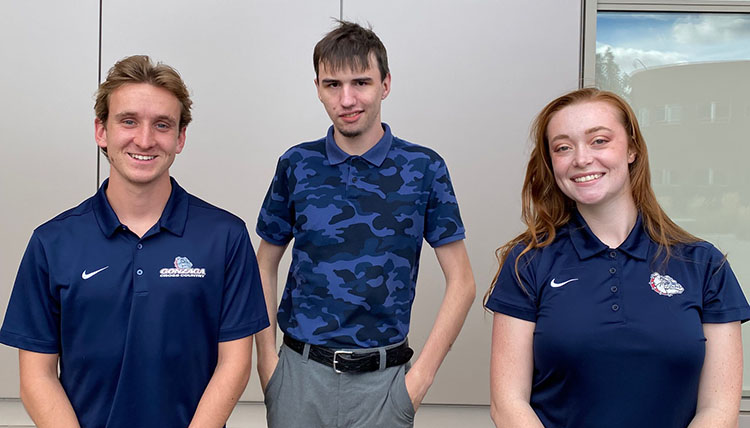 Team Members: David Connell, Erik Olsen, Samantha Worth
Faculty Advisor: Sam Shoemaker
Sponsor: CEDE (Student Proposed)
The project goal is to design a pair of modular skis with a removable binding plate that can be switched between the skis. The designs will then be manufactured and tested for safety and performance.
ENSC 54 OnSite Skis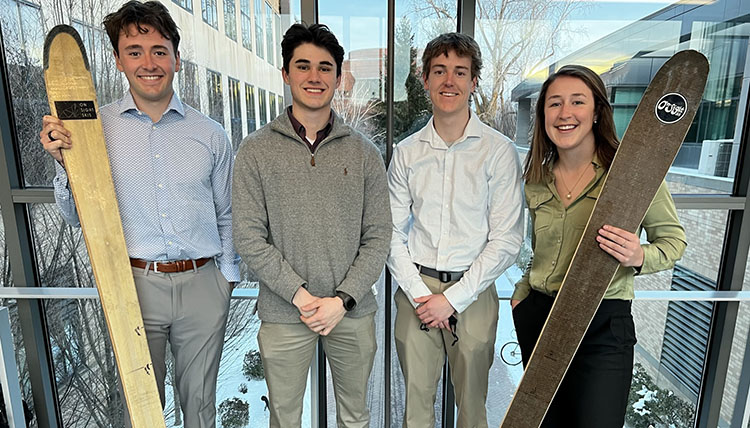 Team Members: Jake Bubb, Keely Kempt, Keith Lobis, Brenden Miller
Faculty Advisor: Sam Shoemaker
Sponsor: CEDE (Student Proposed)
Our student proposed project is to research and test sustainable alternatives to wood ski cores in order to make a more eco-friendly ski. Using our ski manufacturing setup that we already have, we would be able to produce a working product (And definitely take it for some test rides).
ENSC 56 Recycling Thermo Comp III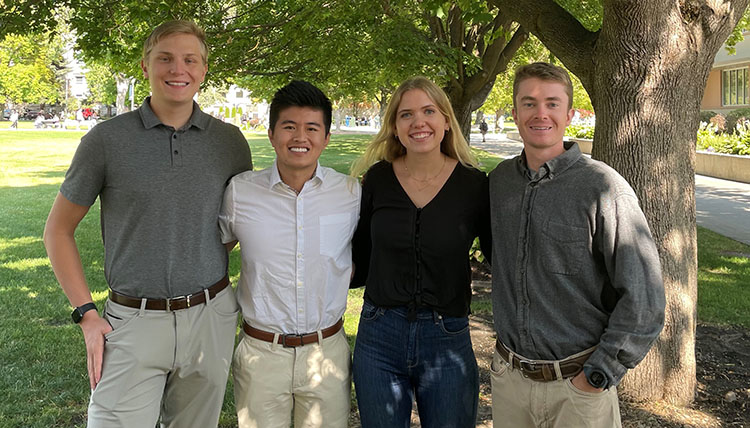 Team Members: Joseph Gruber, Helena Laan, Kenneth Rasmussen, Brendon Tran
Faculty Advisor: Chris Nicol
Sponsor: Boeing
The students will first design and fabricate an aluminum mold for an airplane interior part. Then, they will work with ATC in Spokane to fabricate the part using their mold and recycled thermoplastics and conduct testing.
ENSC 57 Nuclear DeContamination Remediation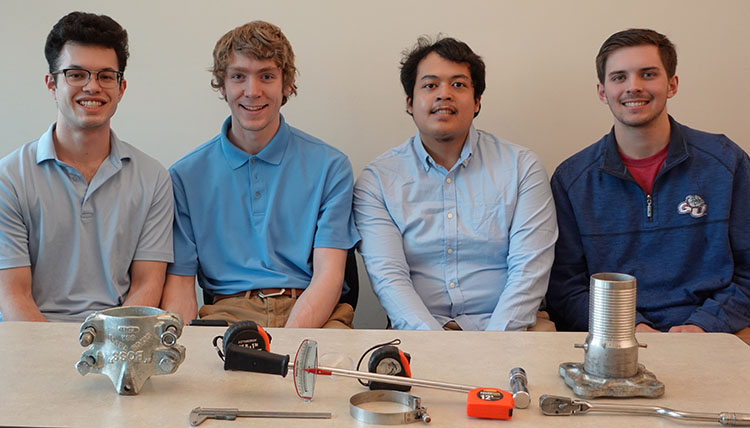 Team Members: Clayton Bierman, James Houston, Ryan Kelley, Nathan See
Faculty Advisor: Andy Johnston
Sponsor: Westinghouse Electric Company
Students will research a variety of different solutions to minimize or stop hose leakage in Westinghouse chemical decontamination process hoses. Students will create an experiment to test their solutions that simulates the thermal fluctuations hoses experience during a chemical decontamination process. The experiment should have statistical significance and generate peer reviewable data. The results of the experiments will be compiled into a Summary Report which will be used in selecting equipment upgrades.
ENSC 58 Optical Lever Stylus Profilometer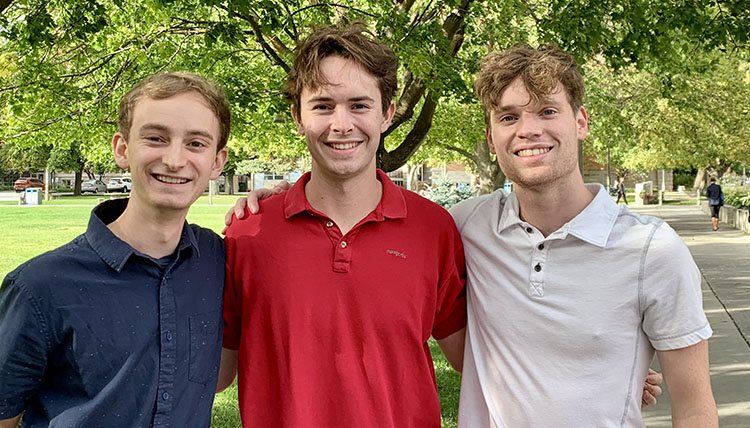 Team Members: John Heywood, Jack Thorsland, Jarett Wright
Faculty Advisor: Dr. Harman Khare
Sponsor: Gonzaga Department of Mechanical Engineering
This project aims to design and fabricate a working prototype of a precision 2D stylus profilometer, capable of accurately measuring and recording surface topographies of engineered surfaces
ENSC 59 Electric Wing De-Icing Weight Study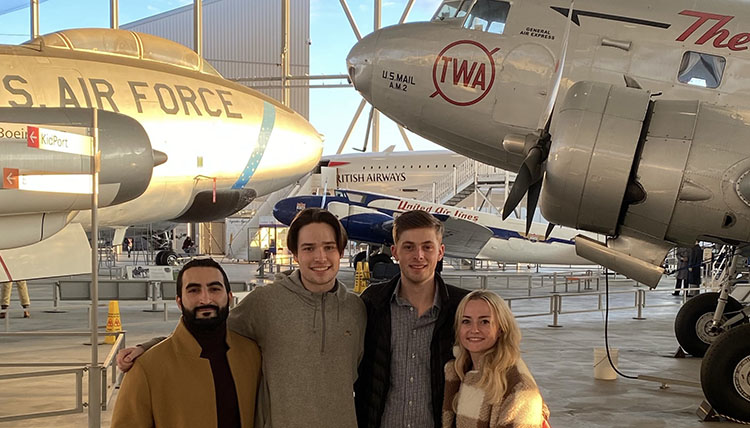 Team Members: Sara Lynn, Mirza Mustafayev, Jonathan Udell, Benjamin Walker
Faculty Advisor: Alireza Toghraee
Sponsor: Boeing
Develop a weight trade study for incorporating Metal Matrix Composite (MMC) into the Outer Mold Line (OML) of a carbon fiber reinforced plastic (CFRP) lifting surface when compared to a similar Copper Foil/CFRP configuration. The team will build MMC & Copper Foil composite models & perform structural testing in an attempt to confirm that an MMC model will be lighter than a Copper Foil model.
ENSC 60 No Pollution Thermal Turbine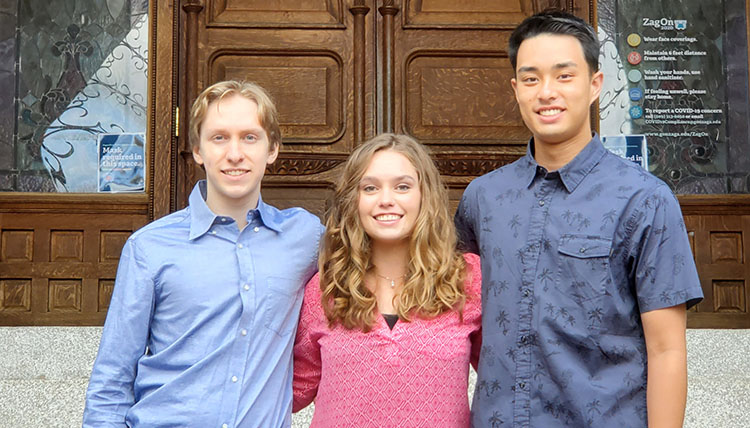 Team Members: Nathan Coats, Emily Johansen, Joshua Tagawa
Faculty Advisor: Dan Harmon
Sponsor: Middle River Power
Refining a design and materials for a utility scale zero emissions thermal combustion turbine. This turbine will utilize pure oxygen and pure hydrogen to produce heat and water water vapor and emissions that is recovered re-split and reused.
ENSC 61 Electric Ducted Fan for Aircraft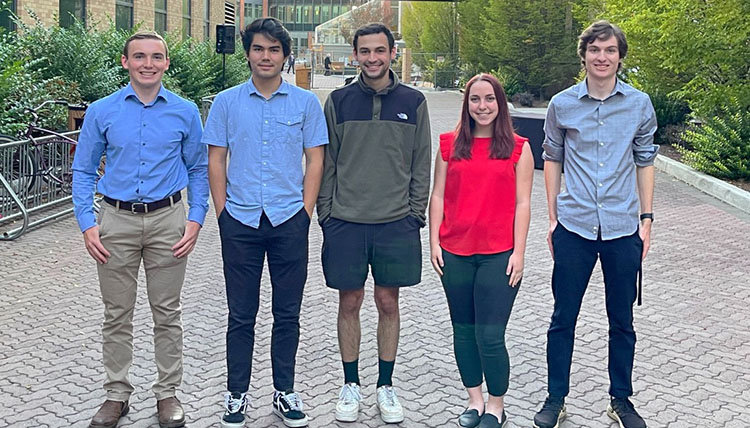 Team Members: Garret Duch, Nicholas Ellison, Jacob Farrell, Mason Leach, Ian Linville
Faculty Advisor: Jeff Nolting
Sponsor: Boeing
Design and build an electric ducted fan using an axial pole synchronous reluctance motor.
ENSC 62 Composite Washer Deburring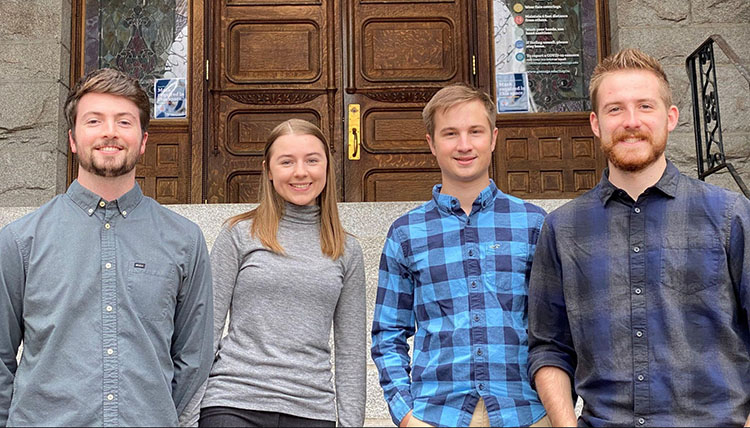 Team Members: Reese Anselmi, John Griesemer, Maya Prouty, Chephren Sinko
Faculty Advisor: Gabe Achenbach
Sponsor: WessDel
WessDel is looking for a team of engineering students to design and provide proof of concept and possibly a prototype of a machine to deburr composite washers used by various Aerospace companies.
ENSC 63 Airplane Cable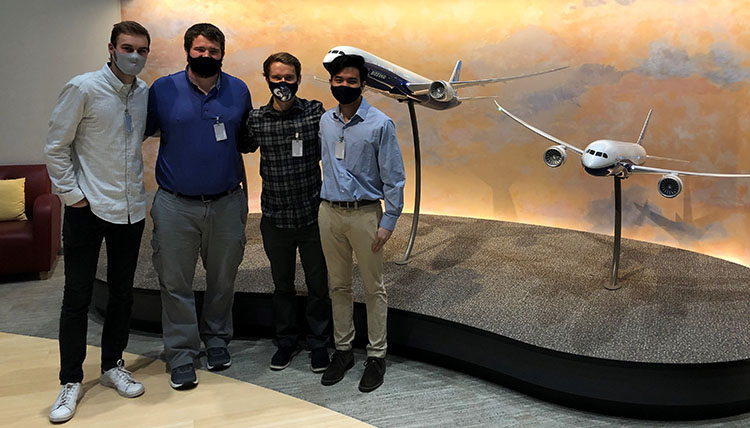 Team Members: Jayson Patrick De Jesus, Matthew Halsan, Justin Leach, Nathaniel Verboort
Faculty Advisor: Colleen Nolting
Sponsor: Boeing
This project will challenge the students to design a new seat-to-seat cable module that can be adjustable to different lengths and improves the quality issues with the current design.
ENSC 64 Capping System for Reagents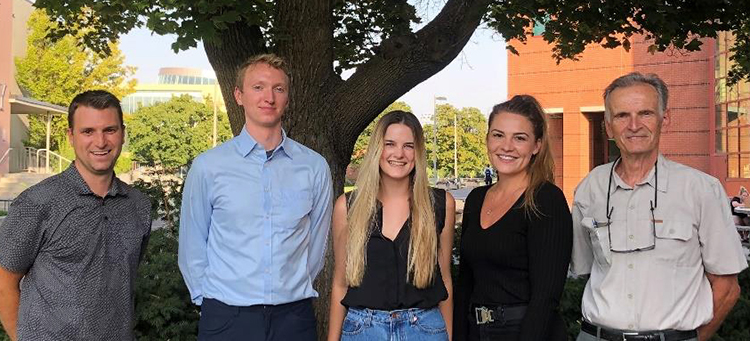 Team Members: Angelica Floryanovich, Mikayla Lambert, Dillon Yanick
Faculty Advisor: Jake Laete
Sponsor: Synthego
You are tasked by a leading biotechnology company to design and build a proof of concept for a system to increase the throughput of tubing chemical materials in a laboratory setting. By blending ergonomic analysis with mechanical principles you will design a system to minimize strain on technicians while maximizing available resources.
ENSC 65 Tipping Floor Fire Deluge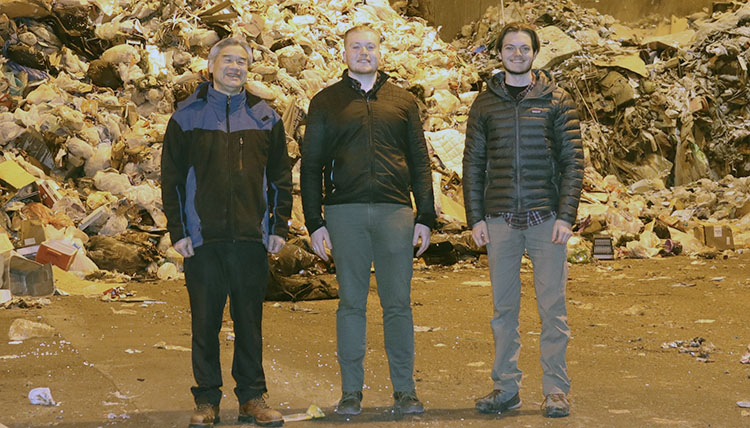 Team Members: Isaac Lindberg, Samuel Range
Faculty Advisor: Damon Taam
Sponsor: City of Spokane
The scope of the project is to design a similar deluge fire system compatible with the existing unit that will extend protection to the Waste-to-Energy facility tipping floor. This protection must also address the resulting smoke issue that occurs during a fire event.
ENSC 66 Rolling Table Lifting Device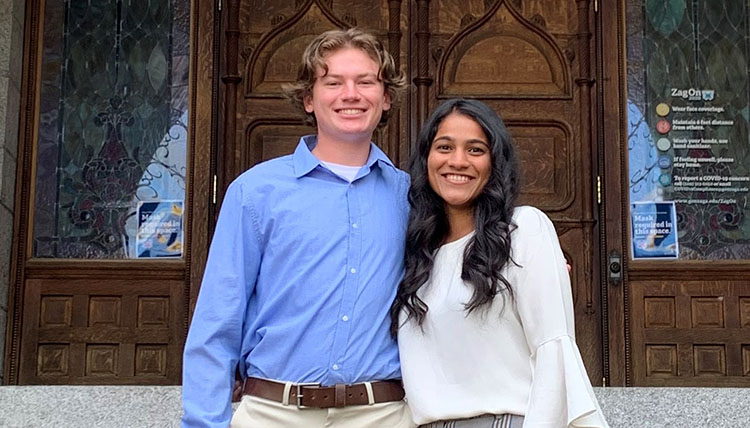 Team Members: Jacob Mills, Meredith Pires
Faculty Advisor: Chris Nicol
Sponsor: Kaiser
This project is to design and construct a lifting device that simplifies the rigging and improves the safety of removing and installing the adjustable roll table at the exit of the 112" Rolling Mill.