2020-2021 Projects
For more information on any project, please contact
Toni Boggan
or email the project's Faculty Advisor.
ENSC 42 Gyroscopic Microphone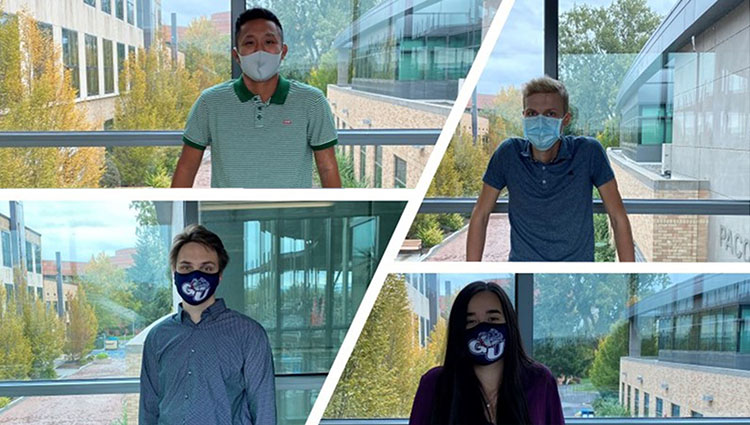 Team Members: Matthew Kleyn, Bailey Tran, Hunter Ward, Lyssa Blood
Faculty Advisor: Claudio Talarico, Ph.D. email
Sponsor: CEDE
We would like to prove that spinning a circular array of microphones up to tangential speed with the wind is a viable solution to the problems of recording with microphones in high wind.
ENSC 50 A Better Fin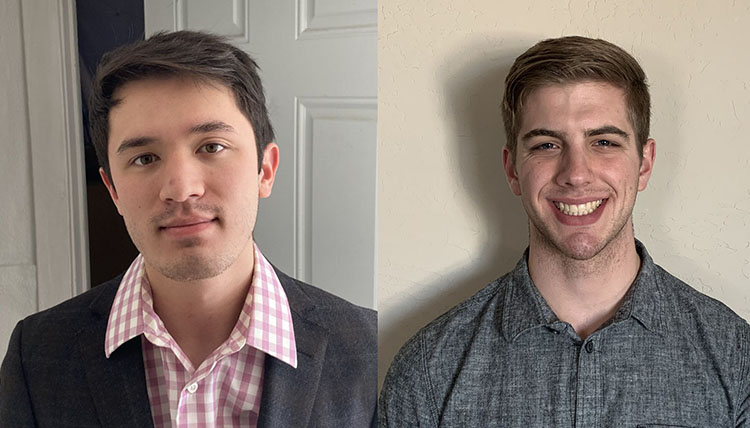 Team Members: Richard Zukowski, Aidan Murray, Max Leung-Wagner
Faculty Advisor: Marc Baumgardner, Ph.D. email
Sponsor: CEDE
We are looking at varying the shape of cooling fins in order to find if we can make them more efficient, cost effective, or both.
ENSC 51 Automatic Pill Dispensing Wheel


Team Members: Grace Lilje, Catherine Parra, Ryan Hunt, Jake Gammon
Faculty Advisor: Debra Offill email
Sponsor: CEDE
This product will automatically dispense medication on a pre-set schedule with programmable alerts and locking mechanisms. The intended use is for individuals with Alzheimer's or other cognitive impairments to increase autonomy and overall safety.
ENSC 52 Baja Car Suspension & Steering

Team Members: William Long, Alexander Orovitz, Alex Blau, Samuel Wilson
Faculty Advisor: Jim Weston, M.S., P.E. email
Sponsor: CEDE
Design, fabricate, and install new front suspension and steering systems in order to accommodate 4 wheel drive design. The revisions to the drive train to accommodate 4 wheel drive will be completed as a separate, but related activity, by other members of the SAE Baja team.
ENSC 53 Bearing Press & Chock Manipulator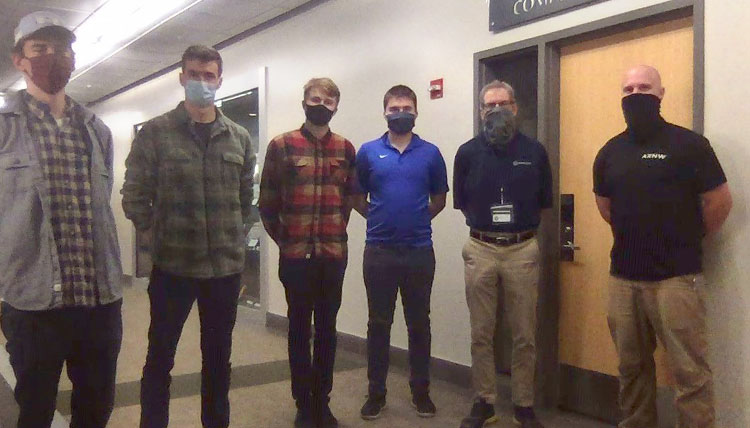 Team Members: Patrick Osborne, James Knight, Aidan Peck, Nathan Lewis
Faculty Advisor: Christopher Nicol email
Sponsor: Kaiser Aluminum
The goal of the project is to reduce the safety risk associated with the bearing inspection process by designing a device to assist in the removal and installation of the bearings as well as manipulation of the chocks.
ENSC 54 Blade Material 420HC Properties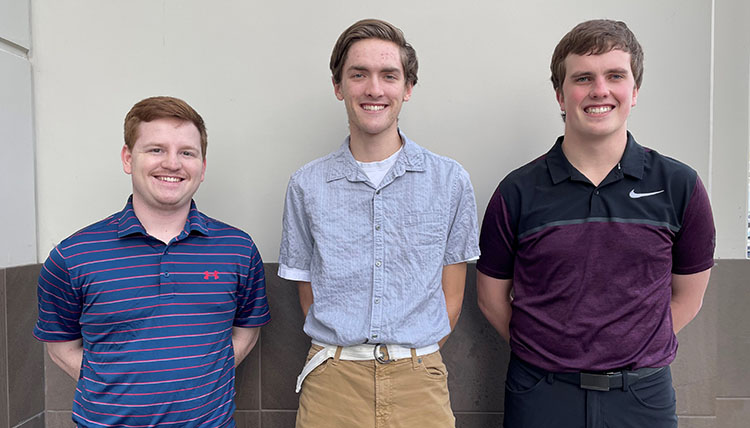 Team Members: Michael Baer, Colin Helgeson, Matthew Vermeer
Faculty Advisor: Mike McDonald email
Sponsor: Buck Knives
This project will involve testing material properties and evaluating the heat treat process. A new improved heat treat process will be created and tested. A new set of material properties will be measured.
ENSC 55 Commissioning of TLUD Stove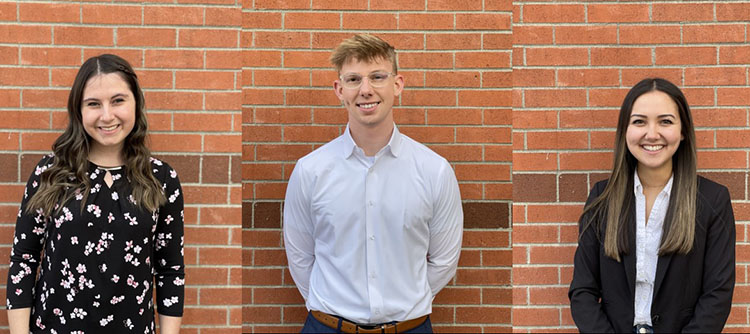 Team Members: Molly Fackelman, Rachel Yamamoto, Seth Kelley
Faculty Advisor: Marc Baumgardner, Ph.D. email
Sponsor: Gonzaga Dept. of Mechanical Engineering
This project will focus on the installation and commissioning of (i) a new, full-size combustion hood, and (ii) an experimental Top-Lit Updraft Gasifier (TLUD) Stove for the purpose of investigating bio-char production.
ENSC 56 Compact Intravenous Warmer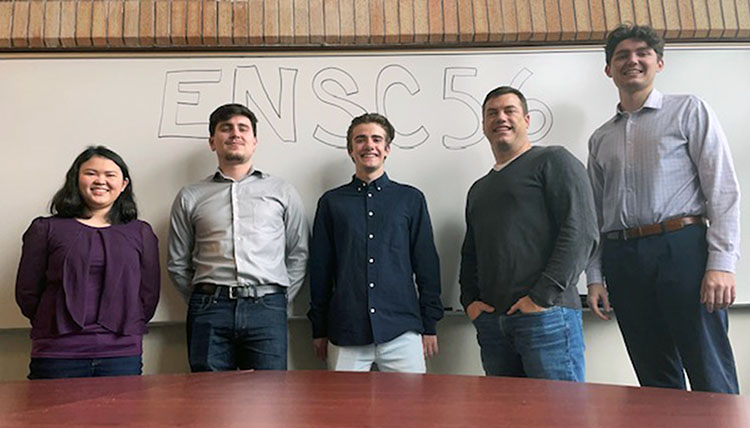 Team Members: Shelby Taketa, Declan Flanagan, Nicholas Cunningham, Erik Ratchford
Faculty Advisor: Gabe Achenbach email
Sponsor: CEDE
The goal of this project is to have a production-quality product of a warmer that will either attach to the fluid bag or the intravenous tube, since cold intravenous fluid causes discomfort and existing solutions do not meet all of the requirements that this project intends to meet.
ENSC 57 Composites Handling Equipment


Team Members: Efren Chavez Cardona, Richard Reohr, Carolyn Brewster, Brett Wilson, Alec Wilson
Faculty Advisor: Sam Shoemaker email
Sponsor: Boeing
Composite manufacturing requires the efficient movement of large and small elements. The team will use cutting edge material technology based on Shape Memory Alloys to design and prototype a superior more maneuverable, lower cost Composite Material Handling System that requires minimal infrastructure.
ENSC 58 Coolant Heating System Solution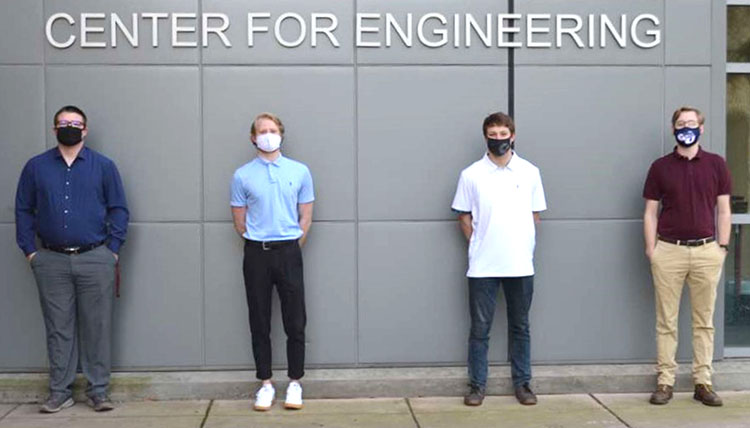 Team Members: Jake Hansel, Collin Murray, Carter Garcea, Jared Boswell
Faculty Advisor: Christopher Nicol email
Sponsor: Kaiser Aluminum
The goal of the project is to evaluate alternatives for heating the coolant and propose an alternative for future funding and implementation.
ENSC 59 Continuous Fiber 3D Printer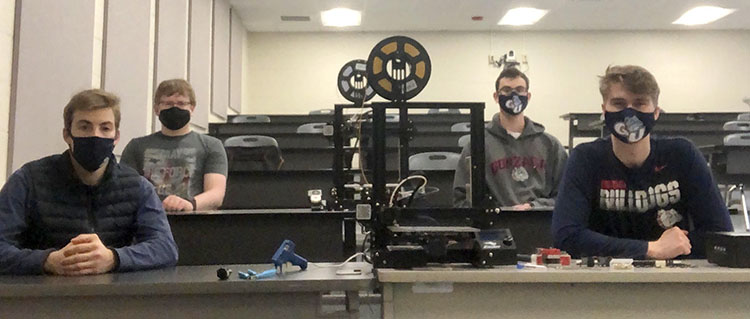 Team Members: Andrew Oakes, Patrick Kunz, Michael Zell, Gary Heberling
Faculty Advisor: Rudy Lauth email
Sponsor: CEDE
Our project goal is to create a Continuous Fiber Composite 3-D printer on a small, personal scale. We plan on achieving this by CADing, prototyping, programming and testing our model until it reaches our quality standards.
ENSC 60 Deep Venous Thrombosis (DVT) Prevention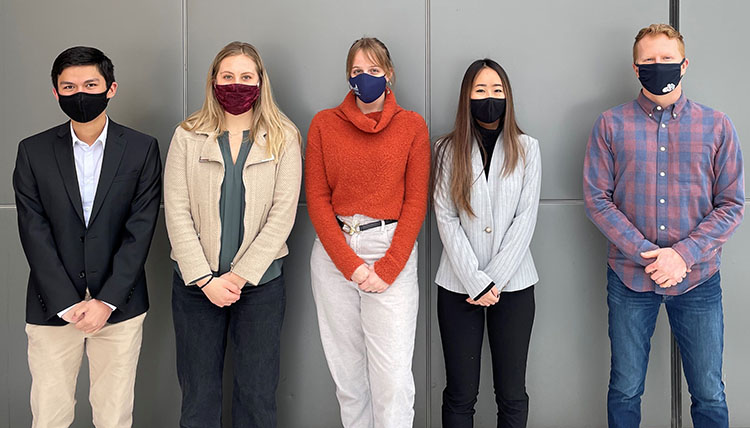 Team Members: Maureen Barrett, Carlee Burnett, Lindsey Young, Will Yuponce
Faculty Advisor: Shane Pacini email
Sponsor: Lung Technologies LLC
The project goal would be to have a working prototype and accompanying Solidworks design data. The final prototype would be as close as possible to what we would submit to the FDA, Patent Office and for manufacturing.
ENSC 61 Dispenser Production Design Challenge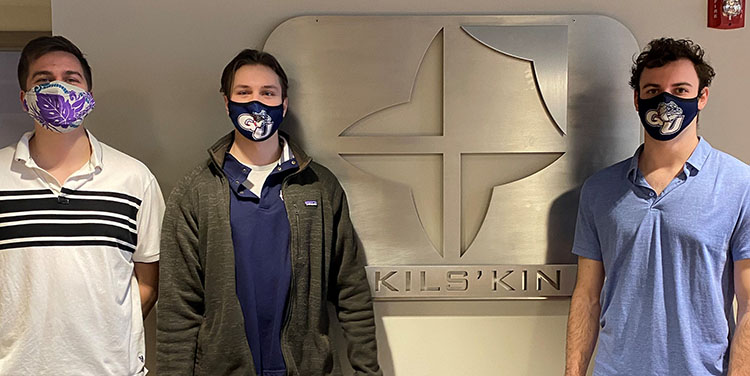 Team Members: Gabriel Carbajal, Ryan Moore, Michele Brianti
Faculty Advisor: Andrew Johnston email
Sponsor: skils'kin
Help us design the ultimate epoxy dispenser.
ENSC 62 Electric Boat Motor Conversion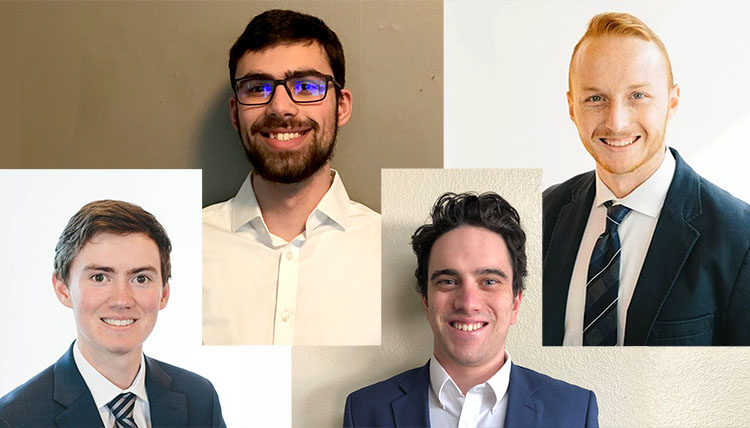 Team Members: Daniel Smart, Wyatt May, Matthew Gasper, Andrew Feucht
Faculty Advisor: Jeffrey Nolting email
Sponsor: CEDE
A kit that allows for the easy conversion of a traditional outboard motor to be powered by an electric motor. To provide a cleaner and more affordable option to the average boater.
ENSC 63 Eyeris Light Controller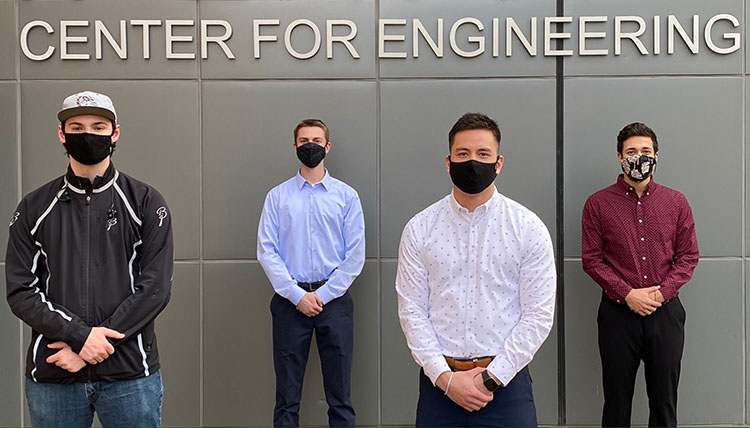 Team Members: Jared Alano-Gray, Tarik Alauddin, Carson Lewis, Chancelar Schachle
Faculty Advisor: Daniel Harmon email
Sponsor: CEDE
To design a controller that will interface current lighting technology (light sensors, dimming bulbs, etc.) to allow a consistent and desirable level of light to be maintained throughout a set period of time.
ENSC 64 Hythane Pipeline Materials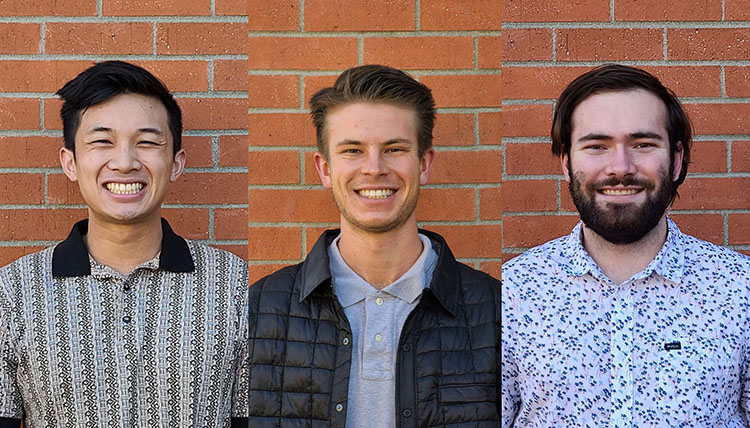 Team Members: Cameron Oen, Nicklaus Vogt, Mathew Morgan
Faculty Advisor: Patrick Ferro, Ph.D., P.E. email
Sponsor: CEDE
Our overarching goal is to research the hybrid implementation of hydrogen and natural gas (Hythane) and its effects on pipeline materials. We are looking to deliver research with visuals to show the varying levels of hydrogen and its effects on different alloys. Additionally, we are going to provide as a deliverable an economic analysis model of the costs of the newly selected pipeline material in comparison to the cost of current natural gas pipeline materials.
ENSC 65 Air Monitor/Spectrometer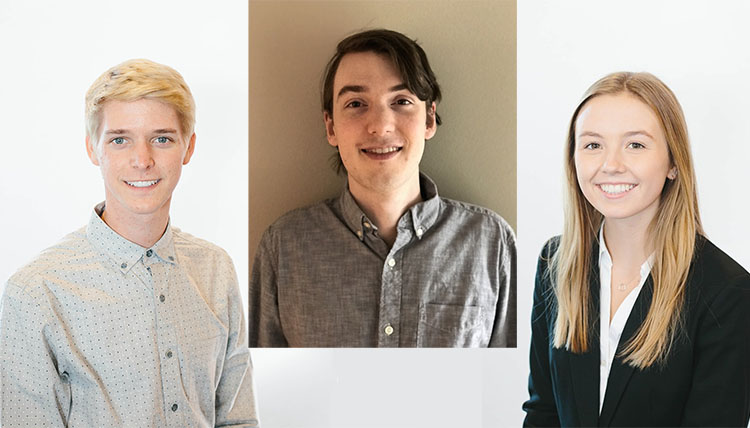 Team Members: Kristine Cushman Johnson, Peter Noone, Alex Walde
Faculty Advisor: Arthur Miller, Ph.D. email
Sponsor: NIOSH
The mining industry is in need of a portable air monitor with the ability to quantify hazardous airborne aerosols such as diesel particulate matter in order to keep miners healthy and safe. We need a team of students to assist in developing a prototype system, including design and testing components for the prototype air monitor, such as the sample collection system and a user interface, as well as the design of an overall housing or enclosure for the system. The team will collaborate with a laser expert who will develop an appropriate laser and provide the specifications to the team, as well as an aerosol scientist to assist with design of air handling components.
ENSC 66 Measurement Lab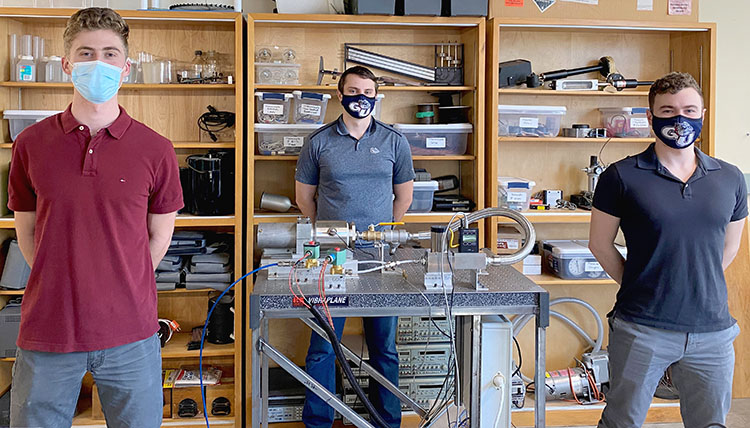 Team Members: Albert White, Cody Meyer, Thomas Standiford
Faculty Advisor: Timothy Fitzgerald, Ph.D. email
Sponsor: Gonzaga Dept. of Mechanical Engineering
A hands-on tour across the ME discipline on a series of smaller projects in the Measurements Lab. Upgrades to the lab including working on the wind tunnel, rocket test stand, and inertia measurement devices.
ENSC 67 Microgravity Rocket Lab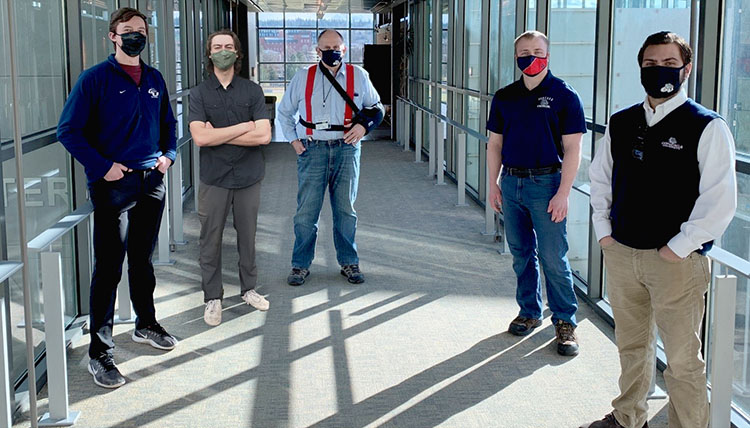 Team Members: Mark Jankovic, Joshua Margraf, Joseph Curran, Evan Melnick
Faculty Advisor: Jim Weston, M.S., P.E. email
Sponsor: Student Proposed
Our project will focus on the design and creation a rocket capable of performing a micro gravity maneuver for 3 to 5 seconds. With a compartment to run experiments onboard, we will vastly increase accessibility to those wishing to perform small scale micro gravity experiments.
ENSC 68 Motorized Pivot Desk

Team Members: Seth Frings, Eric Possa, Lauren Johnston, Matthew Mueller
Faculty Advisor: Colleen Nolting email
Sponsor: WaltJay Consulting
Develop a high-torque, slow-speed motorized pivot disk capable of supporting and turning a person with limited mobility who might weigh up to 250 pounds. The device, preferably 3/4 inch or less in thickness, should have a foot or voice-activated remote for starting and stopping.
ENSC 69 Nonplanar 3D Printer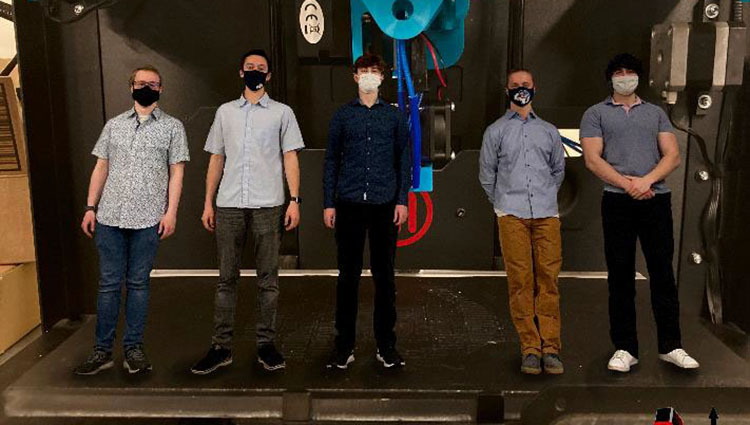 Team Members: Andrew Gothro, Steven Mamolo, Andrew Hall, Hunter Desimone, Jared Weyer
Faculty Advisor: Jake Laete email
Sponsor: CEDE
This project aims to develop a prototype non-planar 3d printer using unique methods to improve existing 3d printer technology in terms of strength, speed, and quality.
ENSC 70 Pediatric Incentive Spirometer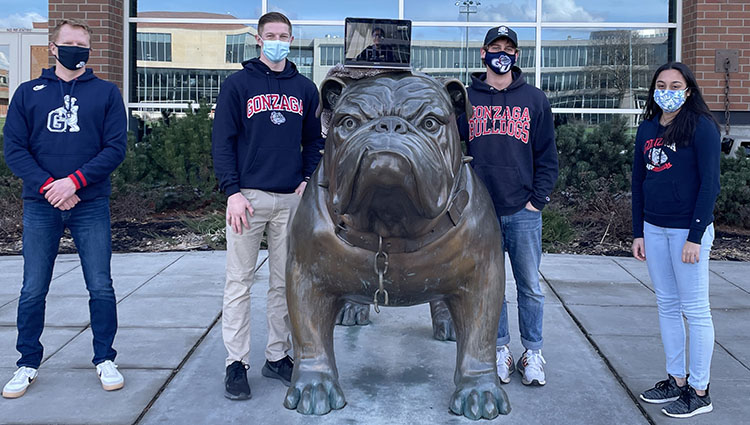 Team Members: Marissa Encarnacion, Brian Hodes, Ryan Finn, Kalika Singh
Faculty Advisor: Shane Pacini email
Sponsor: Lung Technologies LLC
We will focus on the unique needs a pediatric patient (18 and younger) will require when they are using the Incentive Spirometer following surgery. This will focus on the inner workings of the Spirometer (flow & volume), electronic user- interface and the unique industrial design characteristics of a pediatric spirometer.
ENSC 71 Repurposing Carbon Fiber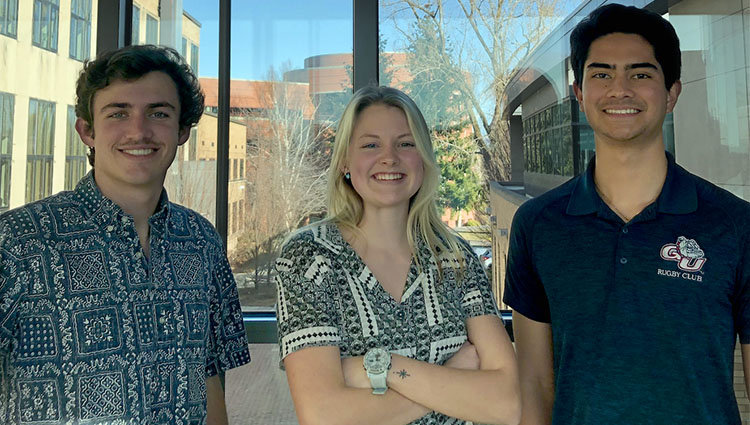 Team Members: Alec Steinhilber, Tanner Thiel, Hannah Stubson
Faculty Advisor: Gerry Snow email
Sponsor: Boeing
Design and fabrication of a tool capable of non-automated layup of pre-preg composite with similar properties to an Automated Tape Layup Machine.
ENSC 72 Recycling Thermoplastic Composites II


Team Members: Joseph Coppock, Bridget McShane, Zachary Gerhardt, Karli Wagner
Faculty Advisor: Gerry Snow email
Sponsor: Boeing
The students will leverage the research from phase 1 to propose parts that can be made from recycled thermoplastics, develop prototypes, and conduct testing.
ENSC 73 Solar Updraft Tower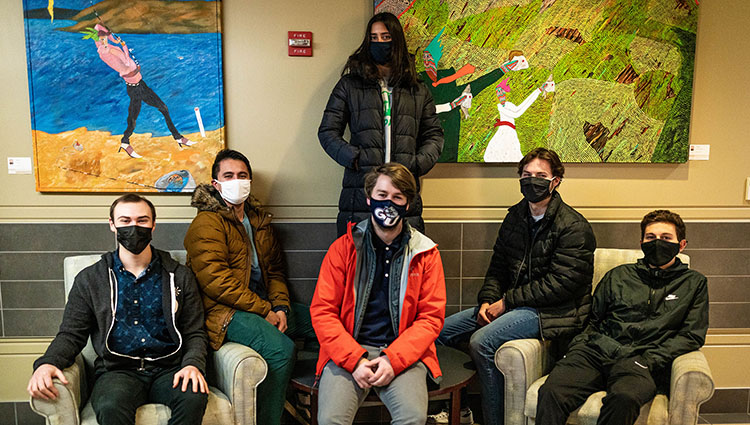 Team Members: Joe "JJ" Doria, Logan Wentland, Kameron Jackson, Kevin Smith, Nathan Harvill, Melise Santos
Faculty Advisor: Patrick Ferro, Ph.D., P.E. email
Sponsor: Avista Utilities
We will research, design, and build a solar updraft tower in order to improve efficiencies of past prototypes. A solar updraft tower takes advantage of forced convection to spin a wind turbine, generating clean energy wherever the sun shines.
ENSC 74 Underwater Structural Sensor Development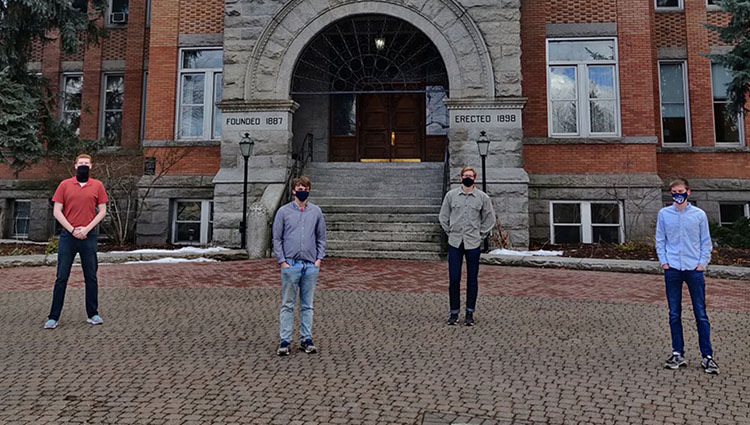 Team Members: Max Gantar, Joshua Masters, Martin Geiger, Alex Lloyd
Faculty Advisor: Timothy Fitzgerald, Ph.D. email
Sponsor: Niricson Software
In our startup environment, we are using cutting-edge, drone-equipped software and hardware to inspect concrete structures around the country. The project first goal is to successfully implement this technology in an underwater environment. In particular, we would like to test acoustic signature frequencies above and below water, analyzing the frequency spectrums in both environments and with differing concrete quality. The second goal is to test our software's ability to automatically quantify (length, width) cracks/spalling/etc in an underwater environment.
ENSC 75 Self-Leveling Skate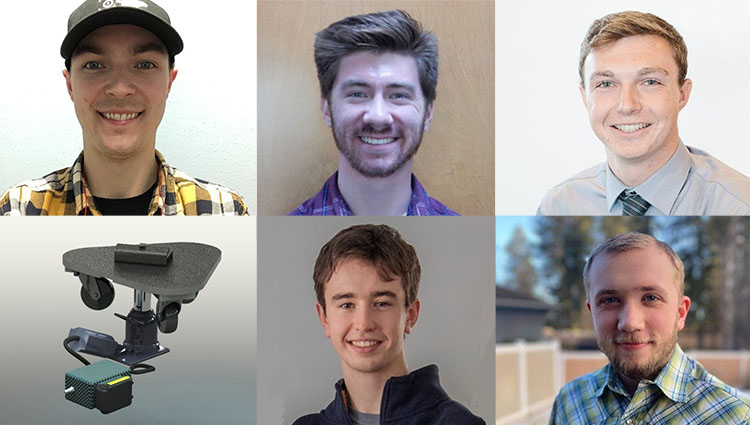 Team Members: Patrick Gaylord, Matthew Jewell, Nicholas Carter, Joseph Benson
Faculty Advisor: Mitch Beard email
Sponsor: Haakon
Design and prototype a self-leveling skate to transport heavy pieces of HVAC equipment throughout a manufacturing shop.