For more information on any project, please contact
Toni Boggan
or email the project's Faculty Advisor.
ENSC04 Northern Idaho Collaborative Education Building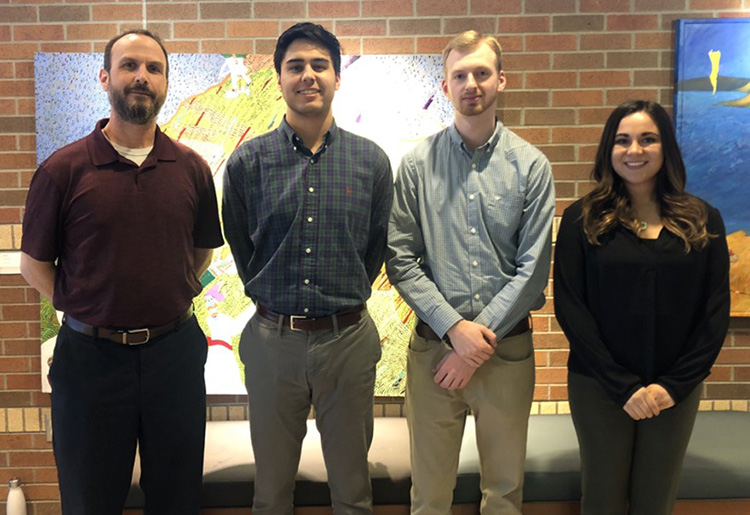 Team: Michael Doquilo, Joseph Jesse, Victoria Vivinetto
Faculty Advisor: Aaron Zwanzig email
Sponsor: Integrus Architecture
Sponsor Liaison: Aaron Zwanzig
North Idaho College, Lewis-Clark State College, University of Idaho, and the Coeur d 'Alene Urban Renewal Agency (Ignite Cd'A) envision the creation of an education corridor along the Spokane River in Coeur d' Alene on the North Idaho campus. The collaboration of the colocated institutions increases local access to students at all levels of higher education. The approximately 25,000 to 30,000 square feet building will support a collaborative one-stop shop for student services, sixteen classrooms for 30-40 students, computer labs, various breakout rooms and ancillary support spaces. The goal of this project is to create a schematic level structural design for the Northern Idaho Collaborative Education Building. This project included the development of schematic level structural framing plans. The design team developed gravity and lateral loads, selected a framing system, and designed a framing system and foundation for the structure. All of the team's work is supported by structural calculations
ENSC07 Hold That Tray!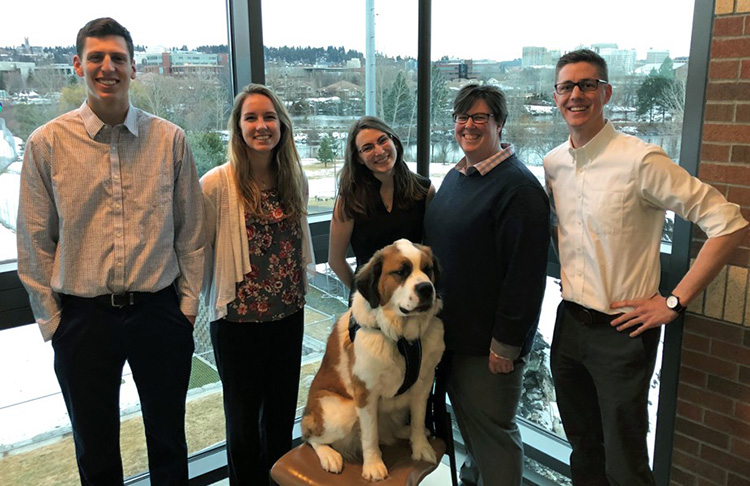 Team: James Sulser, Meghan Lowry, Sarah Godbehere, Elizabeth Brown
Faculty Advisor: Alex Maxwell email
Sponsor: Washington State DOE
Sponsor Liaison: John Cleary
The issue of food loss and waste (FLW) at Gonzaga University is being addressed using a systems-based, holistic approach in keeping with the United States Environmental Protection Agency's Food Recovery Hierarchy (FRH). Using the FRH as a guiding framework, this project aims to reduce and divert FLW at the main dining facility by: (1) improving educational programming and coordinating with the University's food service provider to reduce post-consumer waste, surplus edible food, and unnecessary food preparation (Source Reduction), (2) making improvements to the food donation program operated by Campus Kitchens (Feeding People), and (3) exploring strategies to divert food waste from landfills by designing, building, and testing a pilot-scale anaerobic digester and in-vessel composter (Industrial Uses and Composting).
ENSC08 Natural Fiber Reinforced Concrete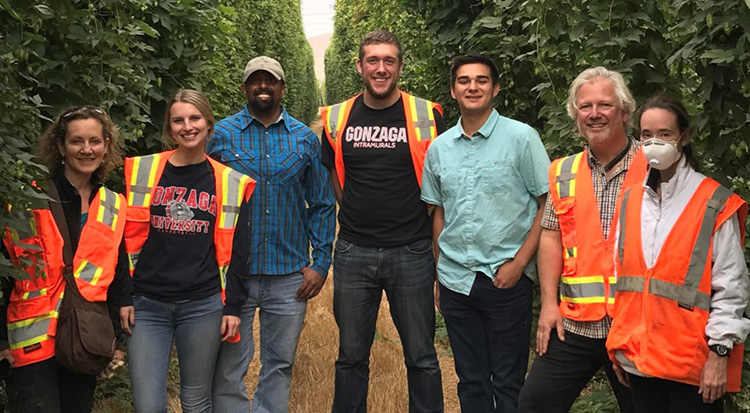 Team: Madison Jurewicz, Zackary Schroder, Loren Colpo
Faculty Advisor: Lauren Heine email
Sponsor: NW Green Chemistry, ZILA Works
Sponsor Liaison: Jason Puracal
Our team was tasked with designing concrete that used hop vines as a sustainable replacement to aggregate for our sponsor ZILA Works. Hop vines were chosen because Yakima produces 70% of the nation's hops. Our project goals were to research similar fibers to hop vines, calculate mix designs and test our hopcrete. We found research with wood chips had already been incorporated into concrete. Our team used this as a baseline for our mix designs. We procured our hop vines from Yakima and harvested the usable material to be used in our mixes. In the designing of the concrete we replaced 7.5% and 15% of the aggregate. We poured test cylinders and flexural beams. After the samples had cured, each cylinder was tested in compression and beams were tested in flexural strength. Our team has prepared samples, mix calculations, and uses for hopcrete based off our test results.
ENSC15 Protective Schemes Lab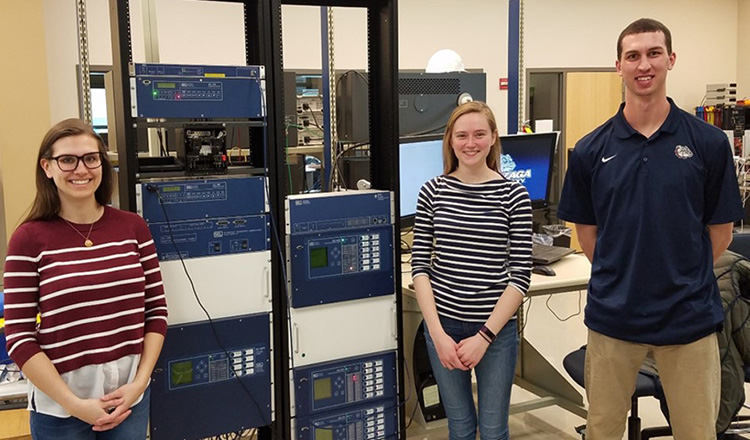 Team: Rylie Van Court, Katherine Gibbs, George Herner
Faculty Advisor: Kevin Damron email
Sponsor: Avista
Sponsor Liaison: Elizabeth Andrews
ENSC 15 Protective Schemes Lab implemented a fast trip blocking scheme using two SEL-351 protective relays and one SEL-2730M ethernet switch utilizing IEC 61850 in the Gonzaga relay lab. Originally, the goal was to also implement a current differential and a lockout relay, but the scope was later limited to the fast trip blocking scheme. The project goals were to reduce cost in building a substation, increase reliability of the protection system, and allow ease of future expansion. Training material and design documentation were created to help Avista implement IEC 61850 into future substation designs.
ENSC21 Clip Installation Tool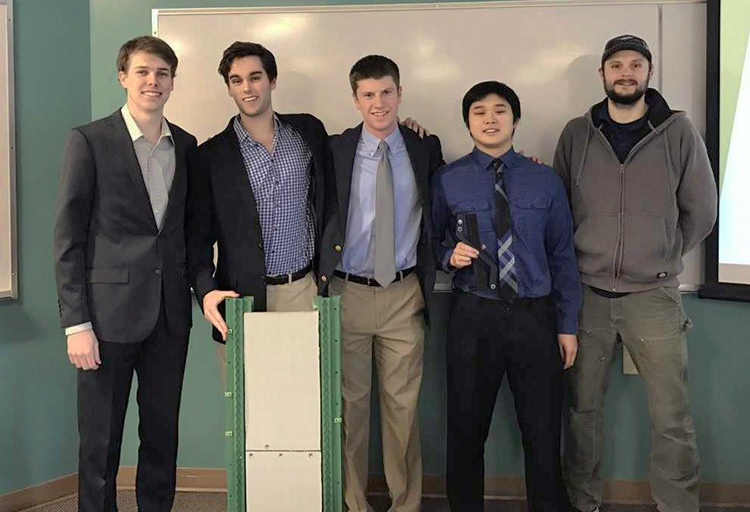 Team: Kyle Bowman, Sam Kendree, Todd Guse, Patrick Tjandra
Faculty Advisor: Ryan Leahy email
Sponsor: Boeing
Sponsor Liaison: Craig Ungerecht
Boeing, our sponsor, came to us with a problem they currently have with installing nut clips in the fuselage of their airplane. When installing by hand, the nut clips often fall into the lower deck of the airplane, becoming FOD, foreign object debris. When FOD occurs, it takes time and resources to clean before the next step in production. Our goal, which we have obtained, was to design, develop, and test a hand held tool for ergonomically installing nut clips, with the main function of preventing FOD. We have developed a tool that is durable, ergonomic, and easy to use, while providing the function of FOD prevention.
ENSC23 Electro-Mechanical Faucet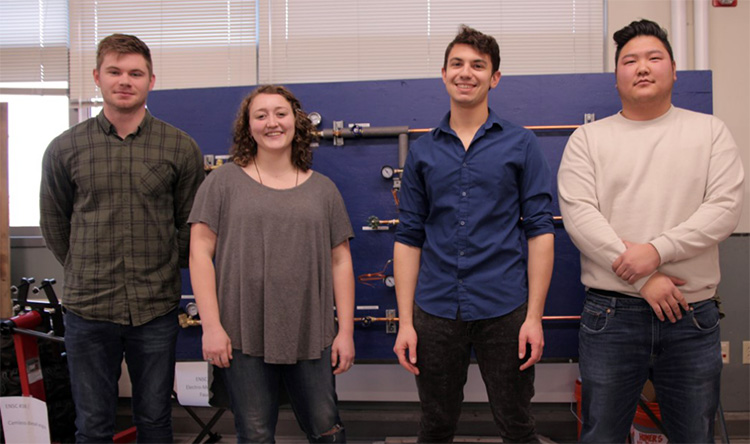 Team: Sam Olson, Megan Millward, Charles Mielke, Ryan Hungate
Faculty Advisor: Bob Reed email
Sponsor: Ryan Kellog
Sponsor Liaison: Bob Reed
Senior Design Group 23 was tasked with development and prototyping of an ElectroMechanical Faucet device. There is a growing market for the automating of simple tasks for the improvement of user experience and efficiency. The infrastructure behind common objects lends them to be operated most efficiently in a certain way, but human operators tend to make this difficult or impossible. By integrating some basic technology and hardware, it is possible to drastically improve the efficiency of these devices and to improve the user experience. Thus, a system that can be retrofitted onto a preexisting single-handle shower valve that can actively control the temperature of the shower stream has been developed. Additional design specifications require it to remain noninvasive and relatively low cost compared to existing market competition, and provide preheat functionality.
ENSC24 Concrete Delivery ID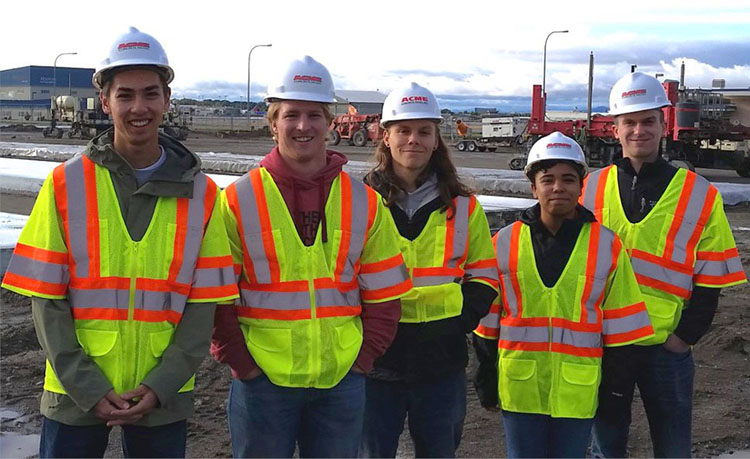 Team: Nicholas Reasoner, Hans VanderWel, Jack Zielinski, Bianca Burton, Christopher Clark
Faculty Advisor: Mason VanLith email
Sponsor: ACME
Sponsor Liaison: Robert Seghetti
The Electronic Concrete Delivery Team working with ACME Concrete based here in Spokane was tasked with embedding RFID chips into the concrete manufacturing process. Each chip has a unique identification number that correlates to the specific concrete batch specification which will now be stored in the company cloud database, making way for ease of location finding and data retrieval. This Multidisciplinary project consisted of teams of Computer Science, Mechanical, and Electrical Engineering majors. The team of four Computer Science majors (CPSC 09) created a cloud database for the storage of batch specific information and employee interface for the data retrieval. The team of three Mechanical Engineers were tasked with the dispensing of the RFID chips at the batch plant and the creation of a manufacturing process to do so. The team of two Electrical Engineers were responsible of the writing of the RFID chips and data transfer to the Computer Science team. Stop by the Design Expo to see how ACME Concrete goes digital with batch specific identification.
ENSC39 Flaring Crack Protection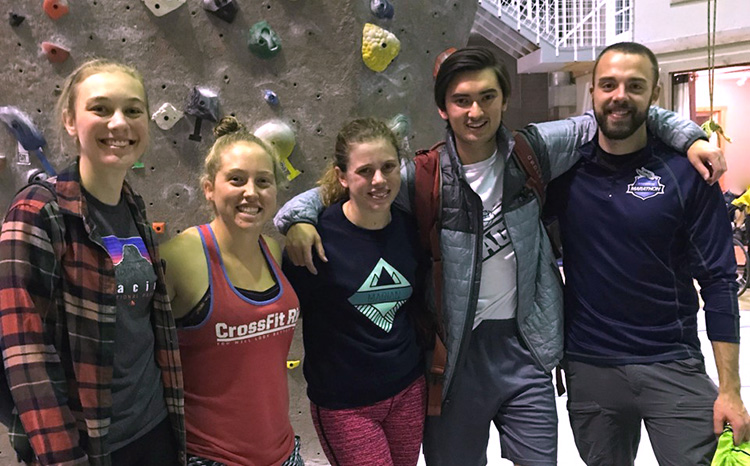 Team: Erin Weinbender, Sarah Abercrombie, Kylie Muntean, Paul Joseph Bickel
Faculty Advisor: Anthony Schoen email
Sponsor: Gonzaga University
Sponsor Liaison: Anthony Schoen
The goal of our project is to create a piece of protective gear for outdoor rock climbers. A flaring crack is a rock formation which is wider at the surface and narrows deeper into the rock. Climbers will place the device inside flaring cracks to help protect them if they were to fall while climbing. The scope of the project includes the detailed analysis and production of multiple prototyped models that satisfy the safety standards for protective climbing gear. We have tackled this problem through magnetorheological fluid research, geometric solutions, and machine design theory. Rock climbers often encounter flaring crack formations. Protective gear has not been designed for flaring cracks, which forces climbers to seek other gear placements or climb longer distances without adequate protection. This device will create a safer climbing environment and allow climbers to have more versatile options when selecting a rock face to climb.
CPSC06 Tempo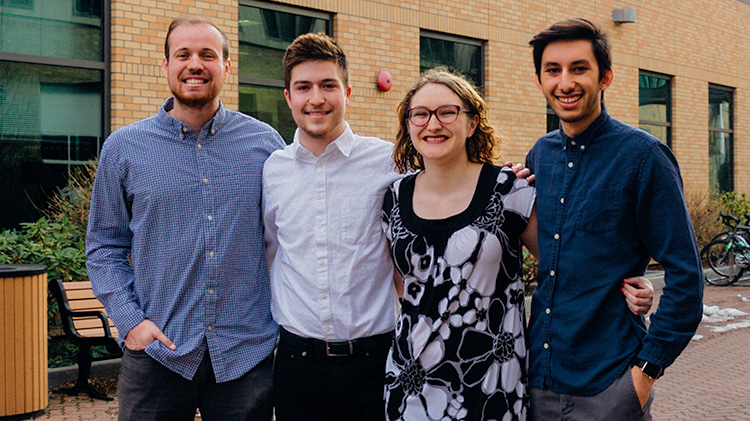 Team: Rudolph Bermudez, Ryan Rozema, Britta Smith, Alexander Susee
Faculty Advisor: Nadra Guizani email
Sponsor: Gonzaga University
Sponsor Liaison: Dan Lenz
There are large amounts of unused health and accelerometer data left on phones and many fitness apps are solely focused on running. The Tempo app seeks to create a fitness experience based on a user's music preferences and fitness level which can pace them through a workout of their choice via music. Using our application, a user can match music to exercises of all kinds using our different methods of tempo generation, as well as using the types of music they enjoy most. All of these elements combined into one convenient product makes for a great addition to anyone's exercise routine.