2018-19 Projects
For more information on any project, please contact
Toni Boggan
or email the project's Faculty Advisor.
ENSC 01 2D Seepage Model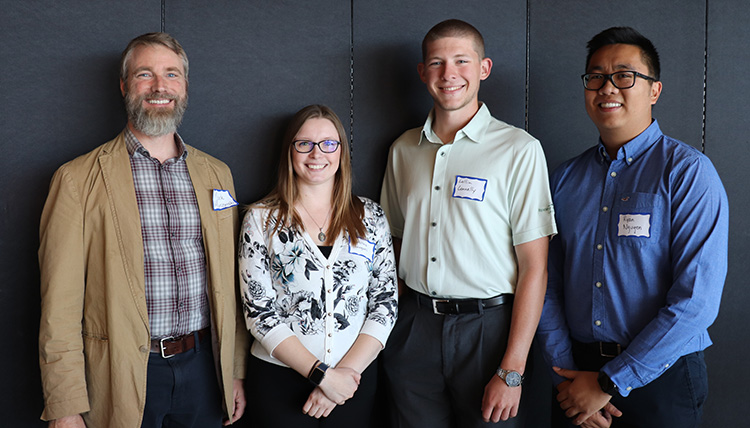 Team: Collin Connelley, Christina Languell, Ryan Nguyen
Faculty Advisor: Mark Muszynski email
Sponsor: CEDE
At the end of this project, we will create a working 2D Seepage Model to be used by Gonzaga University for the SEAS department.
ENSC 05 Hold That Cup of Joe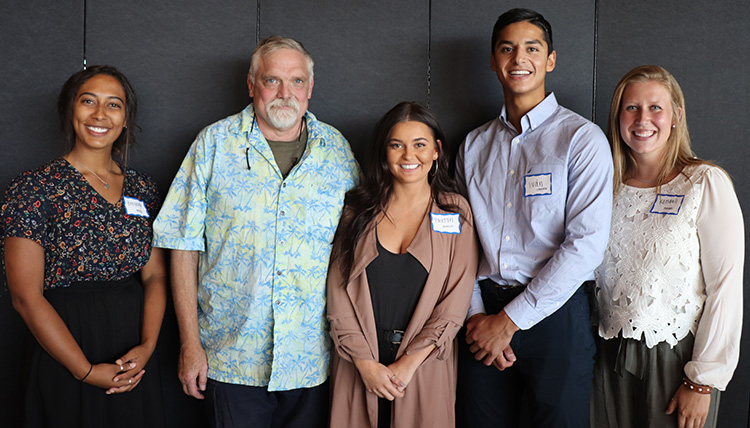 Team: Breyana George, Ivan Jimenez, Kendall Monson, Payton Rothlin
Faculty Advisor: Noel Bormann email
Sponsor: CEDE
This project will be using wasted coffee grounds, turned into activated carbon by the process of pyrolysis, to filter water from the Spokane River -- specifically to remove heavy metals from the water to make it more drinkable.
ENSC 11 Personal Desalination Device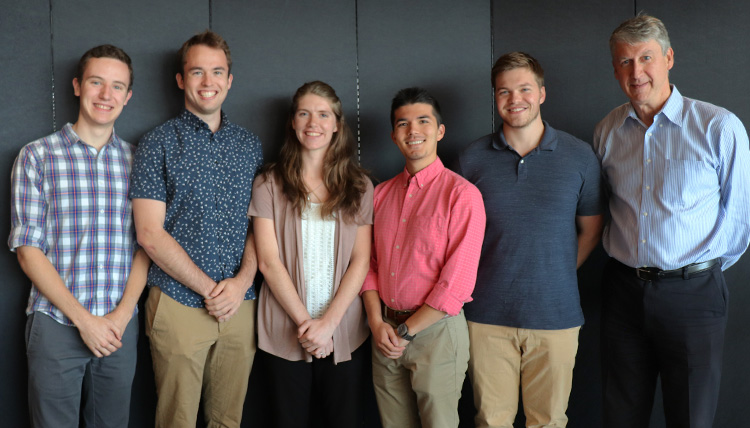 Team: Joshua Aspinwall, Sebastian Berven, Mikaella Croskrey, Ross Leung-Wagner, Matthew Moen
Faculty Advisor: Dave Moss email
Sponsor: CEDE
The project seeks to ensure that communities vulnerable to a changing global climate can still maintain healthy levels of water consumption. Our goal is to create a personal desalination device capable of providing the WHO minimum of 20L of water per day in under two hours, ensuring a widespread capability to produce safe drinking water from seawater.
ENSC 17 Spokane Greenhouse Gas Emissions Inventory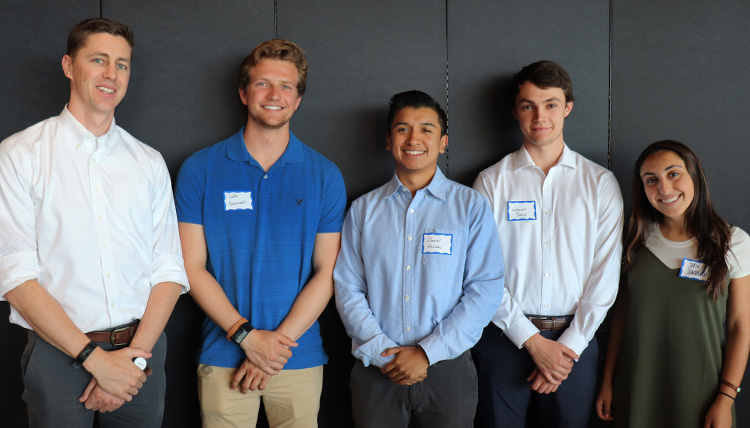 Team: Wesley Davis, Jena Jadallah, Daniel Rosales, Luke Schumm
Faculty Advisor: Alex Maxwell email
Sponsor: CEDE
It is the purpose of this project to work with the City to fulfill the mandates of Ordinance C35519 by completing a GHG emissions inventory for the City of Spokane operations, including all City facilities, buildings, equipment and activities.
ENSC 26 Fiber-Based Construction Materials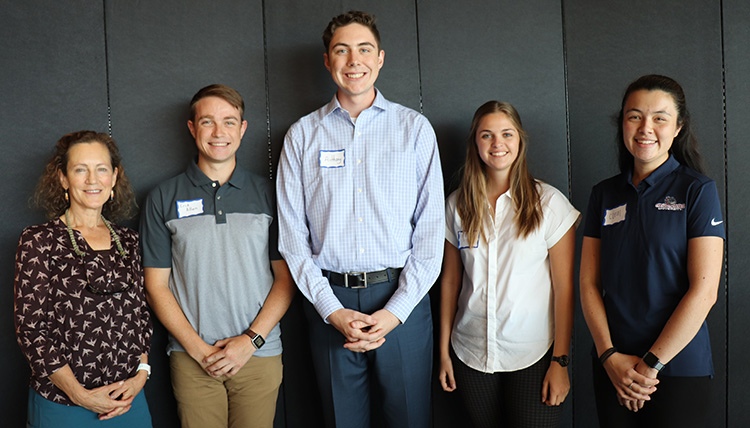 Team: Anthony Adamek, Erik Allen, Cassidy Lomas, Coral Ng
Faculty Advisor: Lauren Heine email
Sponsor: Northwest Green Chemistry and ZILA Works
Students will evaluate and optimize formulations of processed industrial hemp hurd with lime binder to create 'hempcrete' for building walls for a 10' x 10' shed.
ENSC 36 Boot Sole Glue Materials Study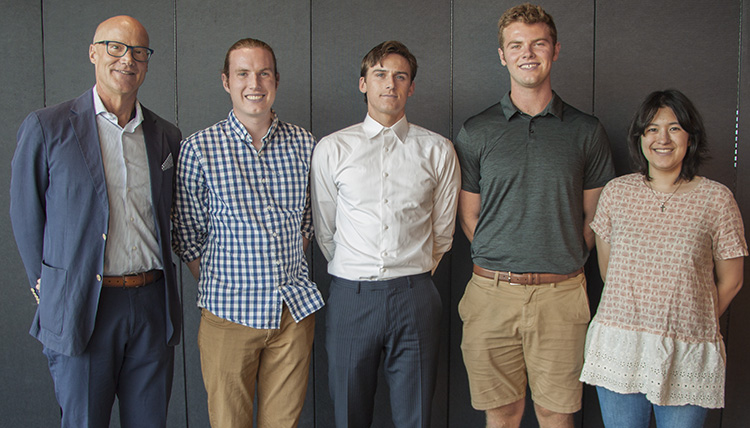 Team: William Barber, Alexandra Burke, August McCambridge, John Minder
Faculty Advisor: Christopher Wood email
Sponsor: Nicks Boots
Nicks Boots has a long-term goal to reduce hazardous chemicals used in their boot making process, specifically the chlorinated glue used for the NFPA certified wildfire firefighting boots. This project would be focused on establishing the strength of materials baseline performance data of their current product.
ENSC 40 Axe Shock Control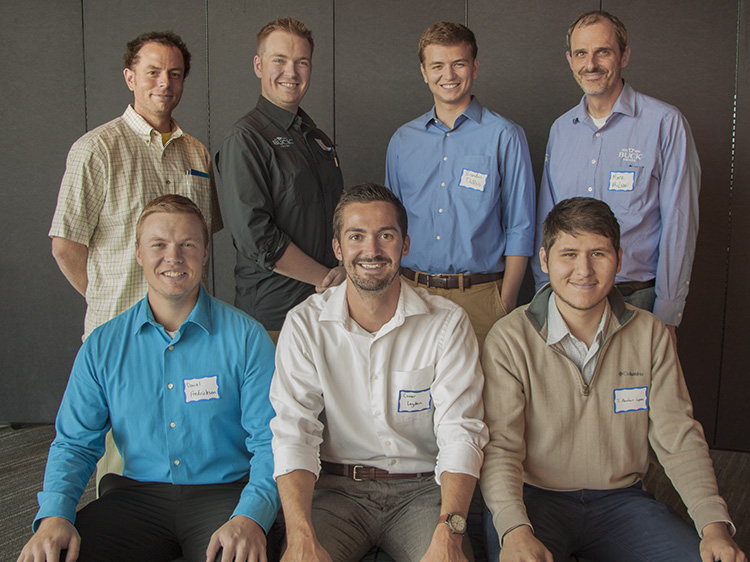 Team: Brandon DuBois, Daniel Fredrickson, Conor Leydon, Jesus Lopez
Faculty Advisor: Timothy Fitzgerald email
Sponsor: Buck Knives, Inc.
Understand and define the physics related to impact while using an axe to cut wood. Create a measurement tool to validate the hypothesis and prove out the measurement tool. Validate existing concepts that may control shock when using an axe. If time allows develop additional concepts to measure.
ENSC 43 Wall Assembly Improvements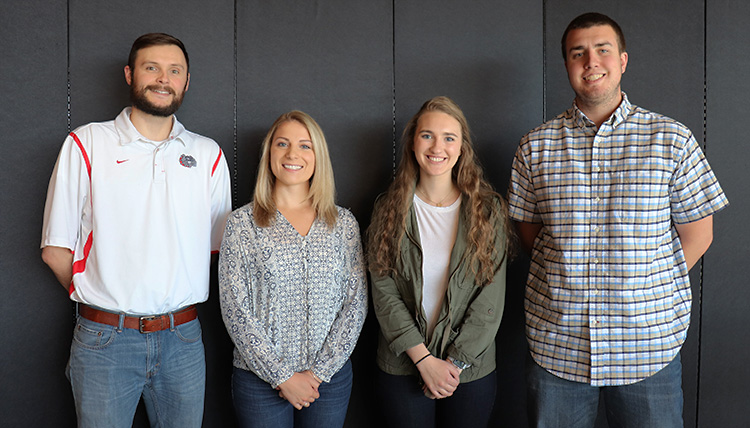 Team: Jacqueline Gazett, Emily Harrison, Ryan Matunas
Faculty Advisor: Ryan Leahy email
Sponsor: Haakon
Identify areas for improvement of wall sub-assembly construction of custom HVAC equipment and engineer and implement changes to improve safety, efficiency, and quality through the department.
ENSC 50 Robotic Ag Implement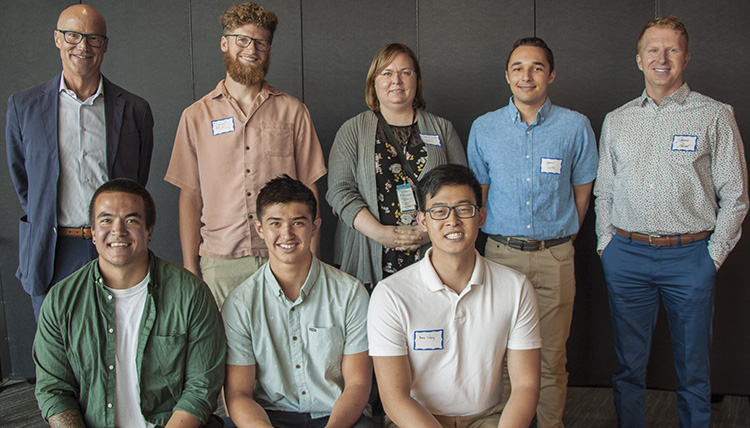 Team: Grant Hjelte, Paxton Malek, Daniel Mobley, Arellano Tani, Aaron Han Wong
Faculty Advisor: Shane Pacini email
Sponsor: Dryland SA LLC
Research, model and demonstrate a control system for autonomous agriculture supply hopper(s) to preform the job of reloading fuel, seed, liquid chemicals, water or fertilizer into autonomous self driving ag implements.