For more information on any project, please contact
Toni Boggan
or email the project's Faculty Advisor.
ENSC14 Polarized Helical Antenna Array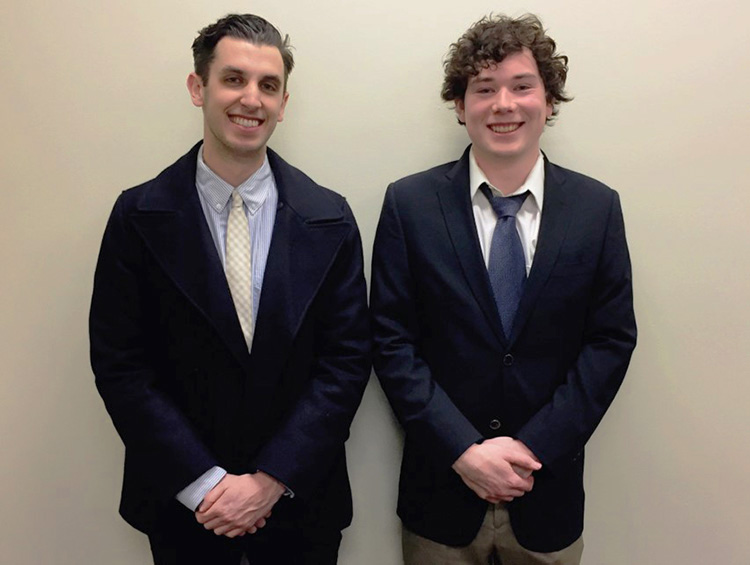 Team: Aaron Day, Anthony Weinand
Faculty Advisor: Bob Conley email
Sponsor: LHC2
Sponsor Liaison: Steve Schennum
The goal of this project was to create an array out of four omni-directional helical antennas using two pairs of right-hand and left hand circularly polarized elements. The antennas used were constructed based on a design created by Gonzaga students in 2015-2016, and altered to match the specific needs of the project. The completed array serves the purpose of increasing gain when compared to a single element, thereby improving signal strength and effective range. It also allows for the reception and transmission of all polarization types through manipulation of phase-angle. The array is centered at 915 MHz, a portion of the ISM band used for mobile communications, specifically amateur and low-powered transmissions, and could be scaled to match any desired operating frequency.
ENSC15 Protective Schemes Lab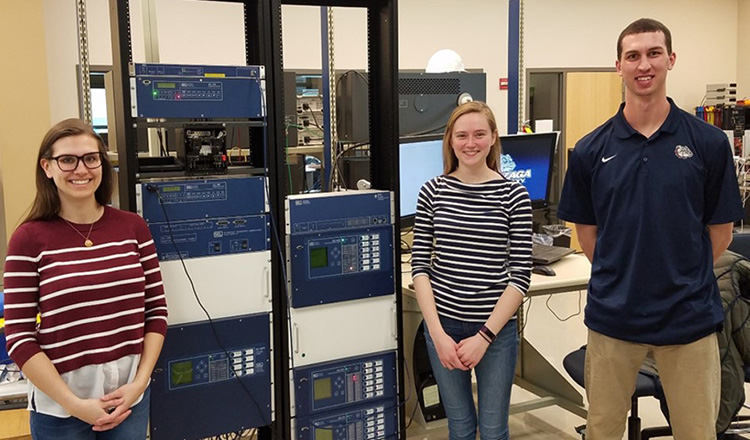 Team: Rylie Van Court, Katherine Gibbs, George Herner
Faculty Advisor: Kevin Damron email
Sponsor: Avista
Sponsor Liaison: Elizabeth Andrews
ENSC 15 Protective Schemes Lab implemented a fast trip blocking scheme using two SEL-351 protective relays and one SEL-2730M ethernet switch utilizing IEC 61850 in the Gonzaga relay lab. Originally, the goal was to also implement a current differential and a lockout relay, but the scope was later limited to the fast trip blocking scheme. The project goals were to reduce cost in building a substation, increase reliability of the protection system, and allow ease of future expansion. Training material and design documentation were created to help Avista implement IEC 61850 into future substation designs.
ENSC16 Smart Pole Sensor II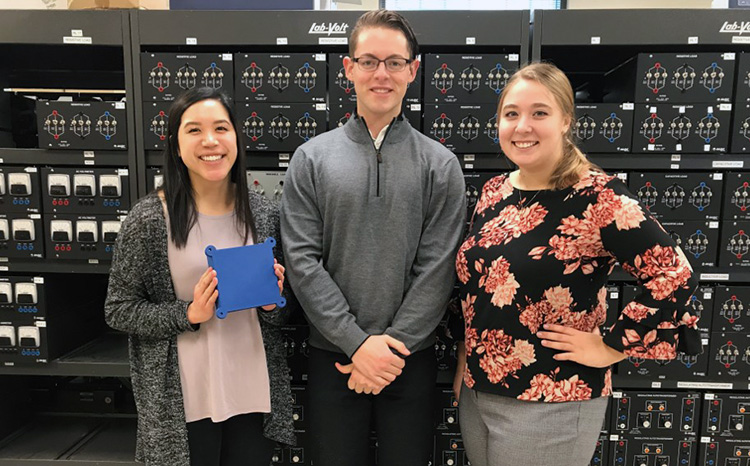 Team: Mareval Ortiz-Camacho, Ryan Healy, Sophie Pavletich
Faculty Advisor: Matthew McCauley email
Sponsor: Avista
Sponsor Liaison: Matthew McCauley
The goal of the Smart Pole Sensor Project II was to build a prototype from the research that was completed in the Smart Pole Sensor Project I that can then be manufactured and installed on over 100,000 Avista-owned poles. The prototype should be able to be mass produced for under $20 each, and is about the size of a hockey puck. The smart pole sensor detects the exact location of the fault (the location that causes the outage), which eliminates the need to patrol the power line to find the cause of a fault. Installing smart pole sensors on all poles could reduce outage times, thus improving the reliability and safety of Avista's system.
ENSC23 Electro-Mechanical Faucet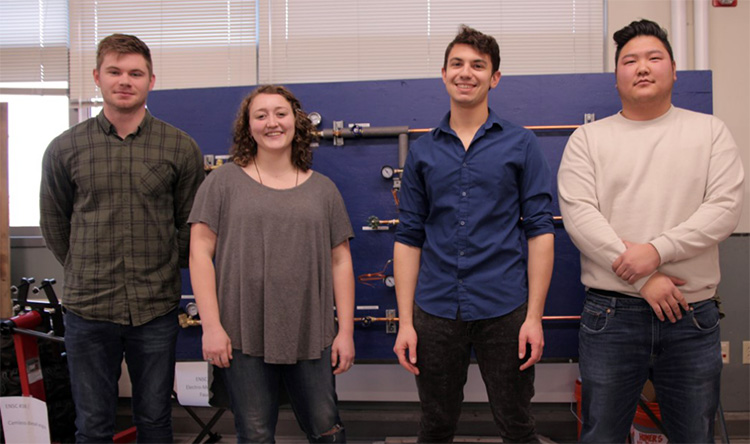 Team: Sam Olson, Megan Millward, Charles Mielke, Ryan Hungate
Faculty Advisor: Bob Reed email
Sponsor: Ryan Kellog
Sponsor Liaison: Bob Reed
Senior Design Group 23 was tasked with development and prototyping of an ElectroMechanical Faucet device. There is a growing market for the automating of simple tasks for the improvement of user experience and efficiency. The infrastructure behind common objects lends them to be operated most efficiently in a certain way, but human operators tend to make this difficult or impossible. By integrating some basic technology and hardware, it is possible to drastically improve the efficiency of these devices and to improve the user experience. Thus, a system that can be retrofitted onto a preexisting single-handle shower valve that can actively control the temperature of the shower stream has been developed. Additional design specifications require it to remain noninvasive and relatively low cost compared to existing market competition, and provide preheat functionality.
ENSC24 Concrete Delivery ID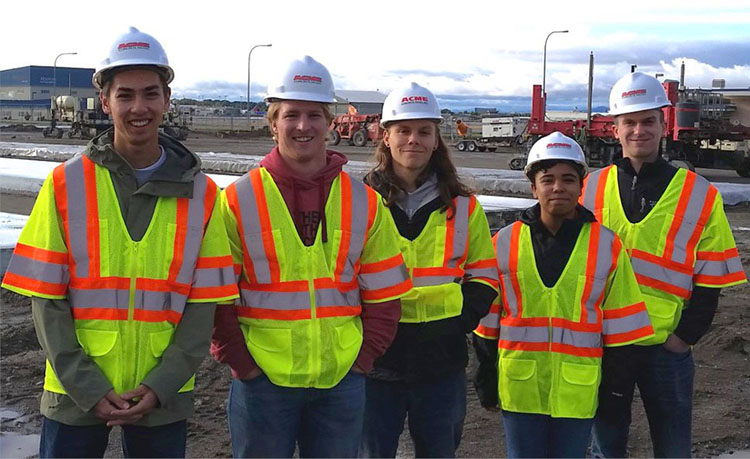 Team: Nicholas Reasoner, Hans VanderWel, Jack Zielinski, Bianca Burton, Christopher Clark
Faculty Advisor: Mason VanLith email
Sponsor: ACME
Sponsor Liaison: Robert Seghetti
The Electronic Concrete Delivery Team working with ACME Concrete based here in Spokane was tasked with embedding RFID chips into the concrete manufacturing process. Each chip has a unique identification number that correlates to the specific concrete batch specification which will now be stored in the company cloud database, making way for ease of location finding and data retrieval. This Multidisciplinary project consisted of teams of Computer Science, Mechanical, and Electrical Engineering majors. The team of four Computer Science majors (CPSC 09) created a cloud database for the storage of batch specific information and employee interface for the data retrieval. The team of three Mechanical Engineers were tasked with the dispensing of the RFID chips at the batch plant and the creation of a manufacturing process to do so. The team of two Electrical Engineers were responsible of the writing of the RFID chips and data transfer to the Computer Science team. Stop by the Design Expo to see how ACME Concrete goes digital with batch specific identification.
ENSC25 Sensors for Body Vibration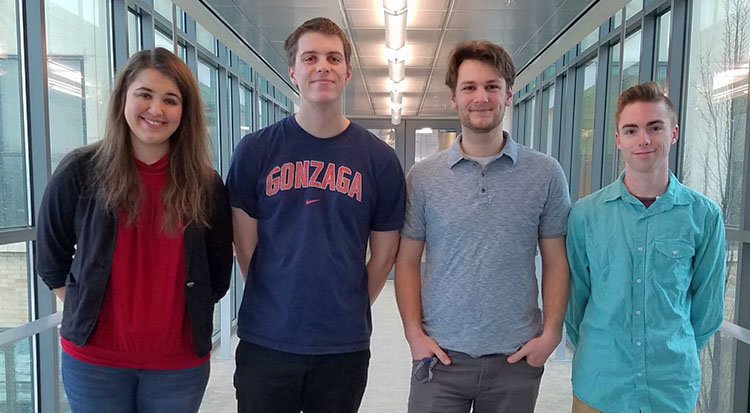 Team: Olivia Bridston, Gaelen Murray, Zachary Oldham, Jacob Laurent
Faculty Advisor: Art Miller email
Sponsor: NIOSH
Sponsor Liaison: Art Miller
The goal of this project was to develop a prototype and data acquisition system for the measurement of vibrations as they travel from the hand through the arm and to the ear, with a focus on how body vibrations can contribute to hearing loss. The team designed and developed a prototype of multiple accelerometers for NIOSH to refine and use in research going forward to analyze the connection between exposure to vibration of mining equipment and occupational hearing loss.
ENSC36 Power Cycle Efficiency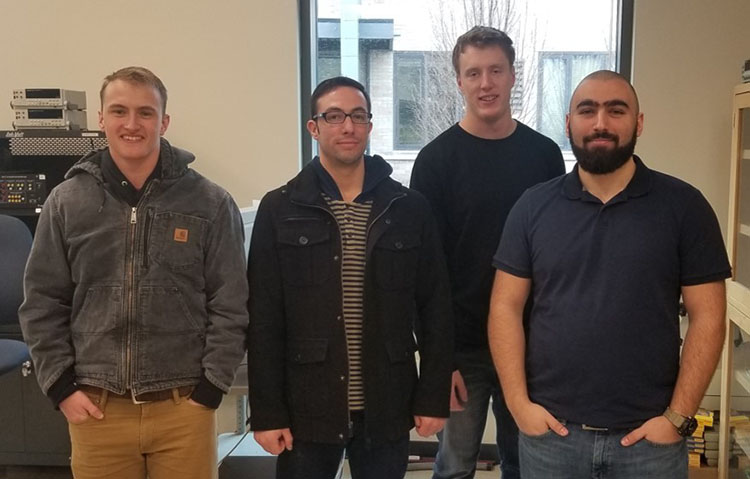 Team: Bryce Anderson, Nathaniel Leone, James McManus, Julien Hajjar
Faculty Advisor: Christopher Nicol email
Sponsor: Gonzaga University
Sponsor Liaison: Patrick Dempsey
The goal of our project is to analyze and optimize the efficiency of an Avista power plant by harnessing its waste heat energy and converting it to usable power. During the project we analyzed three different heat recovery systems at multiple Avista power generation sites. From the three heat recovery systems: Liquid Air Energy Storage (LAES), Organic Rankine Cycle (ORC), and Stirling Engine; our team chose the most effective system (LAES) and location (Boulder Park). This was justified by simulating heat flow models using Thermoflow and putting the data into a comparison matrix. Furthermore, we constructed a proposal plan to present to Avista on the viability of the chosen system. This proposal plan includes a cost estimate, construction design, and in depth research on the performance of the Liquid Air System combine with the Boulder Park site.
ENSC40 Fish Fighting Simulator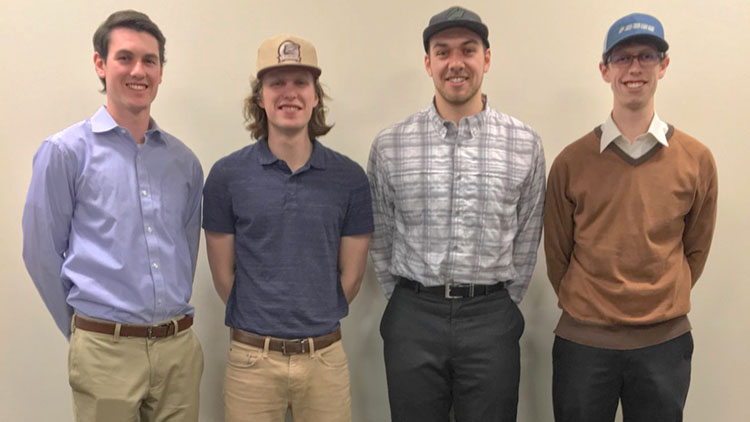 Team: Bradley Price, Jake Sahli, Kyle Van Wyck, Spencer Hill
Faculty Advisor: Debra Offill email
Sponsor: Sage Fly Fishing
Sponsor Liaison: Kurt Van Wyck
Sage asked us to design, build, and test a prototype fish fighting simulator that would allow their R&D engineers to properly test the whole fly fishing setup: rod, reel, and line. Our goal for this project was to create a mechanically functioning prototype and program in several different "fish scenarios" that can be selected by the user. We accomplished our goal by using a motor and clutch combination to rotate a shaft that powers a spool. This spool pulls the line from the user into the machine, simulating the feeling of a fish swimming away from the user once hooked. Built into the programming are small variations in the swimming pattern, as well as different levels of force and drag that are applied by the machine. These patterns simulate different sized fish and levels of fighting.
CPSC01 Aurora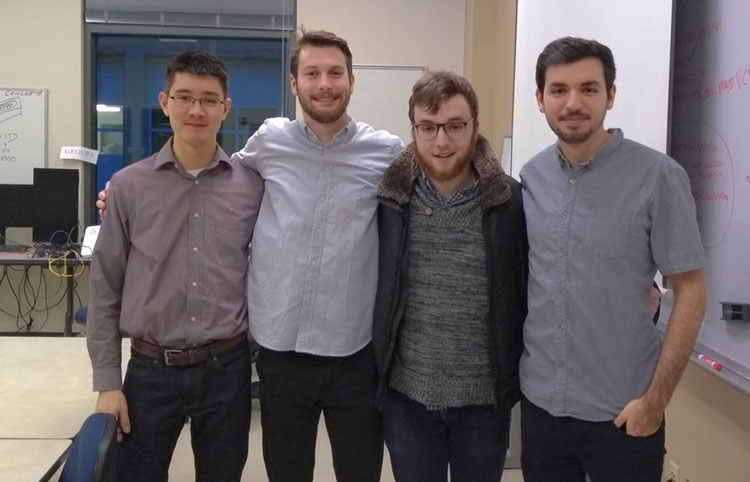 Team: Kyle McCrohan, Scott Rein, Evan Conrad, Ethan Mahintorabi
Faculty Advisor: Gina Sprint email
Sponsor: Gonzaga University
Sponsor Liaison: Jason Schnagl
Aurora is an extendable note taking application that allows users to customize their note-taking experience. Aurora is built with an extension system so users can write code to add specific functionality and other users can download these extensions and integrate them into their Aurora experience. Our goal is to create a platform that gives note takers the flexibility to take notes in their personal style. We also intend on writing many extensions ourselves to support specific niche audiences such as programmers, debaters, engineers, and history students. We hope Aurora will bring value to many different market segments that have very specific note taking styles that are not suited by conventional note taking applications.