For more information on any project, please contact
Toni Boggan
or email the project's Faculty Advisor.
CPSC01 Aurora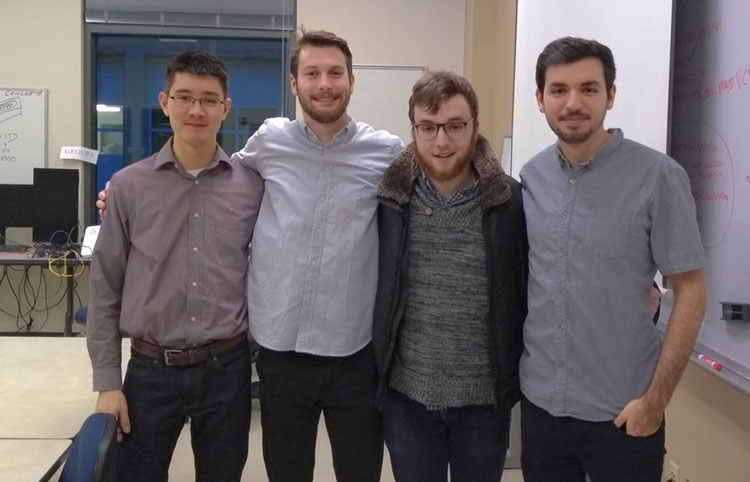 Team: Kyle McCrohan, Scott Rein, Evan Conrad, Ethan Mahintorabi
Faculty Advisor: Gina Sprint email
Sponsor: Gonzaga University
Sponsor Liaison: Jason Schnagl
Aurora is an extendable note taking application that allows users to customize their note-taking experience. Aurora is built with an extension system so users can write code to add specific functionality and other users can download these extensions and integrate them into their Aurora experience. Our goal is to create a platform that gives note takers the flexibility to take notes in their personal style. We also intend on writing many extensions ourselves to support specific niche audiences such as programmers, debaters, engineers, and history students. We hope Aurora will bring value to many different market segments that have very specific note taking styles that are not suited by conventional note taking applications.
CPSC02 Inter.Codes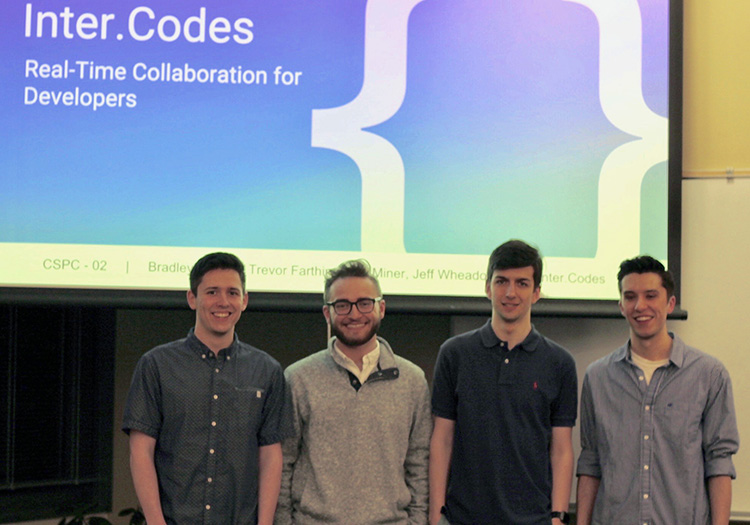 Team: Jeff Wheadon, Bradley Carrion, Will Miner, Trevor Farthing
Faculty Advisor: Riley Dillon email
Sponsor: Trevor Flynn
Sponsor Liaison: Trevor Flynn
Inter.Codes is a cloud-based development environment for enterprise, education, and open source development. While we will be focusing on a small part of the platform, the finished product will be well equipped for both project management and development by introducing a well-designed file sharing system, a project management toolset, and a powerful code editor for teams to collectively work together in real time. The scope of our project was specifically to focus on the development environment (IDE) and basic project management tools to build a baseline product for the larger Inter.Codes system. We have successfully built a completely collaborative file-sharing system into Inter.Codes along with basic project management tools such as the ability to create projects and manage users that can work on the project. This year, we have taken Inter.Codes from idea to a great foundation for Liquid Crystal Studios to build off.
CPSC03 Loci (Mind Palace)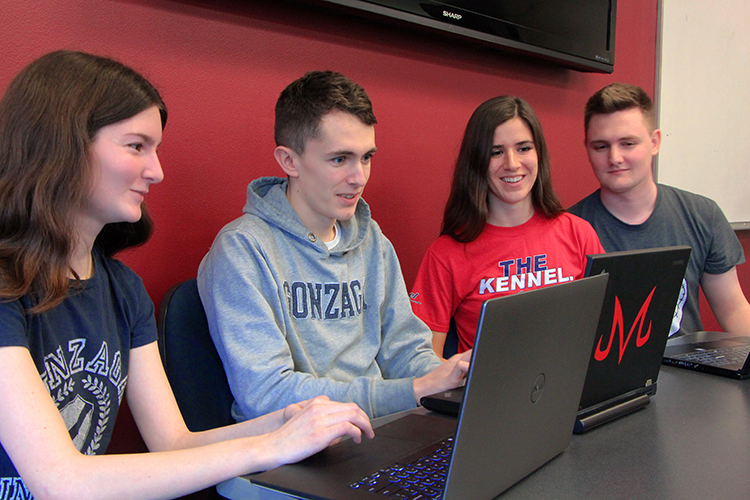 Team: Katie Phillips, Max Baker, Julie Prichard, Ross Brandt
Faculty Advisor: David Schroeder email
Sponsor: Gonzaga University
Sponsor Liaison: Mike Nelson
As a team with no prior experience in virtual reality (VR) programming, we set out to learn something new! We wanted to use VR to create an immersive learning experience for curious minds. The Method of Loci is a common memorization technique used in competition, in which the user organizes the information into an imaginary "palace." This palace later acts as a visual representation of the topic and can be walked through mentally. With our program, people can build these palaces and explore them without the immense amount of concentration this technique normally requires! We have made this realm of learning discoverable and accessible to a larger community. We hope that VR continues to allow ordinary people participate in extraordinary experiences.
CPSC04 Credential Security API with Facial Recognition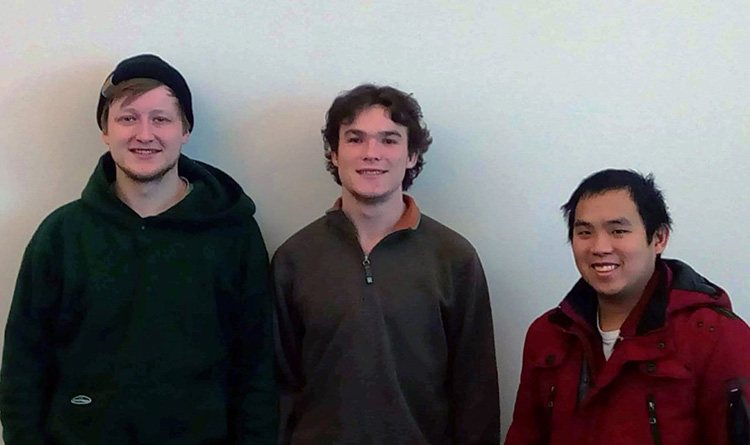 Team: Elijah Michaelson, Brian Mackessy, Sebastian Vargas
Faculty Advisor: Nadra Guizani email
Sponsor: Gonzaga University
Sponsor Liaison: Chris Sharman
Currently, most websites use a combination of username and password to give their users access to their accounts. However, this method is prone to security issues since many users use duplicate passwords and/or common phrases for passwords. Our solution to this problem is that we are developing an API for web developers to implement a facial recognition log-in system for their website. We accomplished this by having using JavaScript for the front end while using Flask to run the facial recognition and classification for the back end, and we implemented various processing algorithms in addition to our facial recognition classifiers to help us accomplish our goal. Finally, after receiving initial feedback on our work, we had another senior design group implement our API into their website for their users to improve the security of their personal accounts.
CPSC05 SpareSpace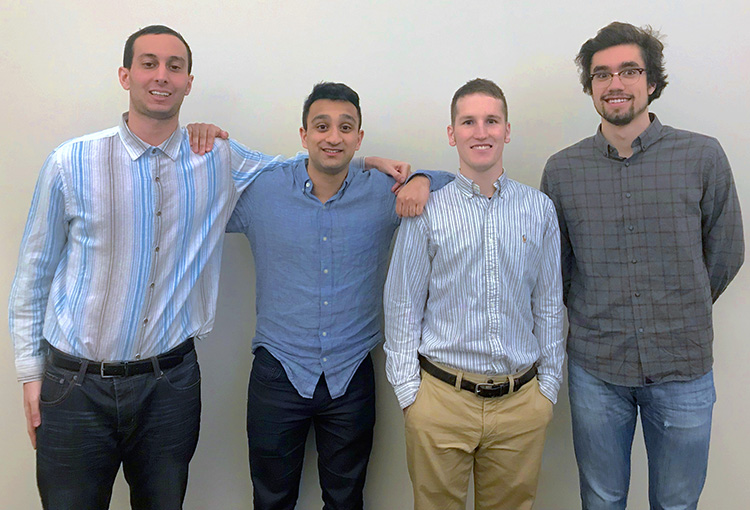 Team: David Hanany, George Kunthara, Evan Arends, Devin Roche
Faculty Advisor: Gina Sprint email
Sponsor: Gonzaga University
Sponsor Liaison: Daniel Stewart
SpareSpace is a web-application that serves as a peer-to-peer marketplace for storage. Our goal is to provide a more affordable and alternative storage solution, in comparison to traditional "big-box" commercial storage solutions. To accomplish this, we created a platform that will enable Gonzaga University students to find and connect with off-campus students who lease off-campus houses, and members of the Spokane community to connect with nearby households that have underutilitzed extra space that they can offer for lease. Our platform allows users to post and offer their storage space for lease, search for nearby storage spaces, and message each other to discuss terms and pricing using our in-app communication system. In the end, people seeking storage will find storage options at a discounted rate, and households with underutilitzed space can offer their space for lease, earning them income.
CPSC06 Tempo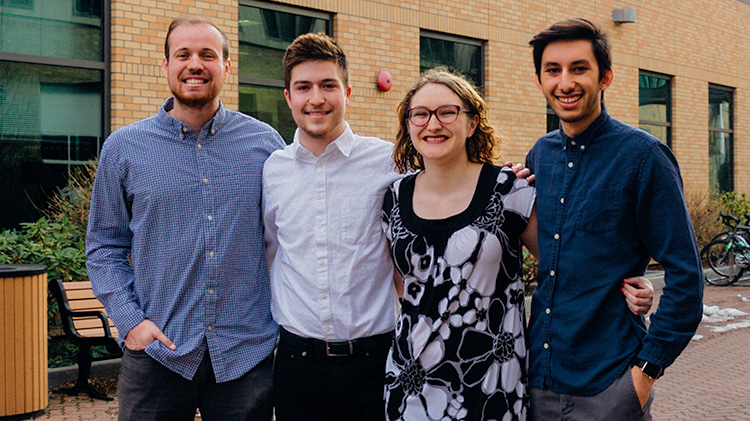 Team: Rudolph Bermudez, Ryan Rozema, Britta Smith, Alexander Susee
Faculty Advisor: Nadra Guizani email
Sponsor: Gonzaga University
Sponsor Liaison: Dan Lenz
There are large amounts of unused health and accelerometer data left on phones and many fitness apps are solely focused on running. The Tempo app seeks to create a fitness experience based on a user's music preferences and fitness level which can pace them through a workout of their choice via music. Using our application, a user can match music to exercises of all kinds using our different methods of tempo generation, as well as using the types of music they enjoy most. All of these elements combined into one convenient product makes for a great addition to anyone's exercise routine.
CPSC07 3D Timeline App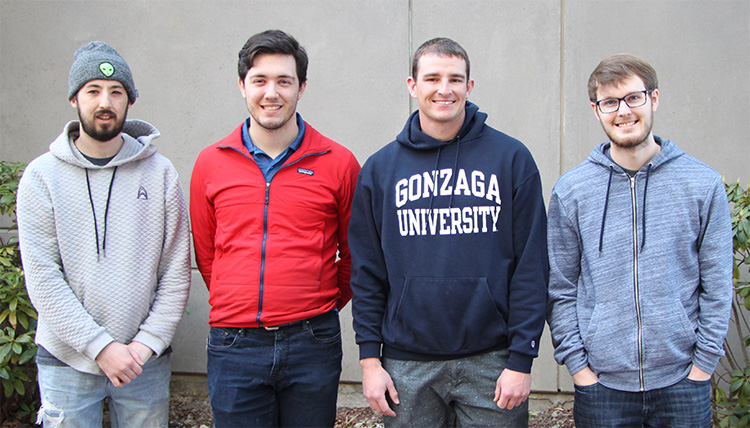 Team: Carter Riley, Owen Patera, Nash Wuthrich, Wesley Arrington
Faculty Advisor: Rob Bryant email
Sponsor: Gonzaga English Department
Sponsor Liaison: Mike Mudge
Our goal was to create a 3D Timeline which displays multiple, intersecting timelines at once while also being interactive. This 3D Timeline application is dedicated to Myrtle Woldson and will be put on display in the Myrtle Woldson Performing Arts Center located at Gonzaga University. In collaboration with humanities students, we have created a program containing three paths corresponding to highlight different storylines. Users can navigate through time looking for intersecting artifacts and view the media associated with each themed story line. There is also the ability to click on an artifact to learn more about it, play videos and view pictures. Finally, users navigate through the timeline in a first-person view to provide an interactive feeling.
CPSC08 Gonzaga Campus Walking Tour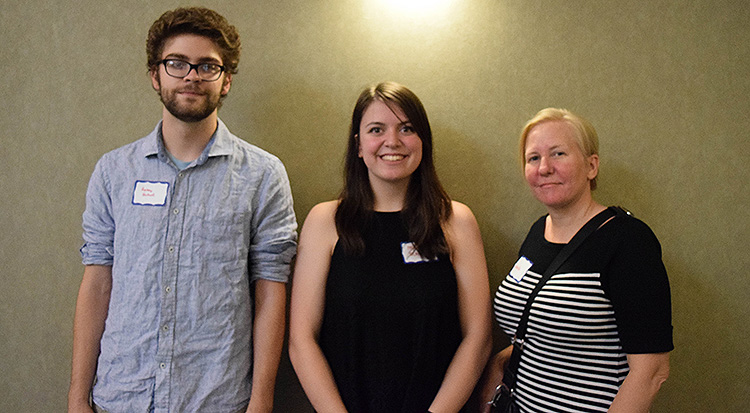 Team: Harvey Hartwell, Holly Schwartz, Danielle Forrest
Faculty Advisor: Rob Bryant email
Sponsor: Gonzaga History Department and Veta Schlimgen
Sponsor Liaison: Dan Lenz
The goal of this project was to design an augmented reality guided walking tour of Gonzaga University's campus. Through augmented reality, the user is able to see historical photographs superimposed on their screen with access to historical facts and stories relevant to specific location. The tours are able to adjust according to which buildings are nearest the user or the user can choose to view specific buildings. This application allows for adaptability and in-depth details about Gonzaga University that a visitor would normally not have access to.
CPSC09 Concrete Delivery ID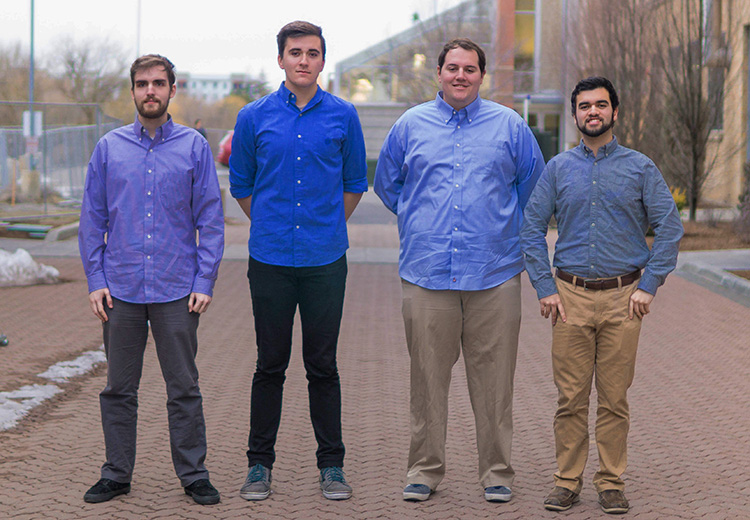 Team: Mark Old, August Murphy-Beach, Nick Vitha, Taylor Jones
Faculty Advisor: Yanping Zhang email
Sponsor: ACME Concrete Paving, Inc.
Sponsor Liaison: Robert Seghetti
The Electronic Concrete Delivery Team working with ACME Concrete was tasked with dispersing RFID chips embedded with a unique identification number during the concrete manufacturing process. This identification number correlates to the specific concrete batch specification stored in the company cloud database, making way for ease of data retrieval. This multidisciplinary project consisted of teams of Computer Science, Mechanical, and Electrical Engineering majors (ENSC 24). The team of four Computer Science majors created a cloud database for the storage of batch specific information and an employee interface for data retrieval. The team of three Mechanical Engineers was tasked with the dispensing of the RFID chips at the batch plant and the creation of a manufacturing process to do so. The team of two Electrical Engineers was responsible for the writing of the RFID chips and data transfer to the Computer Science team.
CPSC10 I-Con Monitoring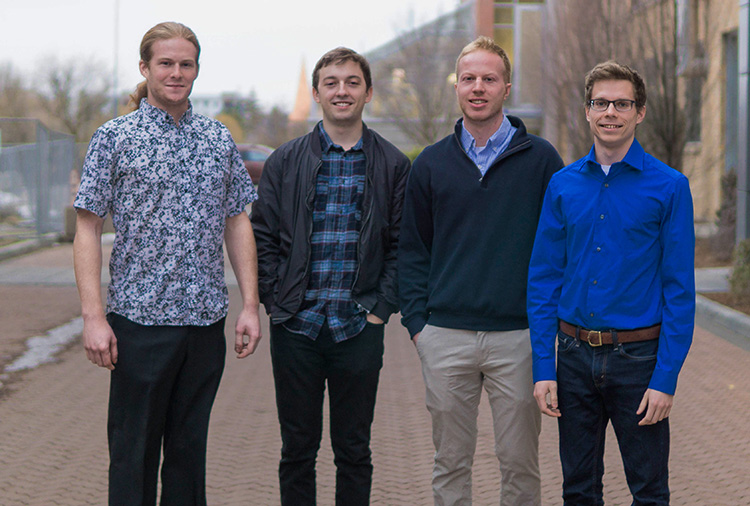 Team: Benjamin Rieckers, Brandon Kelly, Joseph Loftus, Evan Srock
Faculty Advisor: Yanping Zhang email
Sponsor: NIOSH
Sponsor Liaison: David Parks
Injury and death occurring during maintenance is a real issue plaguing the surface mine industry. A total 83% of injuries are happening during maintenance and 29% of all injuries could have been prevented by following the lockout-tagout (LOTO) procedure. We plan to have a product that takes the first steps to updating the old-fashioned and paper-based LOTO. Our project is a web application that allows miners to electronically plan their maintenance instead of using the old paper-based method. By utilizing sensors on the mine we can determine if a machine is running or not and display this info to the miners. Our application will determine if the machines are off due to planned maintenance being performed. If it unplanned then foremen will be notified of the dangerous situation. Our application also features full login functionality and administrators that can manage employees on the system.