For more information on any project, please contact
Toni Boggan
or email the project's Faculty Advisor.
ENSC01 Design and Monitoring of Beaver Dam Analogs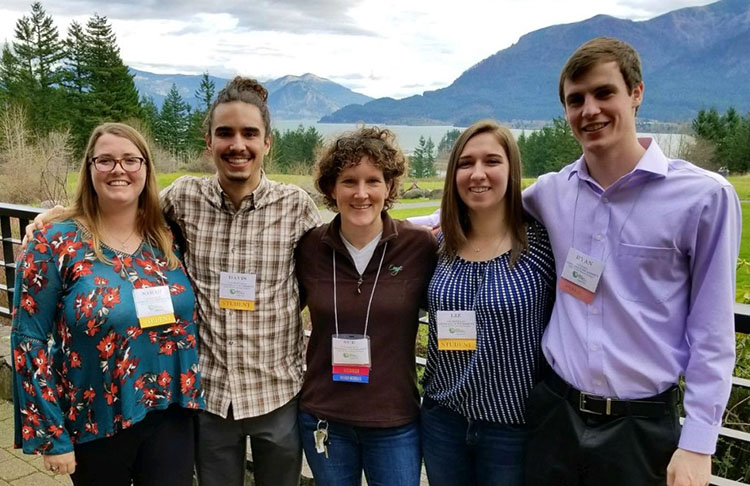 Team: Sarah Lund, Davis Phillips, Liz Brinkman, Ryan Fox
Faculty Advisor: Sue Niezgoda email
Sponsor: The Lands Council
Sponsor Liaison: Joe Cannon
Our team, Don't Leave it to Beavers Inc., is working with the Lands Council and US Fish and Wildlife Service to install and monitor beaver dam analogs (BDAs), which simulate natural beaver dam function in California Creek in the Hangman Creek Watershed. The goal of the project is to monitor the effectivness of BDAs at trapping sediment and reducing the intensity of water flow in attempt to reduce overall sediment loads watershed wide. Our team added a groundwater monitoring plan and performed a structural analysis on the BDAs to develop future construction requirements. The methods used in the monitoring plan include, repeat cross sectional surveys, pebble counts, RTK topographical surveys, and stream discharge measurements. We collected and compared data from a fall and spring survey to analyze BDAs effectiveness. Our team also created a GIS model to find additional sites in the watershed for possible future BDA implementation.
ENSC02 Stormwater Treatment and Monitoring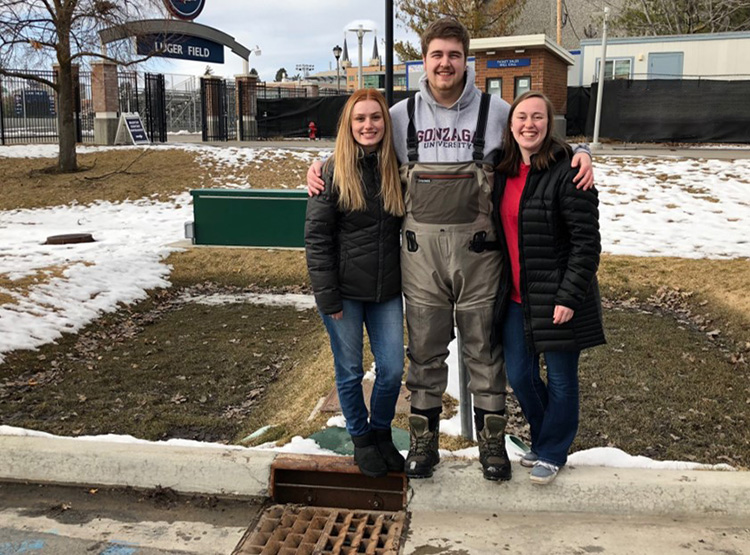 Team: Madeline Endris, Nathan Nelson, Ashley Osler
Faculty Advisor: Aimee Navickis-Brasch email
Sponsor: Spokane County
Sponsor Liaison: Jake Saxon and Colleen Little
The ENSC02 Stormwater Treatment and Monitoring group spent the year monitoring a bioretention pond with newly installed, automated sampling equipment. The pond is located on campus near the Gonzaga Law School. Three storms were monitored to determine if the bioretention pond was successful in reducing the concentrations of selected pollutants, including copper, phosphorous, total suspended solids (TSS), and nitrates. The soil analyzed was a mix of 60% sand and 40% compost. This is the only approved bioretention soil media (BSM) mix in the state of Washington. There are two cells within the pond with depths of 12" and 18" of BSM. This BSM has been extensively tested in Western Washington and this study is one of the first to test this mix in Eastern Washington. Since the weather conditions in Eastern Washington vary from Western Washington, this study will help in determining the best suited BSM for Eastern Washington.
ENSC03 Cross-Laminated Timber Characterization and Optimization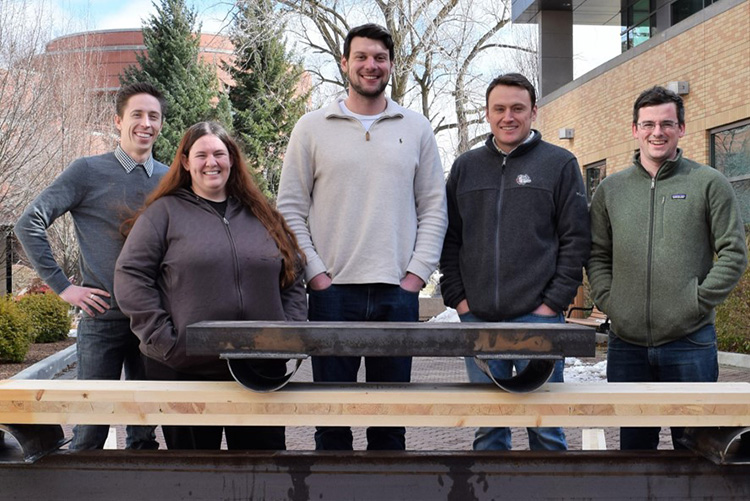 Team: Faye Maddox, August Braun, Seth Hickman, Brian Thompson
Faculty Advisor: Joshua Schultz email
Sponsor: Structurlam
Sponsor Liaison: Kris Spickler
The Timber Research Group (TRG) has been investigating the structural properties of cross-laminated timber (CLT) beams. TRG developed a test apparatus and controlled test procedure to: determine the ultimate strength of 3-ply CLT, the stress distribution through the unique layup of CLT beams, and the probability of failure of CLT beams loaded in flexure. The team used experimental data to investigate ways CLT might be optimized based on structural, financial, and environmental criteria. Optimized CLT was used to redesign structural components of a benchmark concrete building. The alternative design shows that CLT is a structurally viable and sustainable alternative for mid to high rise constructions. TRG would like to thank its gracious sponsor, StructurLam, for their donations of CLT panels, as well as Dr. Joshua Schultz and Dr. Patrick Ferro for their support and guidance.
ENSC04 Northern Idaho Collaborative Education Building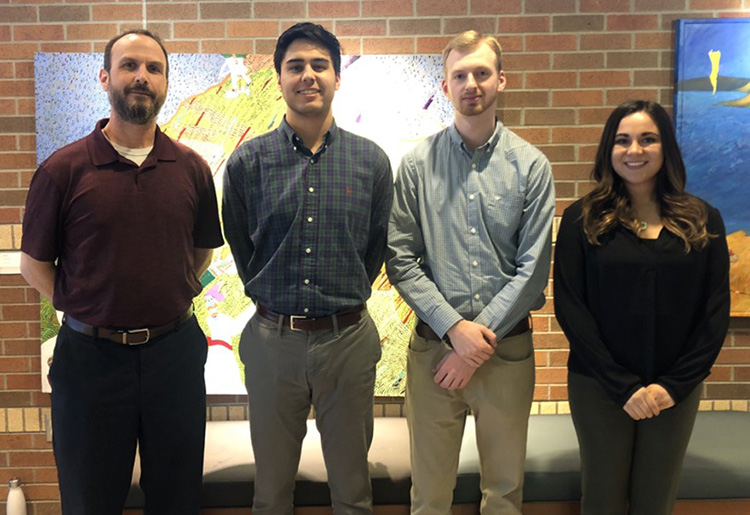 Team: Michael Doquilo, Joseph Jesse, Victoria Vivinetto
Faculty Advisor: Aaron Zwanzig email
Sponsor: Integrus Architecture
Sponsor Liaison: Aaron Zwanzig
North Idaho College, Lewis-Clark State College, University of Idaho, and the Coeur d 'Alene Urban Renewal Agency (Ignite Cd'A) envision the creation of an education corridor along the Spokane River in Coeur d' Alene on the North Idaho campus. The collaboration of the colocated institutions increases local access to students at all levels of higher education. The approximately 25,000 to 30,000 square feet building will support a collaborative one-stop shop for student services, sixteen classrooms for 30-40 students, computer labs, various breakout rooms and ancillary support spaces. The goal of this project is to create a schematic level structural design for the Northern Idaho Collaborative Education Building. This project included the development of schematic level structural framing plans. The design team developed gravity and lateral loads, selected a framing system, and designed a framing system and foundation for the structure. All of the team's work is supported by structural calculations
ENSC05 Wyoming Connected Vehicle Project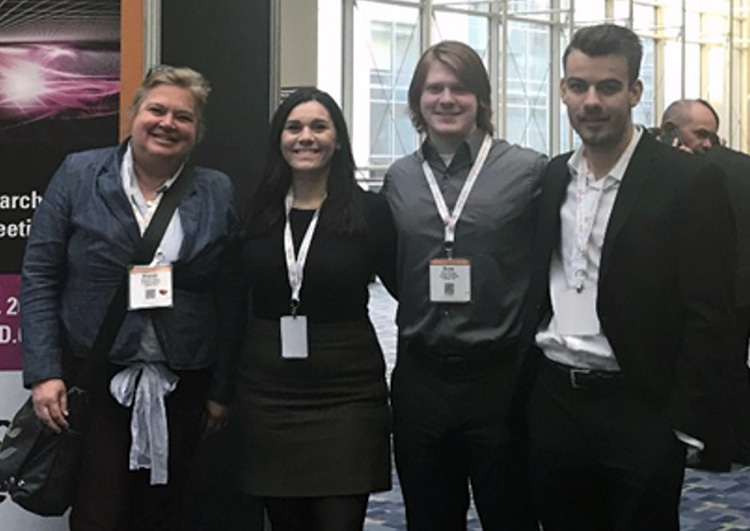 Team: Jennifer Delgado, Drew Fuller, Kyle Peltz
Faculty Advisor: Rhonda Young email
Sponsor: McFarland Management
Sponsor Liaison: Fred Kitchner
The US Department of Transportation Connected Vehicle Pilot Program is located in three locations: New York, Florida, and Wyoming. ENSC05 is tasked with assessing the effectiveness of Connected Vehicle Technology for freight trucks and passenger cars along the I-80 corridor in Wyoming. Through an onboard unit, the driver will receive warnings of upcoming forward collision warnings, work zones, changing speed limits, and weather conditions. Our team has analyzed weather data, speed compliance data, and crash data to determine the effectiveness of the technology pre- and post-deployment. The goal of this project is to observe how speed and crash data changes based on driver's reactions to the Connected Vehicle Technology.
ENSC07 Hold That Tray!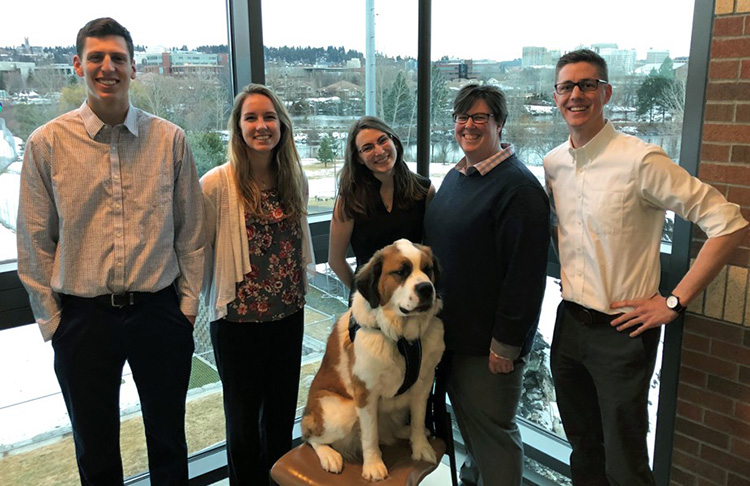 Team: James Sulser, Meghan Lowry, Sarah Godbehere, Elizabeth Brown
Faculty Advisor: Alex Maxwell email
Sponsor: Washington State DOE
Sponsor Liaison: John Cleary
The issue of food loss and waste (FLW) at Gonzaga University is being addressed using a systems-based, holistic approach in keeping with the United States Environmental Protection Agency's Food Recovery Hierarchy (FRH). Using the FRH as a guiding framework, this project aims to reduce and divert FLW at the main dining facility by: (1) improving educational programming and coordinating with the University's food service provider to reduce post-consumer waste, surplus edible food, and unnecessary food preparation (Source Reduction), (2) making improvements to the food donation program operated by Campus Kitchens (Feeding People), and (3) exploring strategies to divert food waste from landfills by designing, building, and testing a pilot-scale anaerobic digester and in-vessel composter (Industrial Uses and Composting).
ENSC08 Natural Fiber Reinforced Concrete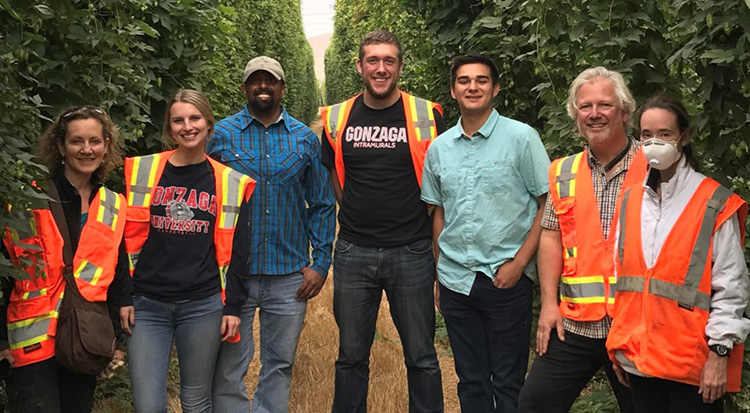 Team: Madison Jurewicz, Zackary Schroder, Loren Colpo
Faculty Advisor: Lauren Heine email
Sponsor: NW Green Chemistry, ZILA Works
Sponsor Liaison: Jason Puracal
Our team was tasked with designing concrete that used hop vines as a sustainable replacement to aggregate for our sponsor ZILA Works. Hop vines were chosen because Yakima produces 70% of the nation's hops. Our project goals were to research similar fibers to hop vines, calculate mix designs and test our hopcrete. We found research with wood chips had already been incorporated into concrete. Our team used this as a baseline for our mix designs. We procured our hop vines from Yakima and harvested the usable material to be used in our mixes. In the designing of the concrete we replaced 7.5% and 15% of the aggregate. We poured test cylinders and flexural beams. After the samples had cured, each cylinder was tested in compression and beams were tested in flexural strength. Our team has prepared samples, mix calculations, and uses for hopcrete based off our test results.
ENSC09 Cincinnati Greenway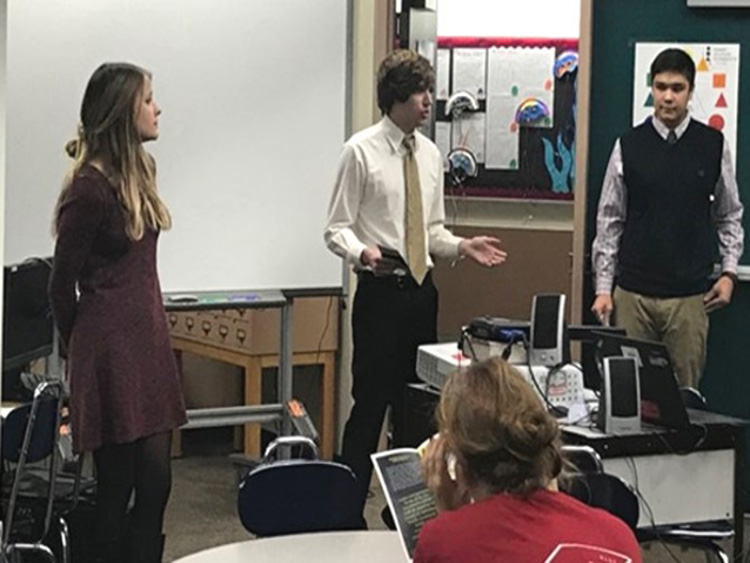 Team: Makayla Bowdish, Cameron Unkel, Nick Petersen
Faculty Advisor: Rhonda Young email
Sponsor: City of Spokane
Sponsor Liaison: Brandon Blankenagel
The Cincinnati Greenway is a bicycle and pedestrian friendly transportation project proposed by the City of Spokane. The City of Spokane has been working to implement safe and efficient bicycle facilities in order to provide Spokane with an enhanced bicycle network that can be used by all community members. The Cincinnati Greenway will connect the Ben Burr Trail, Centennial Trail, and bike lanes on Addison Street as it runs from Euclid Avenue in the north to Spokane Falls Boulevard in the south. The design team has met with Neighborhood Councils affected by the project as well as city politicians in order to produce a final design charter that reflects the community and promotes safe active transportation.
ENSC10 Medical Office Building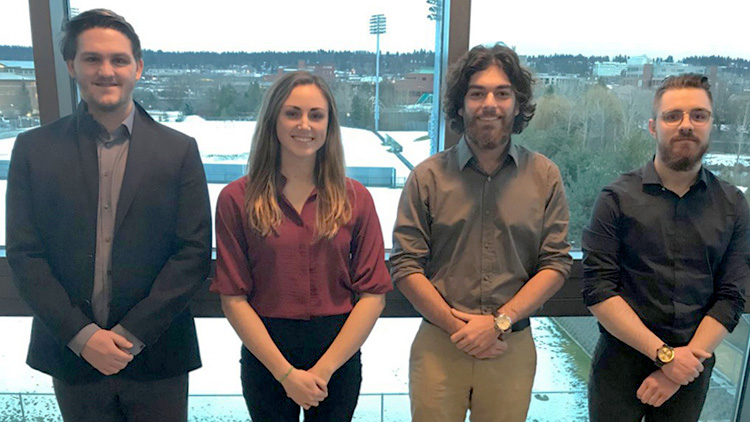 Team: Zach Hartje, Megan Kramer, Shaun Buchman, Isaac Hood
Faculty Advisor: Tony Stenlund email
Sponsor: TD&H Engineering
Sponsor Liaison: James Boudreau
Our team of senior civil engineering students was tasked with providing a schematic level structural design for a 3-story medical office building located in Moscow, Idaho. This 53,000 square foot building meets the needs of Gritman Medical Center and the community of Moscow by providing additional office space near the heart of downtown. Over the course of this year, we had the privilege of communicating with the architect and the Engineer of Record for this project to calculate design loads, design the framework and foundation systems, and analyze the impacts of our design. We valued working as a team to see this project through from initial loading calculations to a final comprehensive report of our structural framework.
ENSC11 Avista Underground Power Vault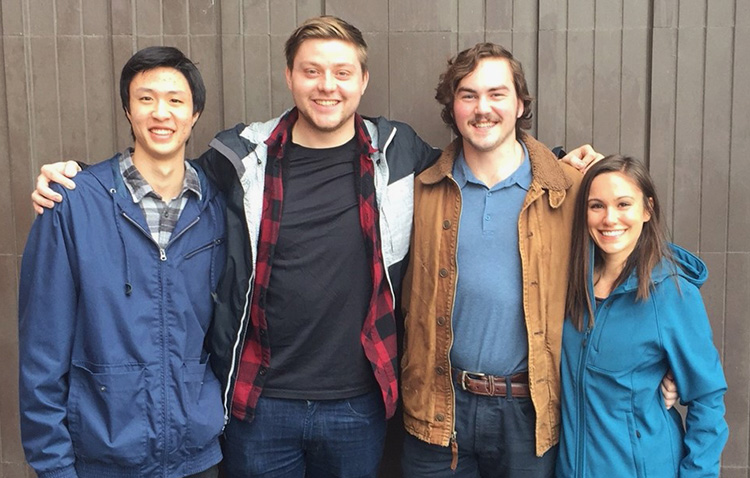 Team: Landon Lum, Trevor Vandecoevering, Sean Urann, Rachael Anderson
Faculty Advisor: Doug Forkner email
Sponsor: Avista
Sponsor Liaison: Doug Forkner
Our Senior Design team, ENSC 11, has worked throughout the year with Avista to go through the Design Bid-Build process of an underground power vault. An underground power vault is a structure that houses either transformers or power lines that run underground. Our goals for the project were to examine and identify the structural deficiencies found within the preexistingvault. Next, we calculated the loads on the vault to create our own design. After this, we compared our calculations and design with the real vault created by Oldcastle Precast. We then went through the process of writing up a contract to hold a bid meeting with potential contractors and selected the one we saw as the best choice. The contractor then excavated the old vault and installed the new one delivered by Oldcastle Precast.
ENSC12 Zimmerman Trail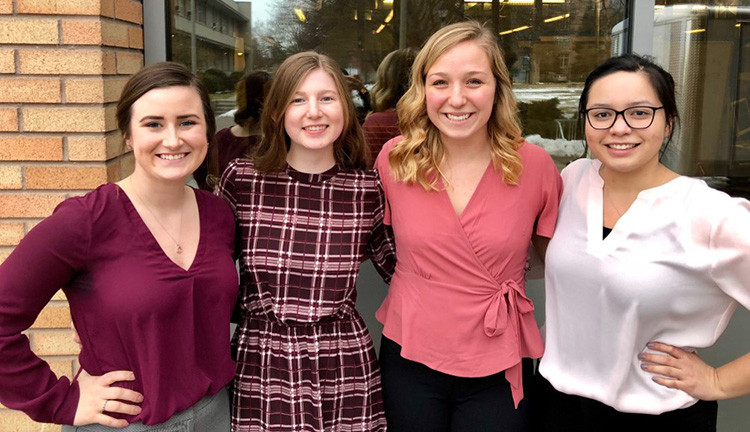 Team: Ellie Libby, Monica Regan, Danielle Pitcher, Rachel Borja
Faculty Advisor: Scott Marshall email
Sponsor: HDR Engineering
Sponsor Liaison: Ryan Haddeland
Ladies in Technology (L.I.T) was tasked with redesigning Zimmerman Trail between State Highway 3 (MT-3) and Rimrock Road in Billings, Montana. Our project goals were to design and evaluate two alternatives for the roadway design, create accompanying designs for stormwater facilities, and develop conceptual roundabout geometries for the intersection of Zimmerman Trail and MT-3. We have accomplished designing and choosing a roadway alternative, designing a stormwater management facility in conformance with the City of Billings Stormwater Management Manual, and conceptually evaluating a roundabout. The chosen roadway alternative maintains the centerline and extends the edge of pavement by 3 feet on either side, increasing safety and mobility through the corridor. The stormwater management facility treats stormwater, includes drainage facilities, and two detention ponds. L.I.T Engineering has prepared a sheet set, including plan and profile sheets, drainage sheets, summary quantities, and detail sheets.
ENSC37 Agricultural Irrigation System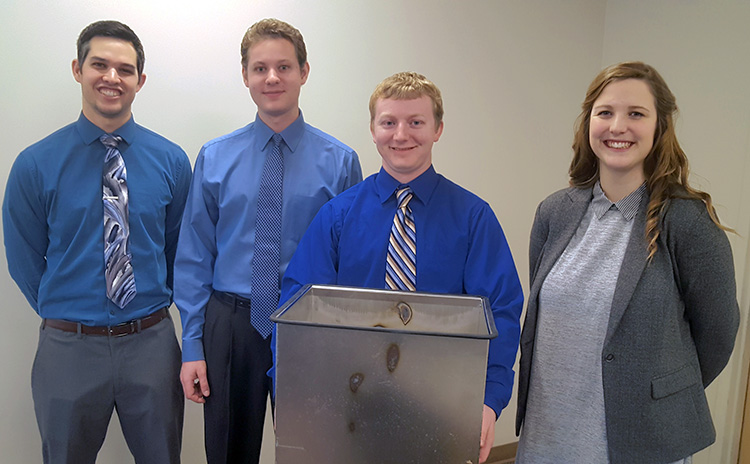 Team: Mark Driver, Garrett Uhling, Boyd Knopp, Hailey Hunt
Faculty Advisor: Debra Offill email
Sponsor: Gonzaga University
Sponsor Liaison: Greg Wieck
We built a prototype that provides a proof of concept for Greg Wieck's idea of a continuous-feed linear agricultural irrigation system. The proof of concept is a sleeve component sliding over a pipe full of water that continuously extracts water from the pipe and distributes it to sprinklers. We made a scale model that demonstrates and tests this concept. This included making a set of engineering drawings for each subassembly (the mainline, sleeve, water baths, and chain and sprocket system). This prototype can then be used to market the idea and eventually implement it on farms across the country.