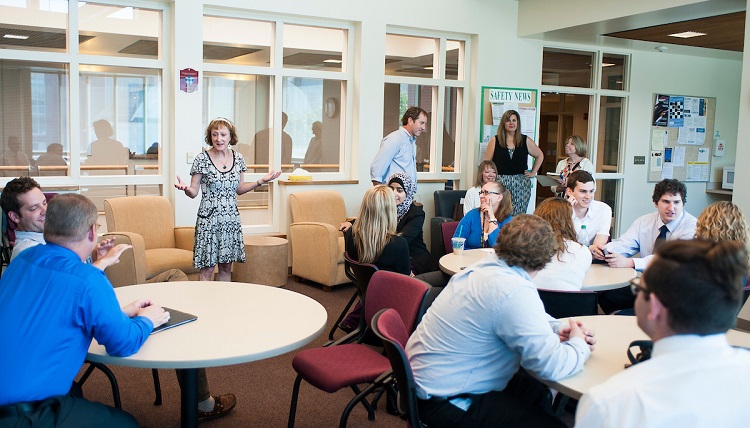 The General Special Education track of the Master of Education (M.Ed.) in Special Education is ideal for someone who wishes to become an expert in the overall field of special education, especially as it relates to serving children with disabilities in school settings. The Gonzaga Special Education faculty view the education of individual learners as a science, as well as an art. The program concentrates on the skills needed for professional placement in integrated settings, resource rooms, and self-contained classrooms. In addition, candidates are taught to communicate effectively, provide informed ethical advice to families, and act as an advocate for the full inclusion of all individuals within the culture. To further enhance the candidate's skills as a leader, the candidate is taught and mentored by faculty to become a scholar and researcher who can critically evaluate teaching strategies and curricula and then communicate those findings to families and the professional community.

The General Special Education track of the Master of Education (M.Ed.) is composed of 32 semester credits of coursework. The graduate courses in this track are taught primarily by full-time faculty using data-based effective college teaching techniques. Particular focus is placed on those fields with extensive research bases of effectiveness with children, such as Applied Behavior Analysis, Direct Instruction, and Precision Teaching. The faculty, courses, and programs consistently receive the highest median ratings on evaluations conducted each semester or year. Similarly, candidates and school professionals view candidate skills and competencies highly.

Some candidates who hold a State of Washington teaching endorsement may choose to add an endorsement in Special Education (P-12). The candidate seeking the Special Education endorsement would need to complete 1) six additional semester credits in special education, including one of our four courses in early childhood special education, one special education practicum at the elementary level, and one special education practicum at the secondary level, and 2) student teaching in special education. The student teaching practicum is 6 semester credits (EDSE 696).

Over 90% of our graduates who completed Washington State Certification with an endorsement to teach special education are in teaching positions the following year.

Click here to get the complete program outline.

Candidates completing certification course work after August 31, 2005 will also have to pass the State competency tests (West E) to become certified.