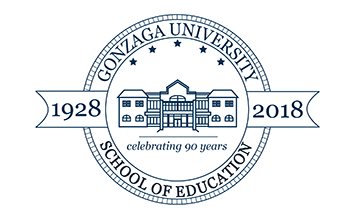 The School of Education (SOE) at Gonzaga University is excited to announce a year of celebration in honor of the 90th anniversary of our founding and the 25th anniversary of the opening of the J.M. and Jessie Rosauer Center for Education.
The SOE is a school of service. Our mission to prepare socially responsive and discerning practitioners to serve their community and professions guides our students, faculty, and staff. During this time of celebration, we are reflective. The role of our graduates has evolved over the last 90 years and our service-minded, expert practitioners are needed now more than ever.
The 2018-2019 academic year will honor our past, present, and future with a variety of events. We invite you to join us (in-person or in-spirit) as we celebrate. To that end, please save the dates for the following major events:
September 20, 2018 – Re-dedication of the Rosauer Center for Education & Open House
October 12, 2018 – Education is the Path to Freedom: Rob McCann, President & CEO, Catholic Charities of Eastern Washington. Social to follow. This is also Alumni Weekend on campus.
November 3, 2018 – Annual SOE Day of Service in the Spokane community. Anyone interested in volunteering in your home community is welcome to join us in spirit on this date.
Late Spring (date TBA)

–

Spring Day of Service.
Late Spring (date TBA) – Inaugural SOE Distinguished Alumni Awards.
May 2019 – Commencement festivities on campus.
We hope that you are able to join us in celebration this coming year. We are proud of what you do and are grateful for your commitment to the SOE.