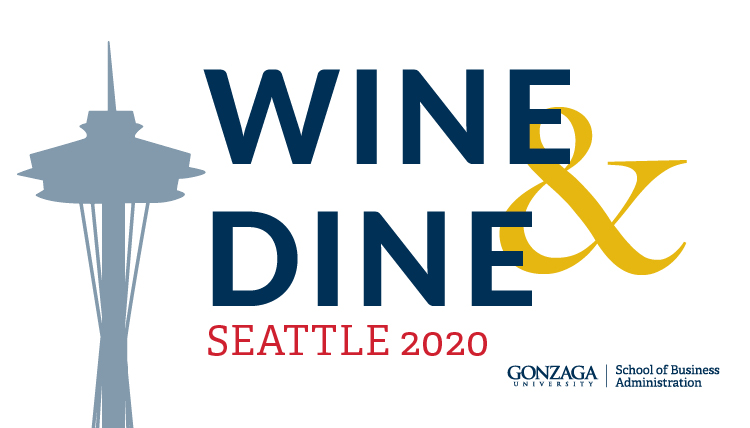 Gonzaga University School of Business Administration will be hosting its 2nd Annual Seattle Wine and Dine fundraising event on Friday, May 15.
Event Details
Date & Time: Friday, May 15, 6:00 pm social, 7:00 pm dinner
Place: PACCAR Pavilion & Outdoor Terraces
$250 per person
$2,000 table of 8
$2,500 sponsored table of 8
Click here for sponsorship details.

To purchase tickets or a premier sponsorship click the following button.
Program
The event will be held at the PACCAR Pavilion & Outdoor Terraces where guests will spend time together building new relationships and nurturing old ones. Gonzaga has a mission of influencing lives through lasting relationships that have developed in and out of the classroom. This year's program will feature personal stories about some of these transformative relationships. Ken Anderson, Tim Olsen, and Jane Hession along with selected alumni, will share stories about the important bonds formed during their time at Gonzaga and the impact those bonds continue to have today.
The evening will begin with a networking social at 6:00 pm, and seating for dinner by 7:00 pm. The dining experience will showcase food and wine expertly paired and served in a beautiful event space, leaving the guests with memories that will make them return with their friends next year. Attire is business formal.
Purpose of the event
In order to fulfill our vision and values, we need to be engaged in our community. Building relationships through this event will benefit the entire business school, especially our students. The Wine and Dine is a fundraising event with a focus on excellence through networking and engagement. All net proceeds will benefit the School of Business Administration Excellence fund in support of the annual initiatives to fulfill the SBA's vision and values. FMV=$100 per ticket
The business school's success in being able to pursue our values relies on the myriad of relationships we enjoy with so many people and business community partners who are engaged with us over time and who support this event each year. From single ticket purchasers to underwriters of wine costs to premier corporate sponsorships—every single relationship we build with this event enhances the delivery of Jesuit business school education. Here are some examples of the use of the funds:

Academic Excellence
scholarships, travel, professional development
Treks
student competitions
technology
faculty led study abroad
programming such as our "Careers" days
Student internship and job placement rates
Development of the dean's Student Advisory Board
Networking and engagement: Some examples of the relationships formed because of this event are below:
Experiential Learning Opportunities like project-based business collaboration
Building stronger boards in each business discipline
Development of the Dean's Executive Council serving as advisers to the dean
Student membership on the Dean's Business Forum Board, focused on engagement
Mentorship of young alumni to contribute back and get more involved with the school
Enlightened and innovative action:
On site 1-credit weekend intensive courses at corporate business partners like Boeing, Starbucks, Microsoft and locally at Schweitzer Engineering Lab for the first time this year.
Experiential learning opportunities like project based, community impact courses
Student membership on local business boards, like Numerica
Development of the dean's Student Advisory Board
Whether this is your first interaction with the School of Business at Gonzaga University, or you are an alum reconnecting, or you have been a loyal supporter, join us. Join us in our efforts to build and sustain these crucial relationships our business students depend on in order to go out and make an impact on the world.