Jepson Center is the home to the School of Business Administration. This multi-purpose academic building is designed to serve students, faculty, and the greater Spokane community in the 21st century. The building is located on the west end of the Gonzaga University campus.
The 64,000-square-foot Jepson Center contains 22 classrooms ranging in size and most all are fully equipped with multimedia technology. Wolff Auditorium/lecture hall (Jepson 114) provides state-of-the-art digital multimedia capabilities with multiple displays and a large main screen. The Hogan Center for Entrepreneurship includes a New Venture Lab office and meeting rooms, providing students and mentors with an environment to conduct online data analysis, research, and business planning on new product design and entrepreneurial proposals. The Jack H. Hemmingson Finance Lab is a state-of-the art finance lab with 24 dual-screen workstations, two - 75" touch-overlay displays, one - 75" monitor framed by two large clear boards, a 45' stock ticker, and access to multiple financial databases.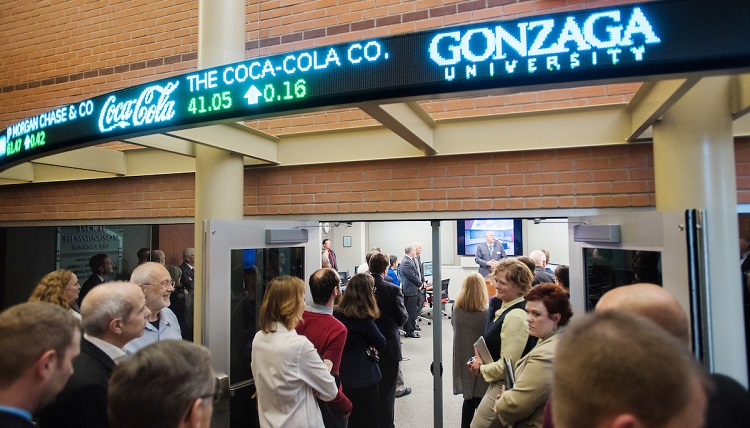 Jepson's Shannaman Family Alumni Lobby is a welcoming space for students, faculty, staff and friends of the school to join together for meetings and socials. This space includes the SBA Ethos statement wall that showcases a sense of community among our students around the shared ideals and commitments that define the SBA values and vision.
Jepson's spacious and comfortable student lounge provides a relaxing area to study with a beautiful view of Lake Arthur and the Spokane River. The student lounge also includes a
Thomas Hammer Coffee Roasters
shop. Faculty and administrative offices dominate the second floor while an advising center is located in the basement.
Jepson Center also offers four computer labs with student assistance during lab hours. The schedule for the lab room numbers are: 007 , 012 , 021 , and 107. The computer labs are equipped with overhead data projectors and sound systems and are often used for instructional purposes. The main lab (room 007) is available for open use any time it is not reserved for classes. There are 129 student computers running Microsoft windows operating system and application software (Microsoft Office). Remote Users are able to use the computer labs, if they have VPN access, during non-open hours, including all night from 10pm to 9am the next day.
In addition to the three student computer labs, all the classrooms in Jepson have multimedia capabilities. LaserJet printers (both B/W and color) are available to all lab users. A flatbed scanner is available for student use.
Here are maps of the basement, the first floor and the second floor.