Our vision is simple.
We will be a global leader in Jesuit business education.
Our values are clear.
We are committed to academic excellence.
We actively engage in our university and our community.
We embrace the Jesuit legacy of inspired, confident, and innovative action.
Why Gonzaga?
Every graduate business program is different. At Gonzaga, we have several distinct strengths we feel set our programs apart.
Gonzaga University's Graduate School of Business is a dynamic and challenging place to study and to develop, both as a business professional and as an intellectual individual. We are committed to creating leaders who possess solid analytical, critical thinking, communication and team-building skills, along with a strong sense of social justice. Through small class sizes, dedicated professors, and a challenging curriculum built on Jesuit values, Gonzaga offers an optimal learning environment and community where students develop personally and professionally. Gonzaga's graduate business programs are accredited by AACSB, the most rigorous accreditation body in business education. Only 5% of programs worldwide achieve this distinction.
In our programs, students develop:
an understanding of the ethical implications of their decisions
the ability to merge theory and practice in creative ways
an appreciation for the values of diverse perspectives
the skills necessary to manage effectively in a changing environment
a high level of professional competence
an understanding of the international environment of organizations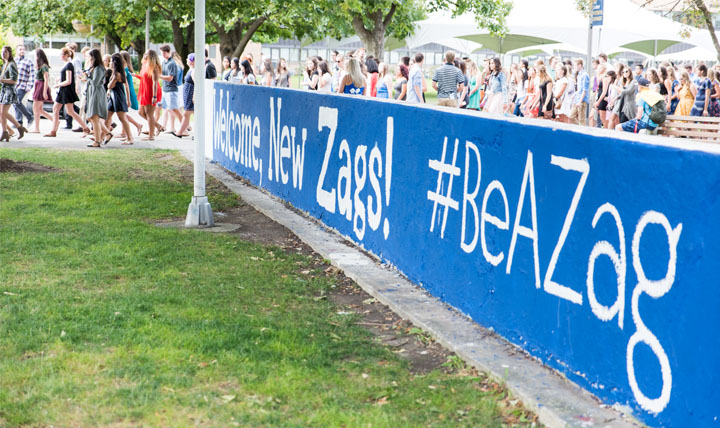 Location, Location, Location
Gonzaga University is located in Spokane, WA.
Spokane is...
Predicted by the Wall Street Journal to have the fastest job growth in the nation between 2010 and 2020
Ranked by Forbes Magazine as #9 in the "Best Places to Launch a Business and Career"
Ranked in the top 10 cities with booming employment growth by CNBC
Named by National Geographic Traveler magazine as one of 29 "Cities on the Rise"
Ranked by CNN as #77 in the "100 Best Places to Live and Launch"
Ranked among the top 100 U.S. cities to live, work, and visit by Resonance Consultancy