Life as an Honors Student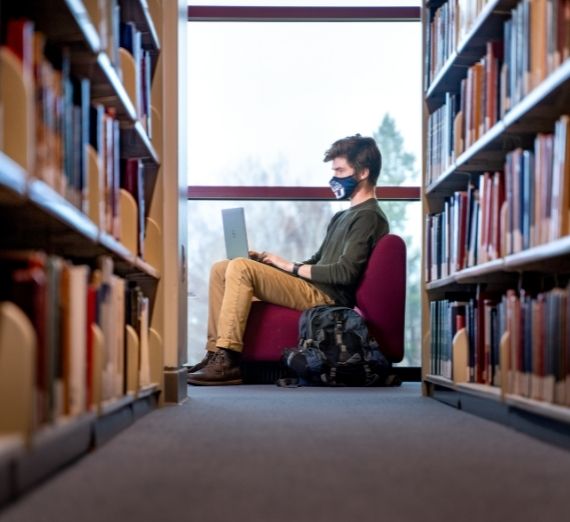 ---
Please note that our Honors applications have closed and decisions have been sent for the Fall of 2022. However, interested students are welcome to apply during their first year at GU to start the Honors Program in their second year.
My name is Annabel and I am a senior at Gonzaga. I have been in the Honors Program for the past four years, and it has been a super valuable and enriching part of my college experience! The Honors Program has provided the opportunity for me to take many of my core classes in a cohort of fellow Honors students, which I have really enjoyed! Consistently being with the same group has allowed for a level of comfort in the classroom that leads to really interesting and in-depth discussions where everyone in the class is engaged. I have loved getting to hear my classmates' different perspectives and how they have evolved and grown over the past four years. Also, because we all take our core curriculum classes together, each semester we can build on prior classes, shared experiences, and collective information that we all have.
In addition to core classes, each year we take a course called Colloquium, which is an in-depth, interdisciplinary class that meets for three hours one night a week. Colloquium has a focus on group collaboration, excursions in the Spokane area, and providing a space for challenging conversions. I have met some of my closest friends through the Honors Colloquium, and I attribute a lot of this to my first year Colloquium! Honors students do take more credits of the core curriculum than most, but I have felt that every class was immensely valuable and worthwhile. Here is some information on the Honors courses.
Also, the professors for my Honors classes have all been incredible and have shown genuine care for their students. I have taken classes from so many professors outside of my major because of the interdisciplinary nature of the Honors Program. This has given me the chance to learn from so many people that I likely would have never encountered if not for this program. It has helped me grow as a student in my ability to engage with subjects outside my comfort zone and has overall made my college experience more well-rounded. One class that stands out to me was a film course I took the second semester of my first year. It focused on films from the 1970s in New York, but, in addition to film, we studied art, politics, music, history, literature, and so much more! This was a super unique class, and I am so grateful to have taken it.
Beyond academics, being in Honors has provided so many other opportunities for me. As I mentioned earlier, there is a strong community within the program. There are so many cool events put on by the Honors Council like trivia and jeopardy competitions, arts and crafts nights, lectures with professors, volunteer opportunities, and much more. We also have fall and spring retreats, a holiday party, spring brunch, and new this year — an Honors Prom! Many of these take place in the Honors Living-Learning Community (LLC) and, while I didn't live in the LLC, having a central space for the community has been super meaningful for my sense of community within this program.
If you have questions about Gonzaga's Honors Program, please reach out to Carie Weeks at

509-313-6547 or at weeks@gonzaga.edu.