RefWorks Announcement from Foley Library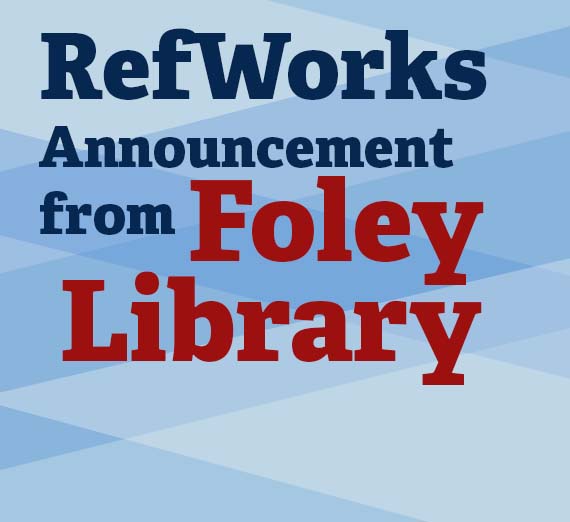 ---
In our ongoing commitment to support effective citation management services, we have completed a review of our current RefWorks subscription. After carefully considering the functionality and cost-effectiveness of RefWorks to other citation management services, we have decided to cancel our subscription effective September, 2022.
How do I move my citation data from RefWorks to another tool?
You will be able to access your RefWorks account until October 31, 2022. To move your RefWorks library to another citation management service, you will need to export all your citations and then import them into the new service. If you want to keep all your folders, you will need to export one folder at a time. Please note that you CANNOT export attachments (like PDFs) so you will want to make sure that you have them saved in another location. The RefWorks user guide has additional details on exporting and importing citations to/from various tools.
We know that changing citation software, particularly if you are in the middle of a big research project, can be challenging and we are here to help! If you have any questions, please make an appointment with a research librarian who can guide you through the process.
What citation management software do you recommend instead of RefWorks?
The Foley Library will support Zotero moving forward. Zotero is a free, open-source, web-based tool for managing citations and PDFs, and creating bibliographies. It is highly customizable with a robust user community and works online and on your desktop. Since it is a freely available tool, you can continue using it if you leave the University. To learn more about Zotero, we will be hosting Zotero workshops on the following days, all workshops are at noon in the Foley west end classroom:
• Mar 16
• Apr 7
• Apr 27
Please see our guide on Moving References from Refwork to Zotero. You can also setup a Research Appointment with one of our Liaison Librarians, and checkout our Getting Started with Zotero guide.