Event Details
Date & Time
Thursday, Oct 13, 2022 4:00 PM - 5:30 PM
---
Event Link
---
Cost
Free
---
Location
Hemmingson Ballroom
---
Event Type & Tags
Alumni
Diversity Inclusion
---
About This Event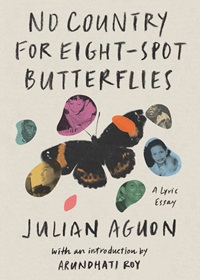 Julian Aguon '04, a Chamorro human rights lawyer from Guam working at the intersection of Indigenous rights and environmental justice, will share readings, inspiration and reflections from his highly successful book, "No Country for Eight Spot Butterflies," and engage the audience in a rich dialogue and Gonzaga reflections, moderated by Dr. Raymond Reyes, Associate Vice President for Cultural Initiatives. Appetizers will be served, book sales available on site, and book signing offered at event conclusion.
Reviews share:
Julian offers a new perspective and solution space that is yet to be discovered; an articulation of faith and a promotion of justice. His is a voice that will give us hope, and rain for parched imaginations.
Pre-order Aguon's Book
Learn More About the Author
Check out Julian Aguon's website and read the piece written about the author in the Fall '21 issue of Gonzaga Magazine.