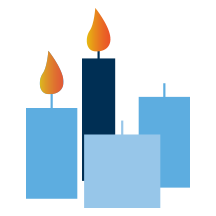 Second Sunday of Advent
Oh gracious Lord, we bow our heads and lift our voices to you.
Purify our hearts, minds and souls.
Prepare us for the coming of your only-begotten Son.
Place your hand upon our lives and guide us to His love.
We light the candle in excitement for Christ, who together with the Father and the Holy Spirit, will unify our world.
And here is a sign for you: you will find a baby wrapped in swaddling clothes and lying in a manger. (Luke 2:12)