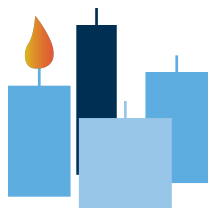 First Sunday of Advent
God of love and peace, grant us your blessing as we eagerly anticipate the birth of your Son.
Through Him we find salvation and hope for the future.
Through Him, darkness is made bright.
Through Him your will is made manifest.
We light the candle as a sign of this promise through Christ our Lord.
Therefore the Lord himself will give you a sign; the young woman, pregnant and about to bear a son, shall name him Emmanuel. (Isaiah 7:14)