Every Wednesday on campus, students line up for what has become a lunchtime favorite: COG Salmon. Bring a little bit of Gonzaga home with this healthy, tasty recipe from ZagDining!
---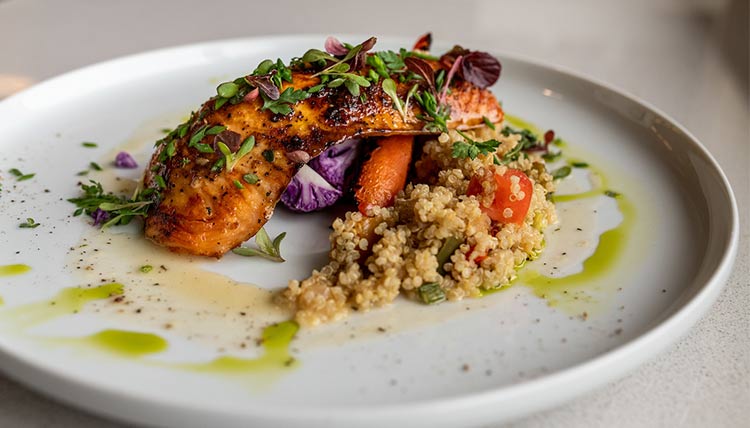 Citrus & Herb Crusted Salmon Recipe
Ingredients
1 - 4oz Salmon Fillet
3 1/2 tsp McCormick/Lawry's Salt Free Citrus Herb Seasoning (contains rosemary, oregano, thyme, chili pepper, orange peel, garlic, sugar, lemon peel, onion and lime)
1 1/2 teaspoon orange juice
1 tsp lemon juice
1/4 teaspoon minced garlic
Pinch of salt
Pinch of black pepper
Vegetable oil spray
Directions
Preheat oven to 425 degrees.
Combine the marinade ingredients until well blended.
Pat the salmon dry and add it to the marinade - stir to coat evenly. Cover and refrigerate for 15 to 30 minutes.
Line a baking sheet with parchment paper and lightly coat with vegetable oil spray.
Remove the fish from the marinade and dredge one side of the fillet with the citrus herb seasoning.
Place the fillet on the sprayed parchment, crusted side up.
Sprinkle with salt and pepper.
Bake for five to seven minutes, or until the fish is firm with a minimum internal temperature of 145 degrees.

---
1 Corinthians 10:31 So, whether you eat or drink, or whatever you do, do all to the glory of God.