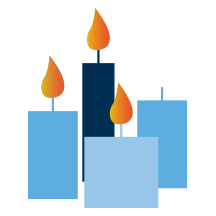 Third Sunday of Advent
Our Father, God of joy, we rejoice in your name. We gratefully celebrate all that you are.
We praise you and the life you have given to us all.
Bless our homes and hearts that we may welcome you always, in all ways.
We light the candle with gladness for the joy that you have created.
Now there were shepherds in that region living in the fields and keeping the night watch over their flock. The angel of the Lord appeared to them and the glory of the Lord shone around them, and they were struck with great fear. The angel said to them, "Do not be afraid; for behold, I proclaim to you good news of great joy that will be for all the people. For today in the city of David a savior has been born for you who is Messiah and Lord." (Luke 2:8-11)