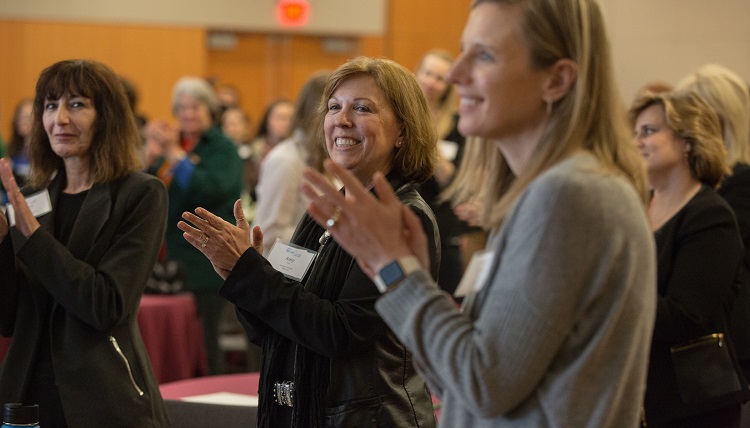 Join us Each Semester for the Gender and Pop Culture Speaker Series!
This series focuses on popular icons and trends in U.S. culture and their portrayal of gender and sexuality. Each talk/roundtable will run about 30 minutes with discussion to follow. All events within the series are free and open to the public.
Curious about Gender and Pop Culture Speaker Series Events? We have videos from some of our past events.
---
Past Events
---
Joyce Carol Oates
The Women's and Gender Studies Department and English Department co-sponsored bringing author Joyce Carol Oates to Gonzaga University. A reception with a Q&A session followed the event and was hosted at the WGST house.
Deconstructing feminism
Deconstructing Feminism featured a panel of professors associated with the WGST program who answered broad questions about what feminism is and what it means to be a feminist. It was a night to "deconstruct" the term to expose what the movement is at its core rather than what popular culture has made it out to be. A Q&A session followed the discussion.
Gloria Steinem Lecture
The WGST Department organized a field trip to see writer, lecturer, editor, and feminist activist Gloria Steinem speak at the University of Idaho. Steinem has played a critical role in the women's equality movement for the past 40 years. Her interests include: shared origins of sex and race caste systems, gender roles, and child abuse as roots of violence, the cultures of indigenous people, and organizing boundaries for peace and justice. Steinem spoke on "Women's Legacies, Inspiring our Future." The event was free to the public and was followed by a question-and-answer session. Over 30 faculty, students, and staff attended this field trip and all were encouraged to wear their "This is What a GU Feminist Looks Like" t-shirts sold by the SpeakUp! club.
The Help: Panel Discussion
The Women's and Gender Studies department partnered with the Unity Multicultural Education Center to host a panel on racism in the movie and book "The Help." WGST Director Dr. Patsy Fowler teamed up with professor of Black Studies, Rachel Dolezal, and the vice president of Gonzaga's Black Student union, Bobby Weke, to bridge Women's History Month with Black History Month. They led a panel discussion and students asked questions and shared reactions to the film. The film intended to be an uplifting story of women helping each other through the racist times of the early 1960s, but according to Thursday's discussion, a different form of racism comprised the film. Topics ranged from author Kathryn Stockett's success to the "feel-good" attitude the film stressed, the unrealistic lack of violence portrayed in the book and film, and the underlying emotions behind the film and how it relates to black women today. Many students and panel members felt like the film not only encouraged stereotypes, but also caused a relapse in society's progression towards equality. Both the panelists and audience members found no definitive suggestion that could have improved the film's message. Most agreed that challenging society's blind acceptance of films may lead to more understanding of serious issues.
For more information on the event, read this article published in the Gonzaga Bulletin!
Women in Antiquity Clay Production Images
Students enrolled in CLAS 330/WGST 380 got down and dirty a few weeks ago. Students had been researching the representation of women in the ancient world, including clay figurines of women. Each student selected a figurine and researched the history and attempted to reconstruct the image using terracotta clay. A gallery displaying the figurines will be held after Spring Break. Each student will present the history and the context of the figurine to the rest of the class.
The History of Women's Studies at GU: A Roundtable (with pizza)
The WGST program hosted a roundtable discussion on the history of the program at Gonzaga University. Dr. Jane Rinehart, Dr. Rose Mary Volbrecht, Dr. Cate Siejk, and Dr. Eloise Buker led the participants in a discussion on the program's inception, struggles, highlights and ideas for the future. Other founders, previous program directors, and former students will also be participated. The lively discussion included plenty of humorous and surprising anecdotes. Pizza was provided! Women's and Gender Studies celebrated their 20th Anniversary at Gonzaga University. The seven founding faculty members, and founder, former Gonzaga professor, Eloise Buker (Professor Emerita, St. Louis University) were honored. Dr. Buker presented "Carrying on in Women's Studies: Creating Gender Justice 1991-2011" . A catered reception followed the lecture as well as a Question and Answer Session.
20th Anniversary Celebration of Women's and Gender Studies
Women's and Gender Studies celebrated their 20th Anniversary at Gonzaga University. The seven founding faculty members, and founder, former Gonzaga professor, Eloise Buker (Professor Emerita, St. Louis University) were honored. Dr. Buker presented "Carrying on in Women's Studies: Creating Gender Justice 1991-2011". A catered reception followed the lecture as well as a Question and Answer Session.
How to Build LGBT Nurturing Environments
Followed by...
"That's So Gay" One-person play
This performance explores the coming out process of a first-generation Croatian-American. This original work chronicles the personal and public struggles of coming to terms with one's sexuality. The central question That's So Gay! asks: Does this performance subvert dominant ideologies and work to expand possibilities for non-normative identities? That's So Gay! is an experience which insists that heteronormativity and its prevalence be examined; especially since coming out undermines and challenges dominant expectations about sex, gender, sexuality, and sexual performance.
This event is sponsored by UMEC, GU Athletics, Center for Global Engagement, Gonzaga Activities Board/CAMO, OUTSpokane, Religious Studies, Women's and Gender Studies, and the Institute for Hate Studies.
The Vagina Monologues
The Vagina Monologues was performed on campus for the first time in Gonzaga University history on April 10th, 2011 as part of a series of events that examined violence against women, the power of performance narratives, issues of social justice, Catholic identity, and the University Mission. "Monologues, Dialogues, and Stories" was sponsored by the Women's and Gender Studies Program, the Psychology Department, the English Department, the Sociology Department, the Honors Program, and the Institute for Hate Studies. Student organizers for the event were Diana Mallon and Meghan Yee. This week long series was intended to explore these important issues in an intellectual an educational manner.
The first event, "Voices on 'The Vagina Monologues,' Catholic Tradition, and Jesuit Identity" was an interdisciplinary panel dialogue on how The Vagina Monologues fits into Catholic, Jesuit, and Gonzaga traditions. Presentation and discussion featured Dr. Patsy Fowler, Dr. Cate Siejk, Fr. Tim Clancy, and student Drew Pollom. Dr. Linda Schearing and Dr. Ann Ciasullo lead, "Learning to Speak: the Power of Narratives," a discussion on the power of storytelling and the place of stories in the movement toward social justice and The Vagina Monologues as both powerful stories and extensions of women's storytelling. Students, faculty, and staff presented their own diverse stories of personal empowerment in the night's closing story slam, led by Kaitlin Vadla.
The Vagina Monologues is an episodic play written by Eve Ensler. The performance was a reader's theater presentation that entailed women telling stories in relation to their vaginas. The topics of these narratives varied from issues of rape and violence to love, confusion, and misunderstanding. The Vagina Monologues is the cornerstone of the V-Day Foundation, a global movement to stop violence against women and girls. Proceeds went to Lutheran Community Services, Catholic Charities' St. Margaret's Shelter, and the V-Day Foundation spotlight campaign to aid the women of Haiti who have experienced increased rates of sexual violence since the devastating earthquake in 2010. The cast and crew stayed for a faculty-moderated question and answer session led by Dr. Jane Rinehart, in regards to their parts in the performance and the overall events of "Monologues, Dialogues, and Stories".
Academic Vice President, Dr. Patricia O'Connell Killen ensured that the play was performed in the "context of an interdisciplinary academic exploration, using a model of mutual learning by the active doing and reflecting that is employed regularly in classrooms at the university." Because of this, "The Vagina Monologues" was not open to the public. Several hundred students, faculty, and staff members had to be turned away because the performance sold out. Donations from the event were given to Catholic Charities and Lutheran Community Services.
Dr. Thayne McCulloh recognized the contributive value of the play as faculty and staff was able to use a controversial topic to "examine issues of individual identity and human dignity, the role of performance art in giving voice to women and especially female victims of violence" and how this "related to the important issues for the Church and Jesuits."
Following the week long series of events was several lectures by Dr. James Halstead, OSA. "Catholics and Bodies: Implications for a 'Catholic' University", examined the contemporary Catholic thought on the meaning of human bodies and the values that guide human activity, especially sexual activity. The recent views of Pope John Paul II and Benedict the XVI on human physicality and the possible meanings and values of the moral norms were discussed. Fr. Halstead considered the implication of these understandings of the body for the formation of personal conscience and institutional policies.
Fr. Halstead also led "A Conversation on the Pope John Paul II's theology of the Body" which discussed the key points in relation to Catholic theology and how it relates to the participants lives. The purpose of this discussion was to apply the Pope's theology to the lives of those seeking to live faithfully. Fr. Halstead's presentations were co-sponsored by the Office of the Academic Vice President and the Catholic Studies Program.
Patty Duke
For Cultural Awareness Night, The Unity Multicultural Education Center and the Women's and Gender Studies Department sponsored a showing of The Miracle Worker and hosted Academy Award Winner Patty Duke. Ms. Duke became the youngest Oscar winner for her role as Helen Keller, won 2 Emmy Awards, was a twice New York Times Best Seller Author, and was the 2nd woman named to the president of the Screen Actors Guild. She hosted a question and answer session for students and faculty and attended a reception at the Women's and Gender Studies House. This event was in celebration of Women's History Month and aimed at increasing awareness of Disability Studies.
The Gender and Pop Culture Speaker Series
This series focused on popular icons and trends in U.S. culture and their portrayal of gender and sexuality. The talks will ran about 30-40 minutes and were followed with discussion. This was free and open to the public.
Kevin Ruby, Senior, English and Spanish Major. Women's and Gender Studies Concentration.
"The Pill in Popular Culture."
Ashley Ruderman, Junior, English Major, Women's and Gender Studies Minor.
"Not Myself Tonight': The Allure of Girl on Girl."
Heather Easterling, Associate Professor of English and Women's and Gender Studies.
"Shakespeare Goes to HIgh School (But Not College: Exploring Teenage Shakespeare on Film.)"
Proof
The show was a performance of two, one act plays "Teeming with Clowny" by Lisa Dillman, and "Train Story" by Adam Rapp, and one choreography piece entitled "I am a Product." Both plays examined the hierarchy, isolation and inevitable breakdown that comes with the infiltration of our white, male, heterosexual society into the workplace and into the lives of individual people. Proof was an independent theatre and dance project.
Take Back the Night
Gonzaga University students take part in a nationwide effort to raise awareness of the issue of sexual violence both on college campuses and in communities. The Take Back the Night movement began in 1976, and has become an annual, nationwide event designed to give voice to survivors of sexual violence. There will be speakers who work directly with victims of sexual violence as well as students who have been victims sharing stories.
Nightmare on Boone
Representations of violence against women permeate our culture and desensitize us to real acts of violence that go on around us. Examples exist in advertisements, music, cartoons, and video games. In the Halloween spirit we take a moment to discuss specific representations of violence in horror films and use that as a means to examine violence on our own campus. Talks were given by Dr. Fowler & Dr. Ciasullo
Ann Bannon
Author Ann Bannon, known as "the Queen of lesbian pulp fiction" visited the Gonzaga campus Wednesday, October 22 to talk about her popular series of novels, The Beebo Brinker Chronicles, which follow the lives of young lesbians coming of age in the 1950s and 60s.. Bannon's talk included a discussion of the pulp fiction industry in general, but she also talked openly about being a woman writer during the time period. Additionally, she spoke about the motivations that led to the creation of her young lesbian characters. The books were published in a time when homosexuality was rarely a topic of conversation. Women , especially, were not encouraged to explore roles that fell outside their pre-determined categories of wives and mothers. This was particularly true when it came to same-sex relationships. Clearly, it came as a great surprise to the author when her books exploring the lives of these non-traditional characters became instant hits and were used by many young women as a way of living their secret fantasies. Ms. Bannon ended the night by signing copies of her novels and answering questions from the audience. The event was sponsored by HERO, the English Department, and Women's and Gender Studies.