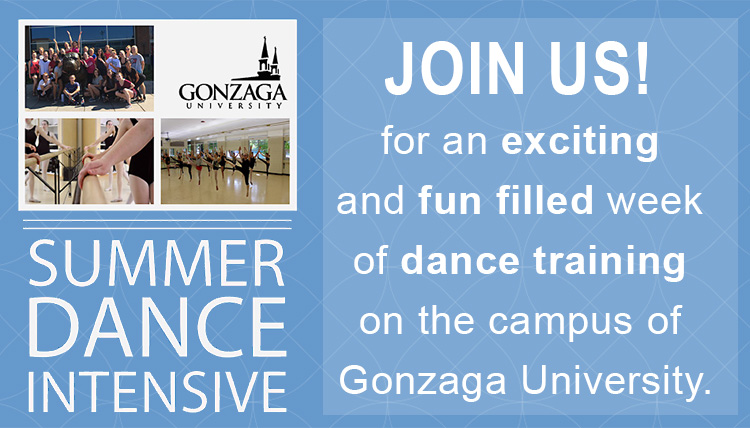 The Gonzaga University Summer Dance Intensives will focus on Ballet and Contemporary technique with supplemental classes in Jazz, Hip-Hop, Modern, Dance Composition, Pilates and Musical Theatre. Each week will conclude with an informal performance for family and friends.
Sample Schedule
SENIOR
(Ages 13-20) intermediate/advanced:
July 27-31, 2020
9:00AM-3:30PM
$300 before June 25, $350 after
Senior Sample Schedule*:
9:00-10:20 -Ballet
10:30-11:50 -Contemporary or Modern
11:50-12:30 -Lunch
12:30-1:45 -Specialty Class (Jazz or Hip-Hop)
1:50-3:30 -Specialty Class (Musical Theatre, Composition or Pilates)
JUNIOR
(Ages 9 -13) beginner/intermediate:
August 3-7, 2020
9:00AM-12:30PM
$200 before July 1, $250 after
Junior Sample Schedule*:
9:00-10:10 -Ballet
10:10-10:20 -Snack Break
10:20-11:25 -Contemporary or Modern
11:30-12:30 -Specialty Class (Jazz, Hip-Hop or Musical Theatre)
* Schedules subject to change.
For Both Sessions
Classes taught by Gonzaga University Faculty and guest artists in the Gonzaga Dance Studios and the new Myrtle Woldson Performing Arts Center!
Registration includes a SDI t-shirt and dining hall lunch on final day
University Accommodations not available
Auditions not required. A placement class will be held on the first day of the workshop.
Questions? Contact Us