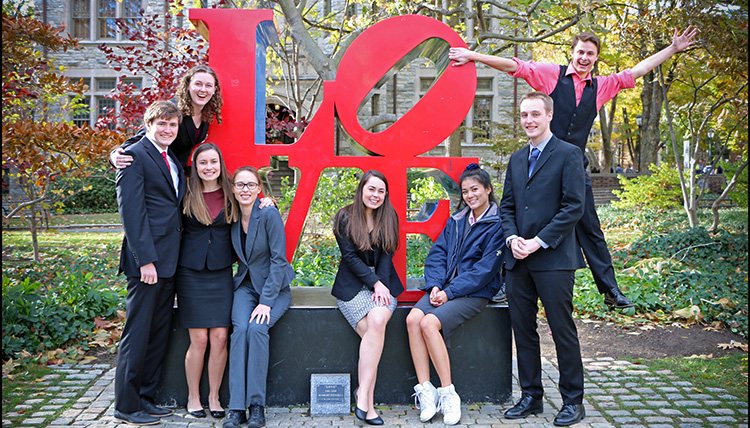 Improve Your Public Speaking
You'll have numerous opportunities to improve oratorical skills, become comfortable with, and confidence in public speaking in front of a variety of individuals: attorneys, judges, other students, and professors. You do not have to be pre-law to benefit from public speaking. Public speaking is a skill that can, and will, help you in any field or career.
Learn New Skills
As both an attorney and a witness, a mock trial pushes you to think on your feet. Attorneys must cross-examine witnesses who may provide surprising answers. Witnesses may have to answer tough cross-examining questions on the spot and still maintain character. Both attorneys and witnesses must be able to understand both sides of an argument to strategically know what argument their opponent may be making. Joining Gonzaga's Mock Trial team will push you to think quicker, think outside the box, and think more analytically.
Become a New Character
From playing a kidnap victim to an expert psychologist with a British accent, mock trial gives witnesses a rare opportunity to adopt a character and have fun in the courtroom.
Make Life-long Friendships
Mock trial provides an extraordinary academic experience where you can compete against numerous schools and create life-long bonds with your teammates. We frequently meet to prepare...with one goal in mind. Winning! The stresses of tournament pressure will quickly create friendships and inside jokes that you will be hard-pressed to find elsewhere.
Real Life Experience
Mock trial gives students hands-on, practical experience in the courtroom. Students learn how to give opening statements, direct and cross-examinations, closing arguments, and the Federal Rules of Evidence. Students learn how to think and adjust quickly on the spot. Mock trial alumni are several steps ahead of their law school competition because of the experience and comfort of being in the courtroom. Our students know and can argue the Rules of Evidence like the back of their hand.
Travel and Compete
Mock trial allows students opportunities to travel to other cities and states to compete! Not only do you get to compete in the courtroom with your teammate, but you get to travel with your team and explore new and exciting places.
If we had to pick one thing that is the most beneficial thing you could get from mock trial, it's this: confidence in yourself. No matter your degree or your passion, genuinely believing in yourself is an invaluable skill, and Gonzaga Mock Trial can help you find that.