Gonzaga University is pleased to announce the formation of the Honorable Thomas P. Larkin Scholarship for Mock Trial. Thomas Larkin, II, (B.A., '99, J.D., '02) and his wife Kerri generously established this scholarship for students who participate in Mock Trial.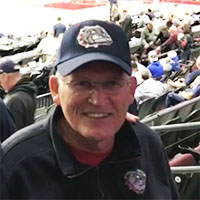 "There is no better legacy than to continue helping those who work hard for a good education. Kerri and I are excited for the opportunity to name this scholarship after one of the people instrumental in the creation of the Mock Trial program at Gonzaga. A man who truly embodies the Zag spirit, loves this great school, and has helped many students along their educational journey over the years. It's a proud moment to honor 'The Judge', my dad, in continuing to give back to Gonzaga through the support of students involved in the Mock Trial program that has helped pave the way for future success for so many. Go Zags!" said Tom Larkin, II.
Since Gonzaga's Mock Trial program inception in 1997, the university has had a rich history of success with national intercollegiate competitions in the American Mock Trial Association (AMTA). Across the United States, more than 650 teams from 350 colleges and universities compete in ATMA-sanctioned tournaments. Gonzaga's Mock Trial team has qualified for the Opening Round Championship Series 20 times and the National Championship several times. In 2001, Gonzaga Mock Trial acquired (and still holds) the national record for the most All-American Awards at any one national tournament, topping out at five awards.
Mock Trial program participants have gone on to careers in law, public service, politics, and many other societal leadership roles. The program continues to be one of the most popular undergraduate experiential learning opportunities at Gonzaga.
Those interested in supporting students through the Honorable Thomas P. Larkin Scholarship for Mock Trial, please contact Jeff Geldien, Ph.D., Assistant Vice President of Academic Development at geldien@gonzaga.edu.
For over two decades the Mock Trial program has been a truly transformational experience for Gonzaga students. While we celebrate the successes of competing and winning at the highest levels, we also know that the impact on our students is profound and lifelong. Simply put, this work prepares them to be ethical thinkers and leaders for life in an increasingly connected and rapidly changing world.
— Matt Bahr, Ph.D., Interim Dean of the College of Arts and Sciences
Learn more about the Hon. Thomas P. Larkin's life & legacy