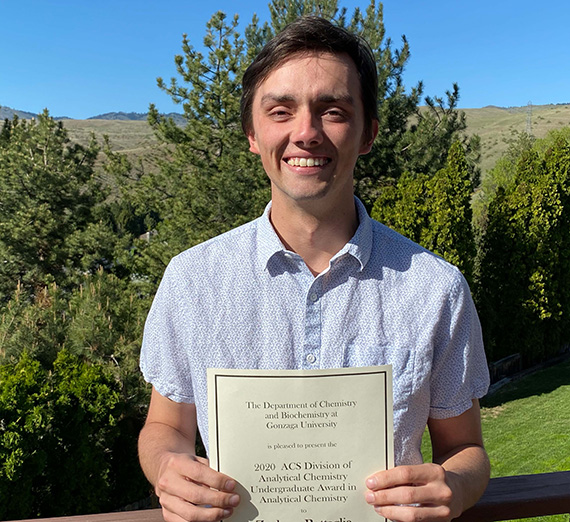 2020 Award: American Chemical Society Division of Analytical Chemistry 2020 Undergraduate Award in Analytical Chemistry
Major: Biochemistry
Hometown: Boise, ID
Extracurricular activities: Skiing, golfing, reading, spending time with family
More about Zachary
Future Plans:
Professionally, I plan to attend medical school and receive a medical degree. I would love to remain in the Pacific Northwest as a physician because of all the different activities available. Some fun lifelong goals of mine are to ski on every continent and maybe write a book!
How has your major contributed to your professional or personal development?
My biochemistry major taught me to face life with others, rather than apart from them. Building relationships is an essential part of professional development, and as a biochemistry student it was essential to build these relationships with professors. Not only have I made these relationships, but I will also take these communication skills through medical school into my role as a physician. Perhaps more important though, my biochemistry major pushed me out of my comfort zone and into a position where I had to associate with my peers. This resulted in friendships that have carried me through some hard times, and I know they will last a lifetime.
What has been your proudest or most significant accomplishment during your Gonzaga career?
My proudest moment was my time in the Science in Action volunteer program. As a part of this semester-long program I spent one hour every Friday afternoon with twenty elementary school children in Spokane and helped them perform numerous science activities. During this semester, I built relationships with these kids and was genuinely interested in their progress, and watching them show interest in science filled me with pride.