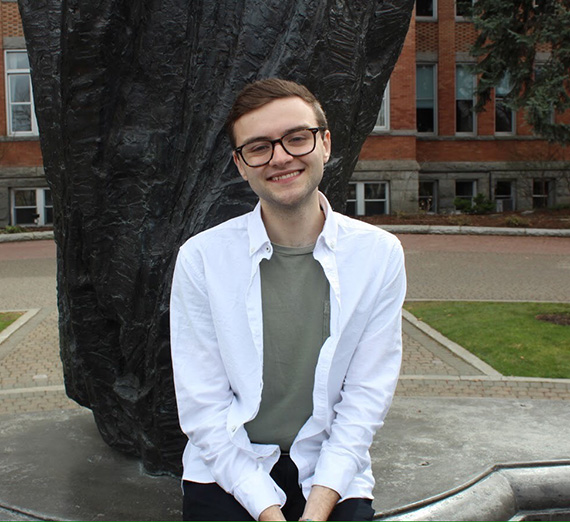 2020 Award: 2019-20 Merwin Scholarship Award
Major: Vocal Performance, Political Science
Minor: Economics
Hometown: Portland, OR
Extracurricular activities: Tenor Section Leader in Gonzaga Chamber and Concert Choir, Choir Ambassador, Cantor at St. Aloysius, Music Director of Big Bing Theory Acapella
More about Patrick
Future Plans:
I hope to pursue my political science and economics degrees through work on policy and possibly on political campaigns for state positions and house or senate members. I have a passion for politics and an optimism concerning the future of the country and I'd love to pursue any opportunities that result in a bettering of society. In terms of music, I hope to sing in a professional choral ensemble, continue my work in Catholic churches, and I hope to sing in musical theatre productions and classical music productions alike. I aspire to use music to bring joy to people and help people have an optimism about their lives.
How has your major contributed to your professional or personal development?
As a member of Gonzaga's concert and chamber choir since my first semester and through my course work in music, I've loved being challenged with various repertoire. The experience I've gained performing as both a chorister and soloist in various pieces has helped me become a better musician. My course work including theory and preparation for my voice recital has taught me lessons in hard-work, persistence, and has drove me to develop as a person and singer. My political science major has also benefitted my understanding, problem-solving, and ability to critically think of policy solutions. It has made me a better citizen and voter that identifies and understands the problems of our society and the possibilities we have for change.
What has been your proudest or most significant accomplishment during your Gonzaga career?
Though the President's List is a great academic achievement, I'd say that my solo works in my time as a member of Gonzaga's Choirs have been my proudest accomplishments.